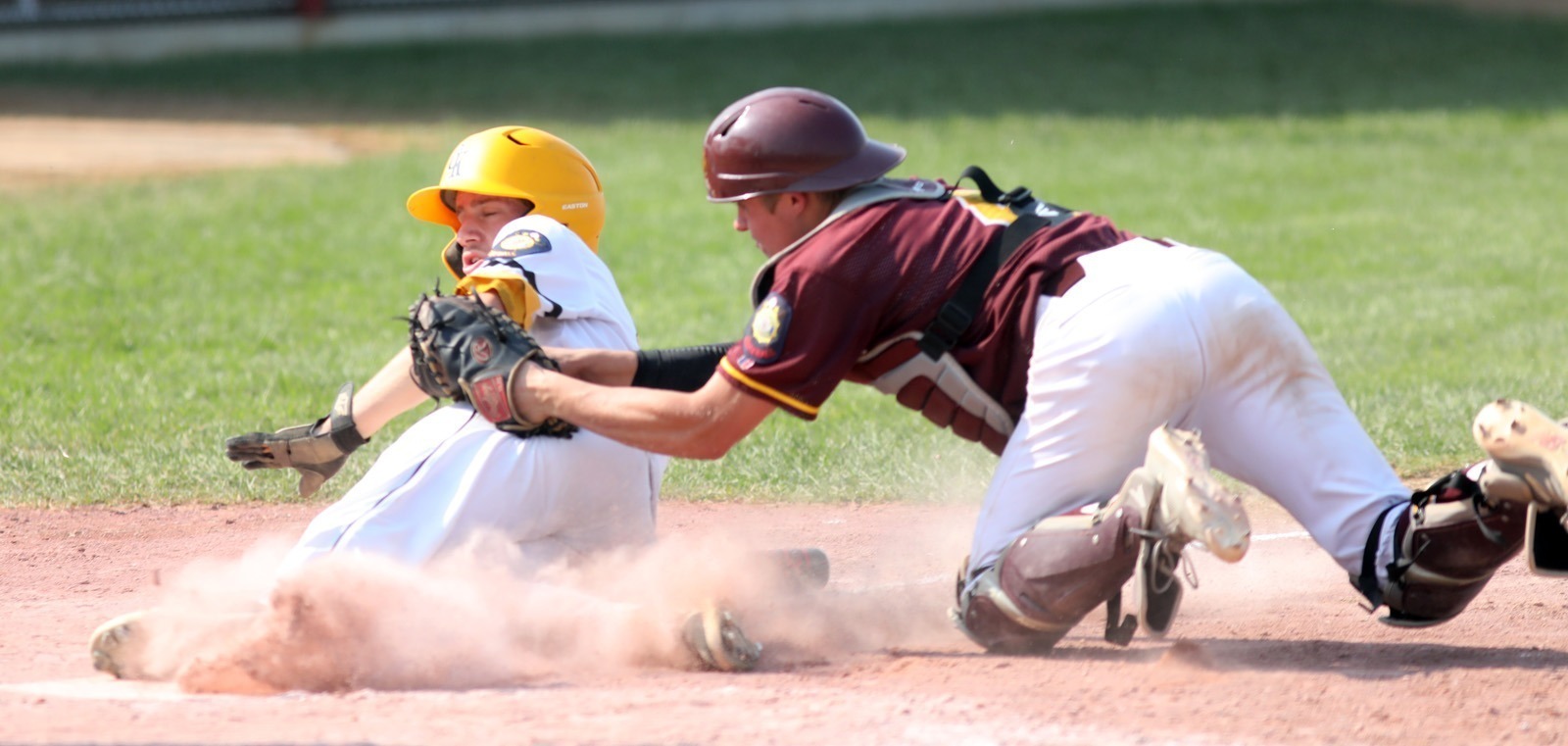 GROTON – He may be the smallest player in the state tournament, but Owen Osborn was huge for Redfield Monday afternoon.
The 5-foot 5-inch pitcher kept his team in control as Redfield eliminated Madison 9-3 during the American Legion Class B State Baseball Tournament at Locke-Karst Field.
Osborn, throwing a variety of slowing moving pitches, kept Madison scoreless for six innings before finally surrounding a few runs for the final margin of difference.
"Going into the seventh there he had 13 straight shutout innings," said Redfield coach Tommy Gregg, noting Osborn blanked Warner-Ipswich-Northwestern (WIN) in a region contest. "He threw a one-hitter against WIN. He was the next guy up. We kind of have some more guys like him left in the cupboard. He put us on his back. That's what you need late in the year. You have to have pitching."
Nothing about Osborn is intimidating. Yet, he manages to get guys out, 14 times by fly out against Madison.
"Well, I'm not a very big guy," Osborn said. "Just trying to make easy fly balls for my teammates to get. Let them do the hard work. I'll just let them hit it."
What Osborn lacks in velocity he makes up for in guile and control. He throws a slow curve that gets the job done.
"He's comfortable throwing it about any time in the count," Gregg said. "He's not looking to strike you out. I think he had a strikeout and it might have been by accident."
While Osborn did have just one strikeout, he also only had one walk. Opposing batters can't seem to lay off that curveball.
"It comes in and it must look big enough where it's tempting to swing and guys are unable to square him up, because he's keeping it at different plains and moving in and out," Gregg said. "That's pitching. That's not throwing. That's pitching."
Meanwhile the Redfield offense gave Osborn plenty of support with two runs in the first, four in the third, and three more in the fourth. Osborn said it's much easier to pitch with a lead.
"That was huge," Osborn said of the run support. "When you come out and score a few right away, it makes them chase you."
Redfield again put pressure on its opposition with its aggressive baserunning like it has all tourney. Redfield finished with seven stolen bases and its speed also contributed in part to six Madison errors.
"We've got some speed. We've got some guys that can run a little bit and we're not scared to do it," Gregg said. "We've been picked off once or twice (it happened twice against Madison), that's kind of the trade off. We do want to put pressure on you a little bit."
Speaking of pressure, Redfield is handling it just fine. They are now 7-0 in elimination games so far this post season. Gregg said the players have shown resiliency and don't let things get them down.
"These guys have been taught well. They've had dads that had them before I got them. They've got it in their blood," Gregg said. "They play hard. They stay together. It's not always easy. They're not perfect by any means. Right now they're on a good roll. They play fearless. That's really fun to coach when you get a group like that. Not a lot bothers them."
Redfield will try to stave off elimination again today when it faces Tabor in the championship at 1 p.m. Since Tabor is undefeated, Redfield has to beat them twice to win it all.
"We have to do one more day. We got to the last day of the season. That's a goal," Gregg said. "Hopefully, we can win two."
Redfield 204 300 0 – 9 10 1
Madison 000 000 3 – 3 7 6
Owen Osborn and Keaton Rohlfs; Peyton Wolf, Logan Allbee (4) and Sam Olson. 2B – Madison Allbee. 3B – Madison, Trey Smith.