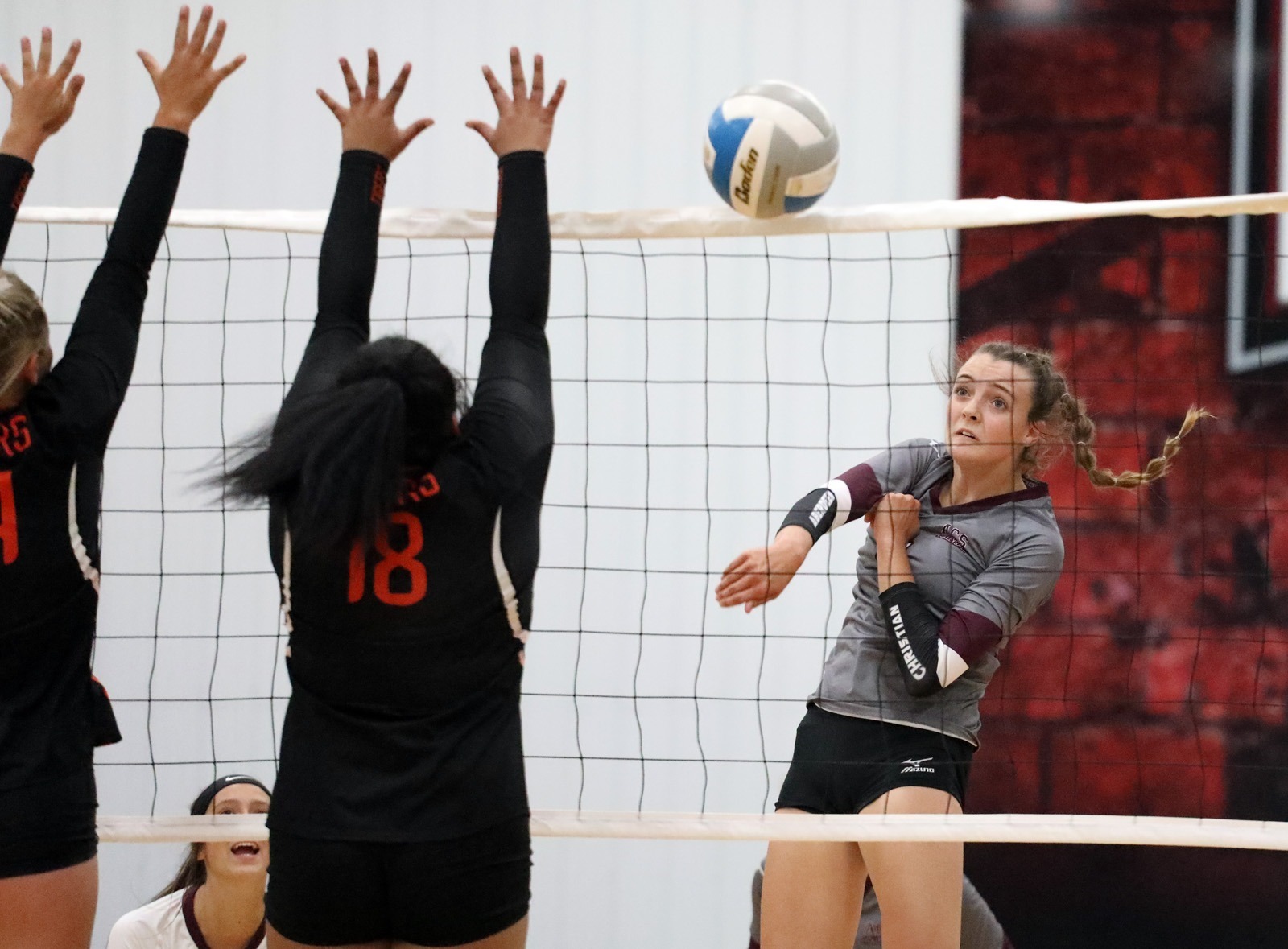 Aberdeen Christian got contributions from all across its lineup and swept past Ipswich in a Lake Region Conference volleyball match Tuesday night.
From down the line kills to blocks at the net to precision tips, the Knights showed a little bit of everything in a 25-14, 25-15, 25-12 win at their home gym.
"That's the strength of what we have," said Christian coach Maggie Jett. "We have a lot of seasoned players that just know how to get the job done, and they know what they need to do to score."
That offensive variety should help to keep opposing defenses off balance this season.
"It's nice because we can spread our offense a lot so the other team is always guessing," said Christian senior Mary Fites. "They don't know who it's going to go to."
Fites led the Knights with 12 kills with Hanna Miller right behind with 11.
Christian was so balanced, that Jett could not highlight one specific player in the season opener.
"I couldn't pick one out. I just really think it was a group effort, tonight," Jett said. "I think they all stepped up and made it happen. They implemented things they've been doing in practice. I was really proud to see them do those things."
Mallory Miller led the team with a pair of solo blocks. The Miller sisters, who new to the squad, bring determination and energy to the team.
"They're so competitive and they really want to win," Fites said. "It's nice to have them."
The Knights pulled away from a 14-12 edge in the first set and then opened quick leads and never trailed in either of the final two sets.
Ipswich was led by Kaitlyn Bierman with six kills. Quincy Olivier contributed two aces, eight set assists and four blocks.
Christian now hosts perennial power Warner on Thursday.
"The girls know the weight of the game," Jett said. "They know what it means, but it's also early in the season."
Fites is looking forward to the challenge and pointed out the benefit of facing a tough squad so early in the schedule.
"I'm looking forward to playing them. It's always super fun," Fites said. "It's always nice to play a good opponent because they really pick you apart and they show you what you have to work on, so playing someone like that early on in the season is really helpful."
Aberdeen Christian def. Ipswich 25-14, 25-15, 25-12
Serving: Ipswich 5 aces (Chesney Olivier 2); Aberdeen Christian 73-80 3 aces (Grace Kaiser 24-25 1 ace, Kaylee Block 13-14 1 ace).
Hitting: Ipswich (Kaitlyn Bierman 6 kills); Aberdeen Christian 38 kills (Mary Fites 12 kills, Hanna Miller 11 kills).
Setting: Ipswich (Olivier 50-50 8 assists); Aberdeen Christian (Block 10 assists, Joy Rohrbach 4 assists).
Digs: Ipswich (Madison Geditz 20); Aberdeen Christian 56 (Block 16, Rohrbach 13).
Blocks: Ipswich (Olivier 3 solos 1 assist); Aberdeen Christian 4 solos 2 assists (Mallory Miller 2 solos, H. Miller 1 solo 1 assist).