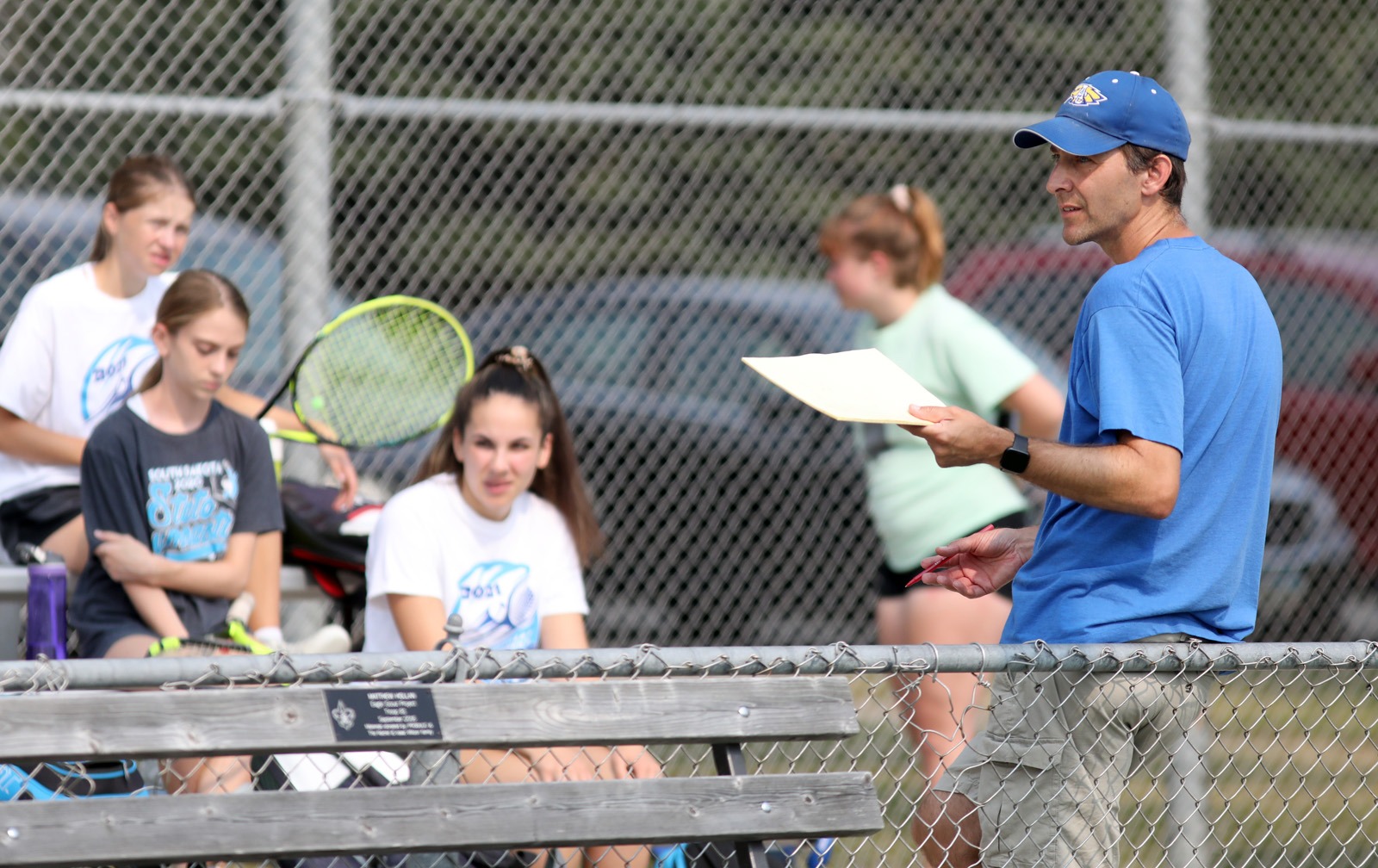 At first glance, the Aberdeen Central tennis roster features just one senior. However, a closer look reveals many familiar names as the Golden Eagles embark on another campaign this fall.
"I guess we're kind of a young team, even though we do have a number of juniors who have been playing with us up here (at Holgate) for a long time, since they were in middle school," said Central coach John Vogel. "This crew of juniors has been with us for a very long time."
The Eagles were planning on having an even more experienced team this season, but lost three members with varsity experience (one moved, one transferred to Roncalli and another decided not to go out this season).
Even so, Central still has four returning players who are all proven varsity members. That group includes juniors Emily Ringgenberg, Alice Vogel and Carly Comstock, and sophomore Livia Douglas. Those four will make up the cornerstone of this year's team.

While all were key members of last year's squad, Coach Vogel said that this is a new season.
"We start from last year's ladder but then we play it out," he said. "You work in the winter, you work in the summer. Last year's ladder is just a starting point."

Central has multiple players on its rosters who played in a variety of tournaments this past summer.
The Eagles are currently having challenge matches to determine their lineup. Central starts its season this weekend with a trip to Rapid City where the squad will face all four Rapid City teams: Christian, Central, Stevens and St. Thomas More.
When asked about the strengths of this year's team, Coach Vogel summed up his thoughts in one word: determination.
"You're going to have to beat us. We're not going to, hopefully, beat ourselves too often," he said. "You're going to beat us, and there's going to be teams out there that do that."
As far as goals go, the team sets performance goals and team goals.
Coach Vogel said while the squad will not concede anything on the court, the goals may have changed just a bit with the loss of three varsity players who were expected to be back with the team.
"We said, well let's try to do better than last year. Again, we lost three of our varsity players. Had everyone come back, I'd say, ooh we're going to be good, but half of us didn't come back," Coach Vogel said. "So now we're regrouping. We're saying, hey, we can go top half."
The Eagles plan to finish near the top of the Eastern South Dakota Conference, a feat they have accomplished every year since Coach Vogel has been with the program.
"Since I've been with the girls we've never been under fourth," Coach Vogel said. "So we said let's keep that going. Let's finish in the top four of ESD."