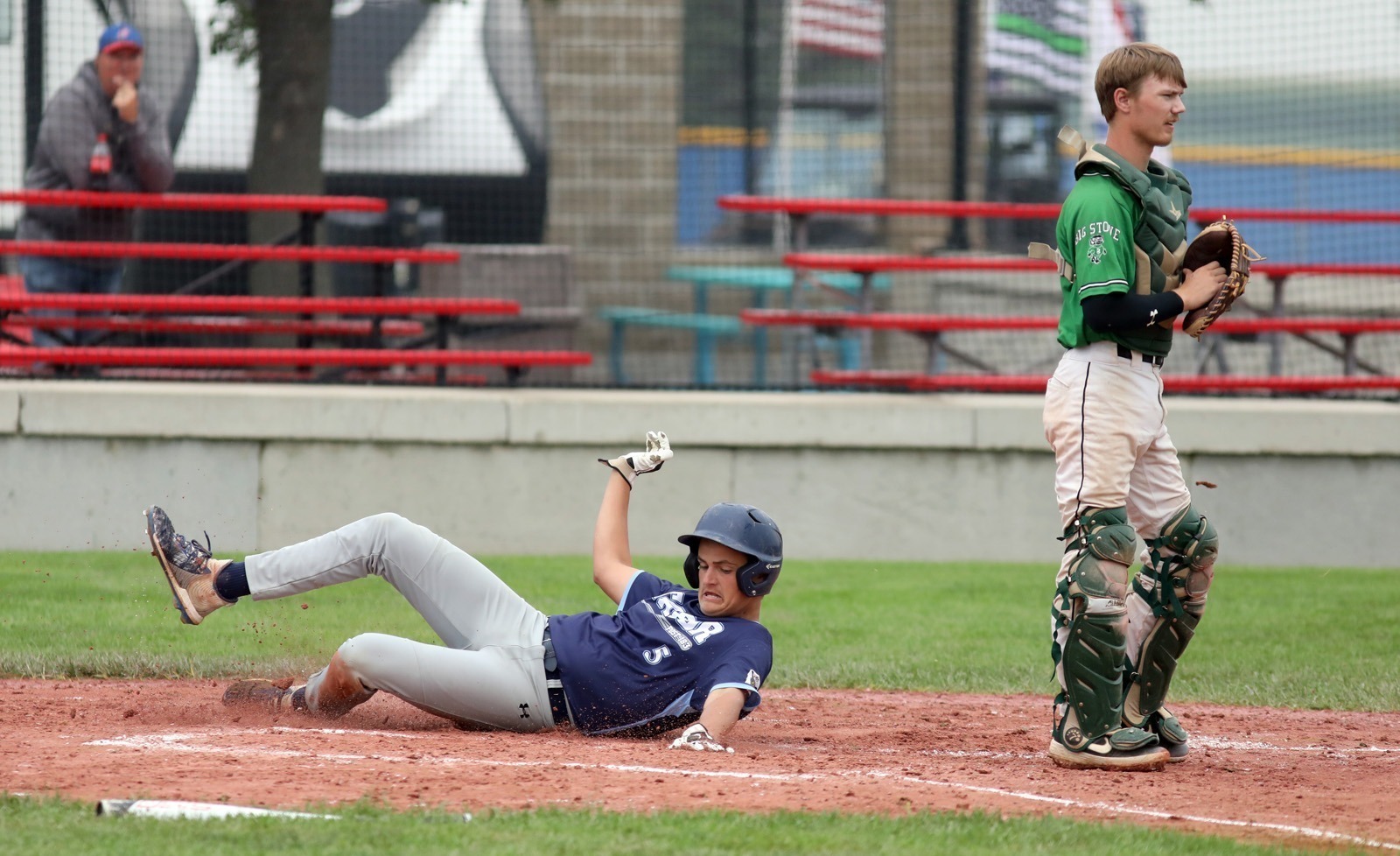 GROTON – Tabor overcame a rain delay and then wasted no time in overtaking Big Stone City in the opening game of the American Legion Class B State Baseball Tournament at Locke-Karst Field in Groton Friday morning.

Tabor's Carter Uecker overcame a 34-minute rain delay between the first and second innings to pace Post 183 to a 12-0 5-inning victory.

With heavy transient smoke hovering in the air and a light drizzle falling, game officials called a halt to the early action after Tabor had taken a 1-0 lead in the first inning. While not heavy, the drizzle had just enough impact to force the grounds crew to bring out the tarps.

As the stoppage drew past the half-hour mark, Uecker found he wasn't worried about coming back out onto the mound.

"As a team, we just try to stay mentally prepared in the dugout," Uecker said. "Just enjoy being there and not be stressed out. We just came out and played loose, and it showed."

It showed, indeed, as Uecker struck out the side when play resumed, and the Bluebirds plated eight runs over the next two innings to take control of the game. Three of those runs — all in the second — came with two outs, as Big Stone City pitcher Josh Mueller was one strike away from getting out of the inning unscathed twice.

With that damage done, Tabor then chased Mueller from the game midway through the third inning, piling on three more in the fourth off a pair of Big Stone City relievers.

"That was pretty much the way we talked it over and the way we drew it up," said Tabor coach Gary Kortan. "We executed flawlessly."

Uecker finished his day with seven strikeouts over four innings of work, while Nate Scieszinski tossed a perfect fifth inning to cap the shutout. Offensively, Tabor finished with 14 hits, including five extra-base hits.

"I knew if I could throw strikes, my team would back me up," Uecker said.
Dawson Bietz, Nolan Dvorak and Kaleb Kubal each had three hits to pace Tabor, which will face Redfield in a winner's bracket game at 5 this evening. Dvorak and Kubal both drove in three runs, while Riley Rothschadl knocked in a pair.
Big Stone City 000 00 – 0 2 2
Tabor 135 3x – 12 14 0