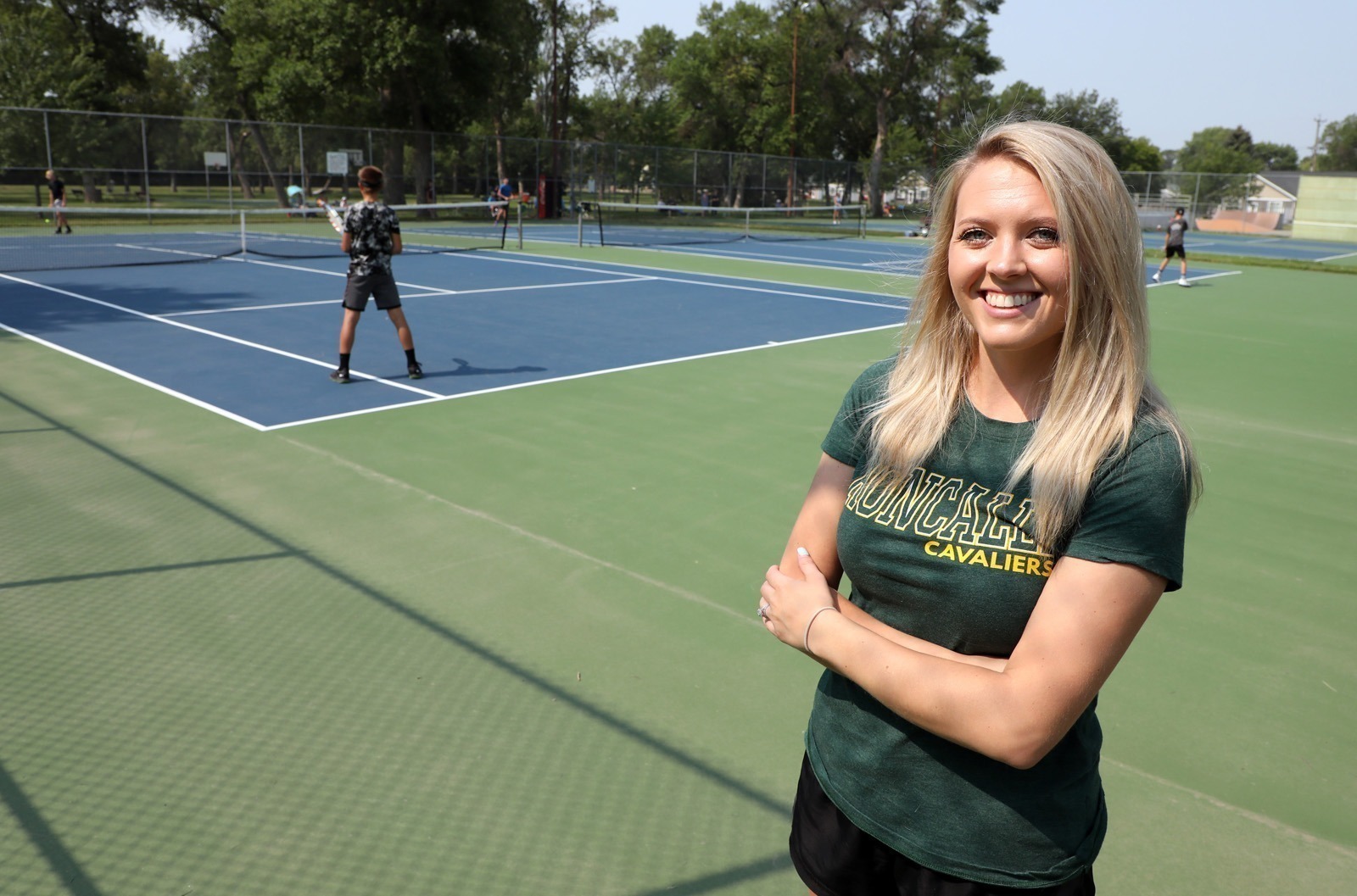 Aberdeen Roncalli has a new head girls' tennis coach, but she is no stranger to the program.
Hallie Rohrbach, who served as an assistant last season, is now the head coach for the Cavaliers.
The journey to the lead role began last summer when Rohrbach heard that Roncalli may be looking for a coach. Jason Haskell served as the head coach with his wife, Kelly Rae an assistant.
"I just kind of started assisting and helping," Rohrbach said. "The Haskells had a really good thing going. Just with life happening and different changes for their family, they just asked if I would want to kind of flip flop and take over the program and they would assist."
So this fall, the roles will be reversed with Rohrbach taking over the lead role with the Haskells assisting.
"I'm really glad to not lose them," Rohrbach said. "They're super valuable to the program."
While this will be Rohrbach's first chance as a head coach, she has a strong background in the game. She plays tennis, gives private lessons and also knows the Cavaliers after spending a year as an assistant.
"I had a whole year to really get to know them well and to love them," she said, "so it will be really fun to step into that role now."
Rohrbach played high school tennis in Kansas City which has a lot more classes than South Dakota.
"You hardly ever played the same person twice," she said.
Rohrbach said there is a difference between playing the game and coaching the game.
"I think it's always easier to have a more objective view of the game when you're coaching versus when you're playing and you have all that emotion. Tennis is such vulnerable sport. It really takes a lot of bravery. There's no hiding behind anybody else. There's no pretending it wasn't you," Rohrbach said. "It takes a lot of bravery for these girls and I think that them knowing they have a coach that they can trust, that there's like this safety of the team where they can make mistakes. They can really go all at it and not be afraid of looking stupid or failing, kind of being able to create that as a coach is really exciting for me."
Rohrbach is no stranger to athletics. Her husband, David, is the head boys' basketball, track and field, golf coach and athletic director at Aberdeen Christian, and assistant football coach at Roncalli.
"He's very supportive," she said. "He loves coaching, he loves leadership, he loves athletics, so he's been very excited that I'm kind of stepping into that world a little bit and kind of sharing that."
Rohrbach is looking forward to her new opportunity and also happy that the Haskells will be there right alongside of her to help guide the Cavaliers.
"I'm just excited for the season and really glad to have Haskells. They have years of tennis expertise and wisdom, and have been really supportive of me," Rohrbach said. "They've just kind of become like family, so it's really fun to do it together and be included in something like that."