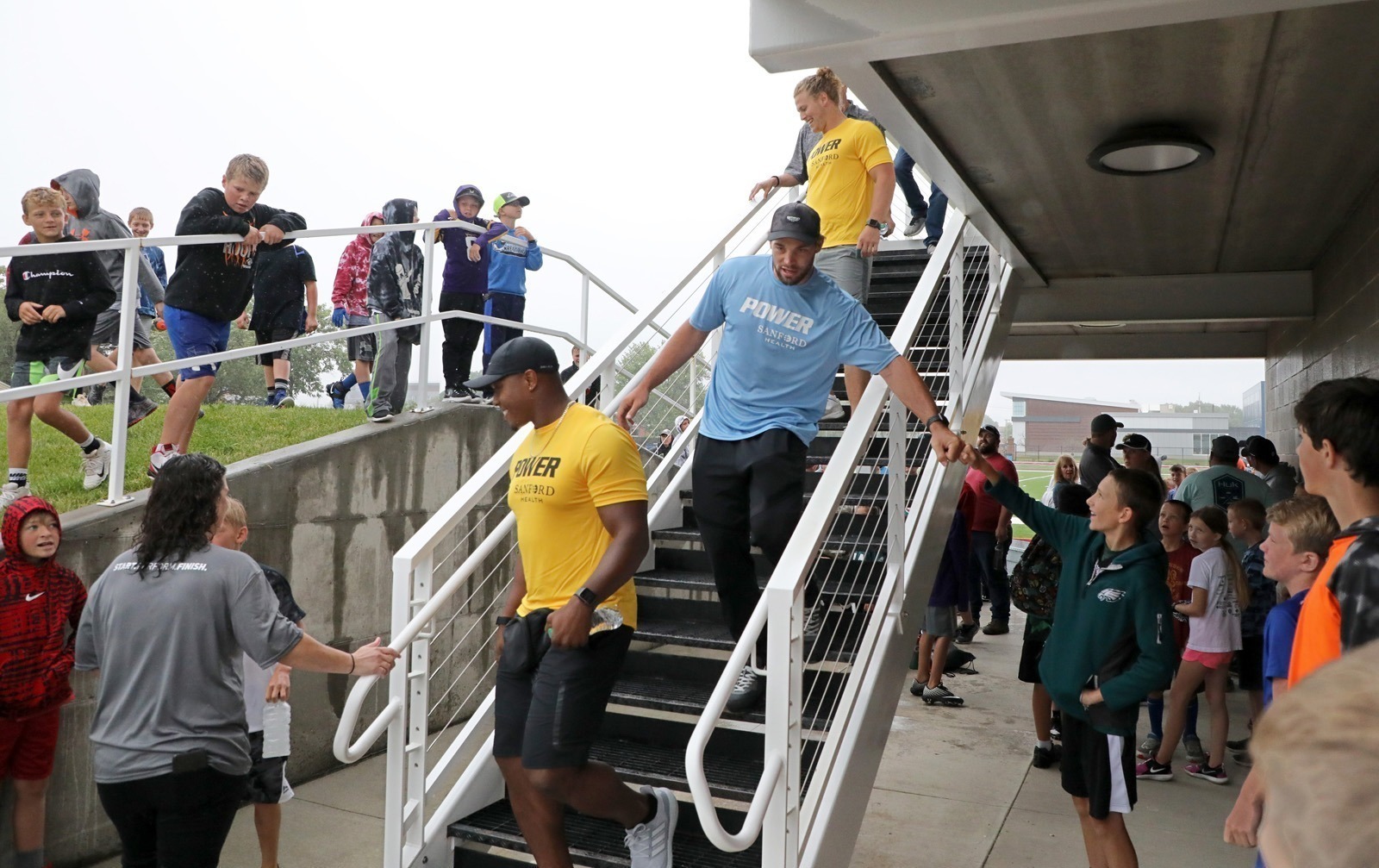 A trio of professional players with ties to South Dakota conducted a Sanford POWER football camp for players grades 4-8 on the campus of Northern State Tuesday morning. The persistent rain showers did nothing to dampen the spirits of the participants who were paying close attention to Dallas Goedert, Derrek Tuszka and CJ Ham.
Goedert of Britton is a member of the Philadelphia Eagles, Tuszka of Warner plays for the Denver Broncos, and Ham who went to Augustana plays for the Minnesota Vikings.
Like those in attendance at the camp, the current National Football League players all had dreams of making it big someday.
"It was always a dream of mine. I've always wanted it to happen. I've always kind of envisioned that it was going to happen," Goedert said of playing at the highest level, "but it being here and it being the time I've always dreamed of is a pretty incredible feeling."
Tuszka wanted to show the campers that dreams do indeed come true, no matter where you're from.
"It's huge just giving all these kids hopes and dreams that if they want to they can potentially get to the NFL as well," Tuszka said. "It's so much more relatable when it's somebody from a small town in a state that you're from. You realize that anything is attainable."
Ham, who played against Northern State in Aberdeen during his time at Augustana, was also a former camper when he grew up.
"I did them in high school. I worked them in college," Ham said. "Just to see how much you can impact a child's life, how much I was impacted by everybody I looked up to, whether me being a kid looking up to high schoolers or looking up to pros, it meant a lot to me."
Each of the pros wanted the kids to have fun while receiving some instruction during the camp. By the looks on the faces of those involved, that mission was definitely accomplished.
"Just get out there, run around with the kids, watch them compete and have fun. That's really what it's all about," Tuszka said. "Let them hang around some NFL guys. It's great just for them to see it doesn't matter where you're from, if you've got a goal you can achieve it."
All three players had remarkable journeys to the pro ranks, none more interesting than Goedert who wasn't even sure he was going to play college football before walking on at South Dakota State.
"I was blessed with a lot perfect situations that I was in. I wasn't sure if I was going to play basketball or college football," Goedert said. "(SDSU Coach) John Stiegelmeier talked to me and I'm like 'Yeah, I'm going to walk on there.' Each year I kept developing. I had great coaches there that led me down the right path. By the time my junior year, my senior year came around, I was ready for the next step and here we are hopefully going to be the next starting tight end for the Philadelphia Eagles."
Interestingly enough, Tuszka and Goedert faced each other in both basketball and football while in high school. Now, both are gearing up for another NFL season.
Tuszka is in his second year with the Broncos.
"It was great. It was an interesting year with COVID and everything, and all of the circumstances with that," Tuszka said of his initial season. "I thought it was a solid first year and something to build off of, so I'm excited for year two."
Heading into this fourth pro campaign, Goedert finds himself as a veteran in Philly as the Eagles underwent a major transition in the offseason, including parting ways with quarterback Carson Wentz.
"I'm excited. It's a completely new year in Philadelphia. We've got new coaches, a new quarterback. My first three years everything was always the same," Goedert said. "You had Carson to go back to, so you didn't really have to worry about anything. Now, being one of the veterans I have to come in with a lot more leadership. I think it's going to be a good year for us. I think all of the players are really excited, really hungry to show what we can do and what we can prove."