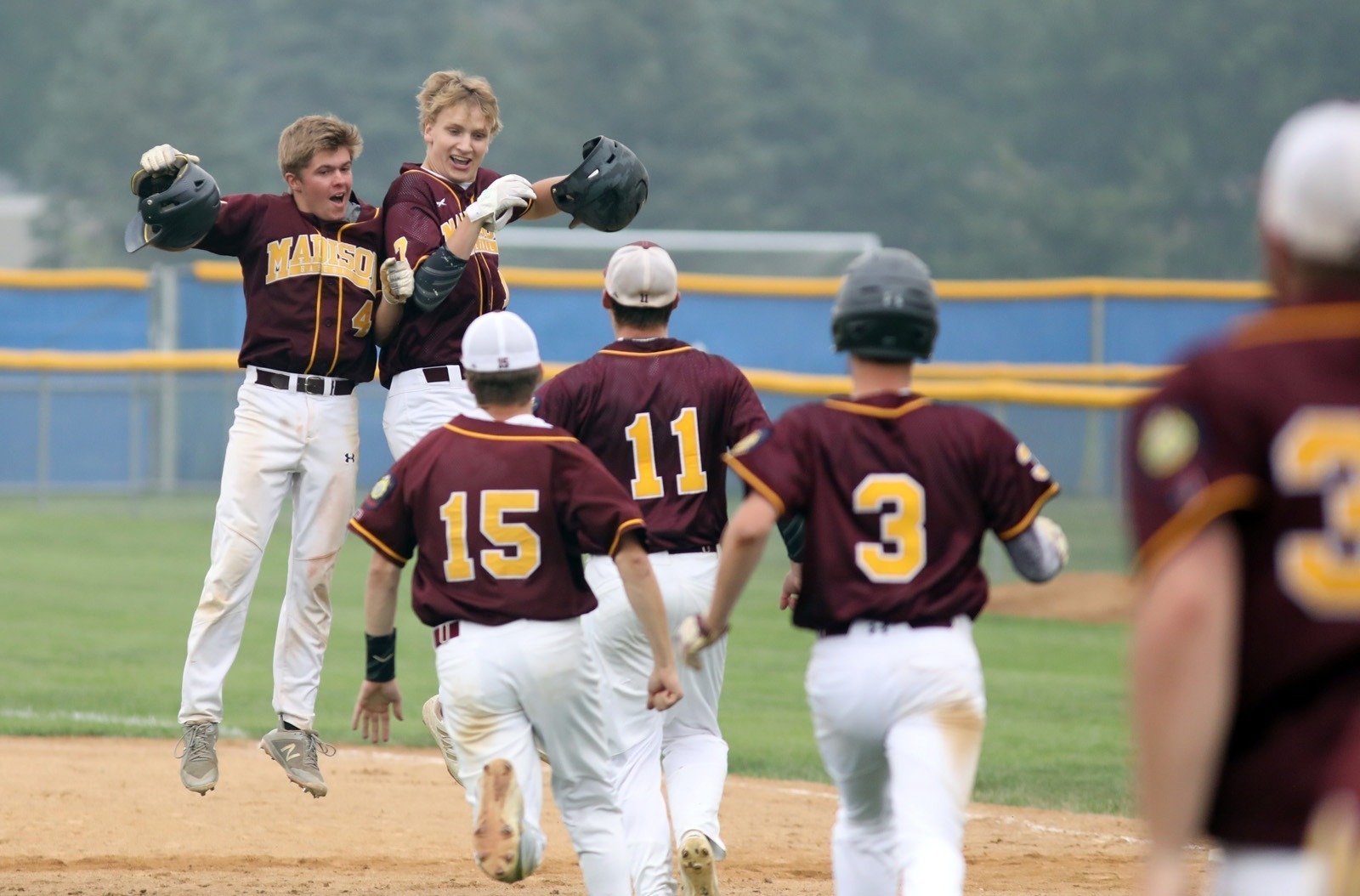 GROTON – There was plenty of drama in the second game of the American Legion Class B State Baseball Tournament at Locke-Karst Field in Groton on Friday. Madison took a big lead, then squandered it, before walking off a 6-5 win over Winner-Colome with two outs in the bottom of the seventh inning.

Trailing 1-0 after the opening stanza, Madison used a walk, a three singles, a double and one very costly dropped fly ball in the bottom of the third to score five runs and scoot ahead of Winner-Colome.

Madison starter Ashton Nills then cruised through the fourth inning and looked to be in control of the action, but then ran into trouble in the fifth inning. Nills got two outs to start the inning, then gave up two walks and a single before an error allowed the first of two unearned runs to cross the plate.

Nills was then lifted in a middle of an at-bat — with the count at 3-2, no less — after reaching 80 pitches.

"We didn't really want to do that," said Madison coach Bill Fernau. "But his numbers were getting up there and we were going to lose him."

Winner-Colome tacked on a second unearned run in that inning, added another tally in the sixth to close within a run, then tied it in the seventh with — predictably — two outs in the frame.

Ashton Klein poked a roller to the hole between the first and second basemen. The ball was fielded cleanly, but no one covered first, allowing Klein to reach safely on an infield hit.

Aiden Barfuss then ripped a stand-up triple over centerfielder Zach Whitlock's outstretched glove for the game-tying run.

But the dramatics were far from over.

Two strikeouts and a walk into the bottom half of the seventh, Sam Olson dropped a bloop single into right field to move Whitlock to third. Then Nate Ricke, who was the man to replace Nills on the mound in the middle of a 3-2 count, laced a base hit no more than a foot off the line past third base for the walk-off.

"I usually pride myself on wanting to be the guy in that moment," Ricke said. "I want to step up and make a play for my team. Today, that happened and I came through at the end."

Ricke figured he had a chance on Winner-Colome reliever Jacob Beckers' fastball.

"I knew he had a good curveball," Ricke said. "He threw it to me, so I didn't think he'd throw me another one, so I thought fastball right away. He gave it to me, so I was ready for it."

"The momentum in that game just happened so fast," Fernau said. "We got up big and everyone is just smoking hot, then all of a sudden, it just drops back on us."

Fernau said he knew he was putting Ricke in a pressure situation by taking Nills out mid-count, but praised the young player's ability to handle things.

"He did a helluva job," Fernau said.
Madison will take on Lake Norden-Badger in the final game this evening in the winner's bracket. The teams split two contests during the regular season.
Winner-Colome 100 021 1 – 5 6 4
Madison 005 000 1 – 6 8 2