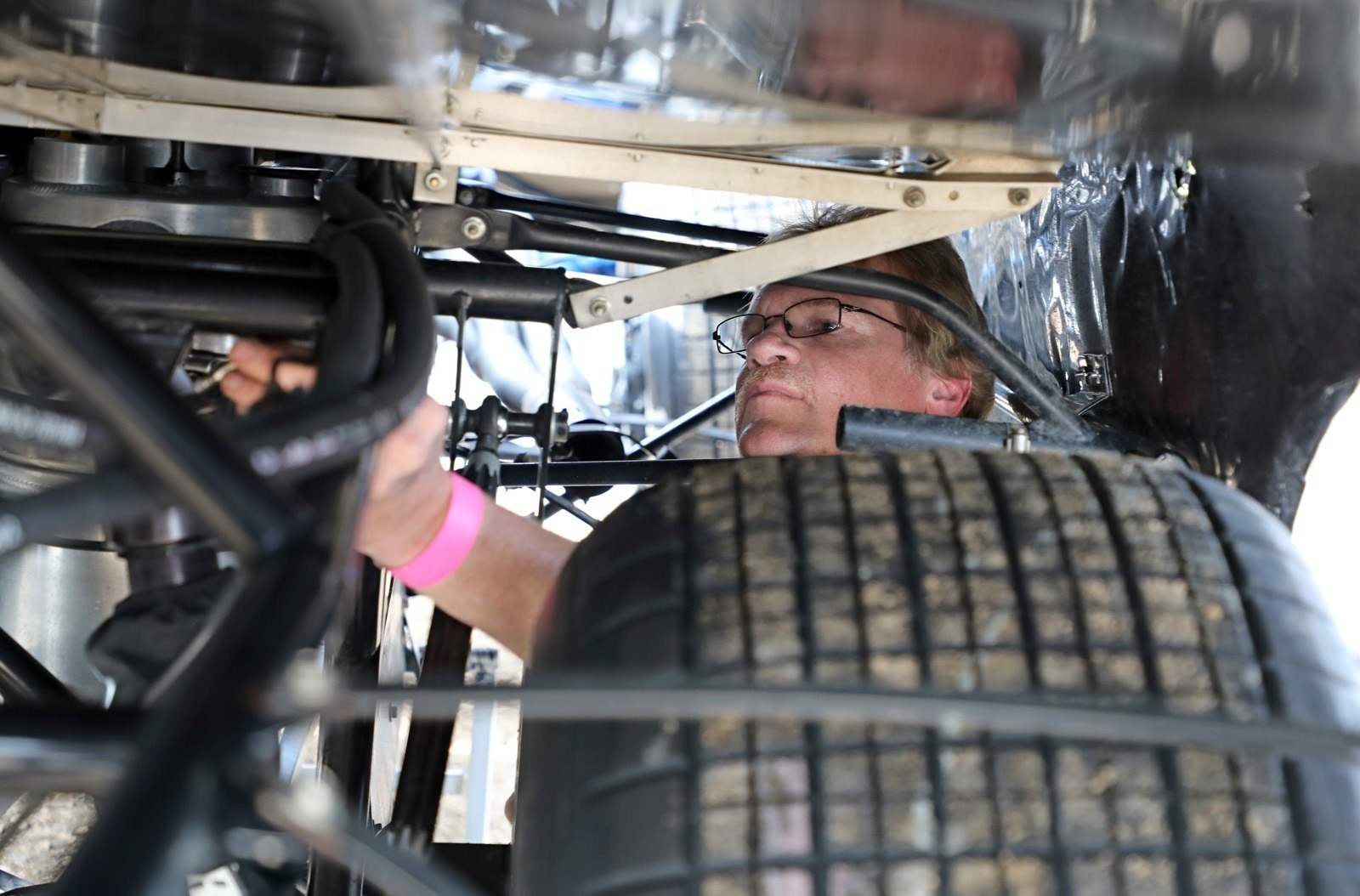 Pat Weisgram never watched auto racing while growing up and had no experience in the sport.
One night, however, he went to the races and became so intrigued by what he saw that there was no holding back.
"It just became a little overwhelming," Weisgram said. "I couldn't watch it up in the stands, I had to get involved."
Eventually at the age of 28, Weisgram found himself behind the wheel of a Late Model race car and the learning curve was underway. What the Aberdeen man soon found out is that the sport is a lot more difficult than what it looks.

"I never dreamt it would be as hard as it is. It just continues to be challenging," he said. "It's not an easy sport. It's probably one of the most humbling sports that you're ever going to be involved in."
From trying to figure out the right car set up, to having the proper racing mind set, to facing the top drivers across the region, Weisgram discovered that racing is a constant struggle. So much so, that last year he nearly gave up on the sport after 26 years of racing.
"Nothing we did worked for us," Weisgram said. "I spent many nights thinking maybe it's time to bow out of this deal and be done."
Then some advice he received from fellow Aberdeen racer Kent Arment changed Weisgram's fortunes and demeanor.
"Kent Arment helped me a lot with some shock issues that I was having," Weisgram said. "We're much more competitive. It's way better when you can go out there and start passing some cars, and you know that you can run with them again."
Weisgram is gearing up for this weekend's Dacotah Rumble, which was scheduled to start this evening, but will now be a two-day program, Friday and Saturday. It culminates with a $10,000 to win 66-lap Late Model feature on Saturday night. He said the event brings out the best in everybody.
"You bring out your best stuff. The car is going to have new tires on it. Everything is going to be double-checked," Weisgram said. "Everything has to be right."
Weisgram's best finish in the event is somewhere in the teens. When asked about finishing in the top 5 this weekend, he responded, "If I could get a top 5 I tell you what, I would be on cloud 9. If I could get a top 10 with the cars that are going to be here, it would be huge success for my program."
A big key will be what each driver draws for position in the heat races, according Weisgram. A good draw makes the path much easier to the feature race. A poor draw applies pressure before a wheel is even turned on the oval.
"You start back there you have a long road to go. That can set your tone right there," he said. "Everybody is fast. If you're not faster than they are, you're going to finish where you start."
Weisgram has enjoyed his 27 years in the sport of racing, noting that his crew chief Rich Hayes has been with him every step of the way. Weisgram has also watched his son, Thomas, flourish in the sport and has gotten a chance to compete against him in the past.
"The more years he got under his belt he picked the pace up. He was very competitive," Weisgram said. "He's got a very good sense of what it takes to make that deal work out on the race track. He can make a line work that a lot of the racers out here couldn't make work."
Weisgram will never forget his son's first win. It was almost as if he had taken the checkered flag himself.
"I was towards the middle of the pack somewhere. I was keeping track of where he was. I could see him up there," Weisgram recalled. "At the end of the race, when they announced (his car) to the front stretch, I couldn't have got there fast enough, I was so proud of him. He worked so hard to get that first win. That was pretty cool."
Weisgram still goes through the highs and lows of racing and probably always will, but this year the fun has returned to the sport. It has given him a fresh outlook on how long he plans to continue to circle the track at Brown County Speedway each Friday night.
"Well, if you'd asked that last year I'd say I probably would have said I was about done. This year everything is going pretty well for us. We're having fun again," Weisgram said. "I don't know what else I'd do. I'm still healthy. I can still do what I need to do. I'm still driven by the sport."