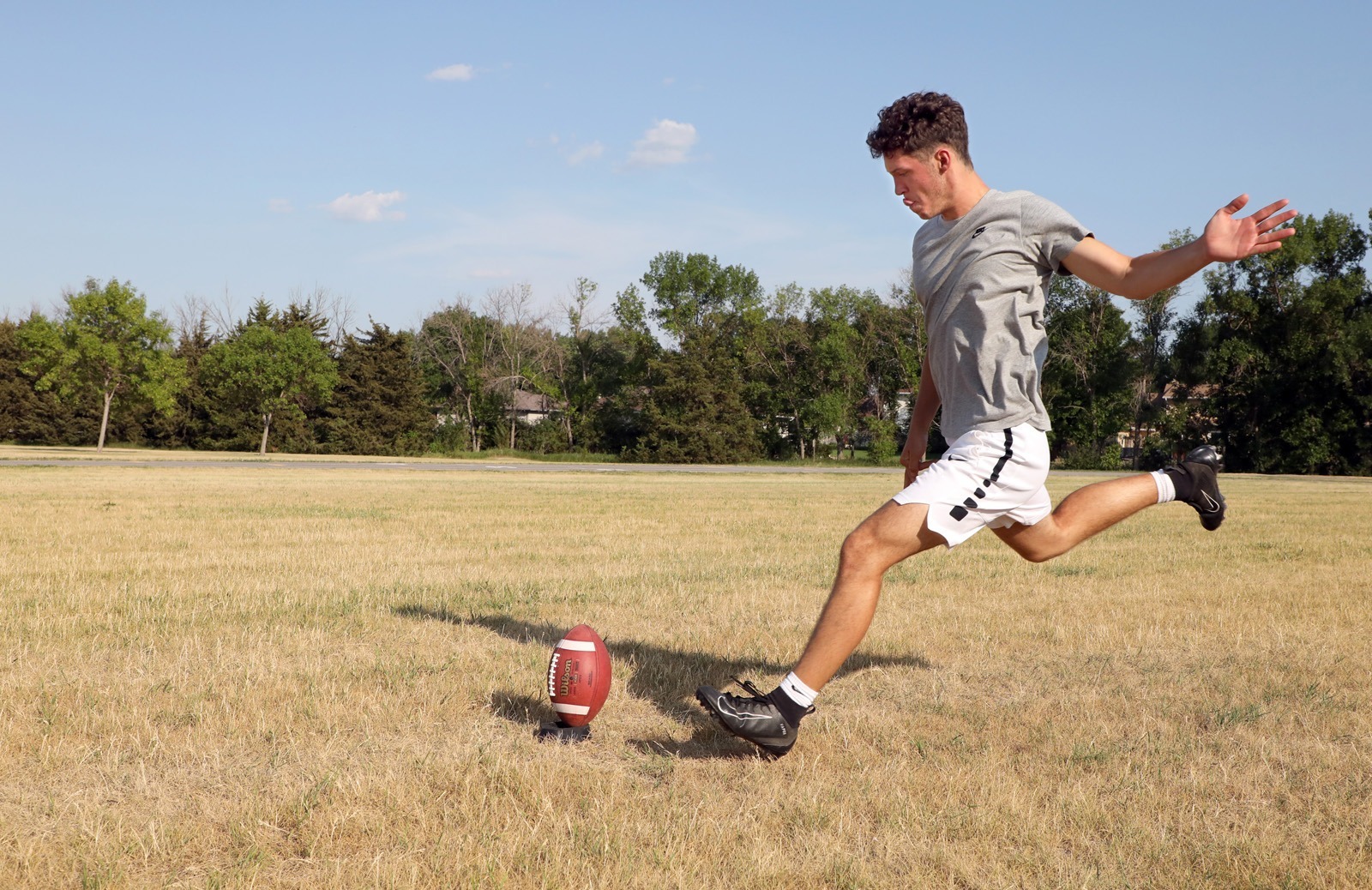 Jackson Isakon's junior year is definitely getting off on the right foot.
The Aberdeen multi-sport athlete recently used his strong right leg and foot to earn a trip to the invitational only Kicking World National Showcase in Austin, Texas, Dec. 4-5. Isakson got the invitation following a solid showing at a Kicking World camp in the Twin Cities recently.
"It is a great opportunity and I'm super excited. I've never been to Texas, either," Isakson said. "It's going to be pretty fun to go and kick with some of those better kickers. I feel super blessed that I have the opportunity to go down there."
Isakson attended the same camp a year ago, but after failing to get an invitation last year came back stronger and made his presence felt this year.
"Over the offseason my leg has gotten a little bit stronger. Last year I didn't do as well on the punting as I did this year. I think that was a bigger part," Isakson said.
The camp featured a day of teaching and technique and a day of competition.
Isakson said the training definitely impacted his punting.
"Actually, the camp really helped me. It taught me a lot about punting," he said. "We worked a lot on my drops, hitting off the sweet spot on your foot. It helped me a lot."
Isakson attends Aberdeen Christian where he competes in basketball, and track and field. He plays football for Aberdeen Roncalli through a cooperative program. He got his start in kicking as a seventh-grader for the Cavaliers.
"I had always played soccer when I was younger. When I got into football my seventh grade year at Roncalli we just needed somebody to kick off for the games. We had like a tryout," Isakson said. He decided to give it a shot and secured the spot. "From there on I kept kind of practicing and watching some videos about your plant foot and your swing through and stuff. I actually talked to (Roncalli) Coach (Billy) Young and he kicked in college. He was a great kicker. He helped me a lot, too."
Isakson not only won the kicking job, he has etched his name into school record books after connecting on a 49-year field goal last season.
"It felt great. I was very thankful that coach let me kick it, because if I would have missed that, it would have been bad field position for us," Isakson said. "I actually went over the sidelines to get my tee, and he said, 'No pressure, but this would be the school record if you make it.' When I kicked, it felt good. Once I hit it, I knew that it would be far enough and then I looked up and I saw it was going through. That was a great feeling. I was just thankful for the opportunity that coach let me kick it."
When asked if he planned on breaking the record sometime in the next two years, Isakson said Young has given him a green light for anything inside 55 yards.
Isakson handles the kickoff, place kicking and punting duties for the Cavaliers in addition to being the team's quarterback.
He said, while he enjoys kicking off, kicking field goals and punting, he prefers one of three options more than the others.
"The field goal is the most, just because it gives your team points. If you punt, that means you didn't do good on offense and since I'm the quarterback too, it kind of sucks," he said. "I love kicking off too, especially at the beginning of the game when the crowd is kind of into it and they've got the music going."
Isakson hopes to be able to kick in college some day. He pointed out a couple of professionals as his favorite kickers.
"It used to be Adam Vinatieri because he's from South Dakota, but now I would say Jason Sanders of the Miami Dolphins," Isakson said. "He actually went to these Kicking World camps when he was younger. I had him on my fantasy football team, and he did good, so I've always liked him."
Isakson, who works out by himself each week at the football field at Holgate, will soon find himself surrounded by the best high school kickers in the country down in Texas (the event will be livestreamed). It's an opportunity he is definitely excited about.
"I'm hoping that I can do a lot better on the field goals. It's just going be a great opportunity to go against some of the best kickers," Isakson said. "I'm hoping to do well on my punts, and hopefully learn some stuff, too."