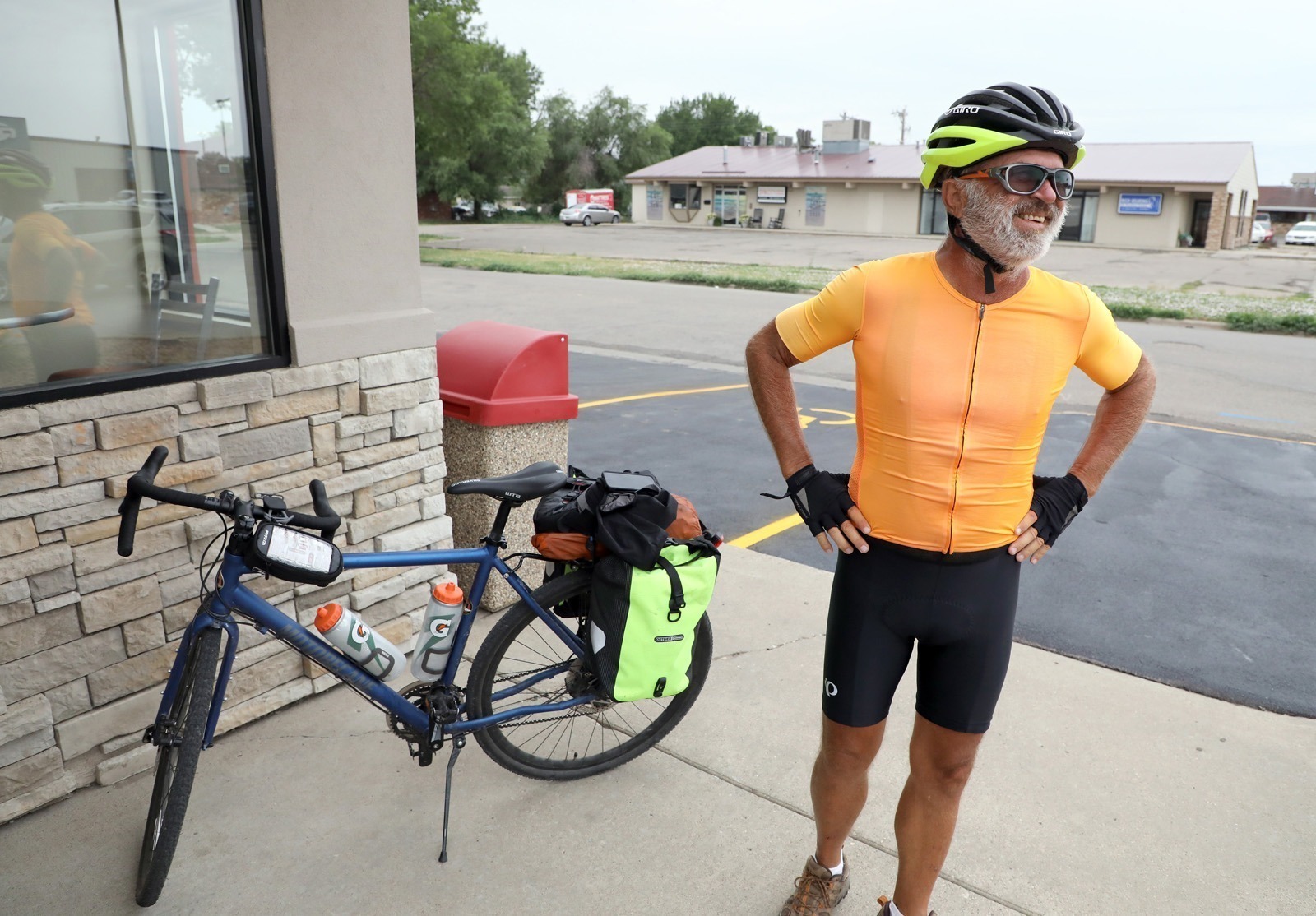 Jeff Peterson has always liked a challenge.
It's the reason why the former Bristol resident once hiked 2,200 miles across the Appalachian Trail from Georgia to Maine.
"I had never hiked before and I hated camping. It was right after I had retired and I just wanted to challenge myself mentally and physically," Peterson said. "I swore I would never do anything like that again. It was the dumbest thing I had ever done. And after a few months, I realized I needed a goal to be thinking about, to keep me focused a little bit."
So two years ago Peterson went off on his next venture, an 820-mile hike across Spain and Portugal speaking no Spanish.
Now, the 63-year-old Ponte Vedra Beach, Fla., resident is heading from the northwest tip to the southeast tip (Anacortes, Wash. to Key West, Fla.) of the country on a bike. He is once again raising money for three charities: the Sun Dial Manor in Bristol, the K9s for Warriors, and the Down Syndrome Program at Boston Children's Hospital. You can make a donation at www.at-pete.com He also writes a daily blog about his journey.
Peterson was in Aberdeen on Thursday on his way to an all-class reunion in Bristol this weekend. He is about a third of the way through his 4,800-mile trek.
The 1976 graduate of Bristol and 1980 graduate of Northern State is enjoying his ride this week.
"It's nice coming through this stretch," he said, "because I know somebody in almost every town along the way."
Peterson's parents still live in Bristol, and he has a brother in Aberdeen. His wife (Kris Sjurson) is originally from Bristol.
While he is enjoying the flat land, he said it can be both a blessing and a curse.
"Along here one of the nice things is you can see towns coming up from a long ways away. The bad thing is you can see towns coming up from a long ways away. And they just do not get any closer," Peterson said.
A case in point was Wednesday as he inched closer to Ipswich.
"I'm coming into Ipswich, it was the end of the day and I'm really pretty tired," Peterson said. "I see a grove of trees, well, it's probably Ipswich, but of course it's not. Then I could see Ipswich in the distance. And then I get to a sign and Ipswich is still seven miles away."
While there is still plenty of ground to cover before completing the bike trip across the country, Peterson is hoping some of the hardest parts are out of the way, like the mountainous terrain in the state of Washington.
"Most of the big climbs were right when I started," he said. "Of course when I'm in the worst shape was probably the hardest part."
Then there was the grueling heat, which for him took place in a desolate part of Montana.
"The heat has been the worst by far. When it was 100 every day, I was in the middle of nowhere, Montana," Peterson said. One of those blistering days Peterson, who normally bikes between 60-70 miles per day, ended up logging about 105 miles one particular day. "The last 16 miles my calves were cramping. I had pain shooting through my thighs. I was basically starting to have heat exhaustion."
While there are new sights and sounds each day, Peterson found himself in a very delicate situation shortly after his trek began.
"The craziest thing was coming down a mountain pass in Washington, a narrow, windy road, no shoulder, people can't pass me, there's a logging truck right behind me and it's steep downhill," Peterson said recreating the scene. "I had no clue what to do. I just pedaled as fast as I could. I was going probably 40-45 miles an hour."
Peterson, who burns through about 4,000 calories per day, said he does a good share of biking during the morning hours when his legs are fresh. He said he only plans his path a day or two at a time.
"I don't plan too far ahead," he said. "I just kind of wing it."
He said one the most challenge parts of the journey is just being self-motivated to get up and get going each day.
"Most of the time, truly during the day it's hard work," he said. "I'm pumping, grinding all day long."
Biking for hours on end can also be as tough mentally as it is physically. Peterson does his best to keep his mind occupied.
"I don't have anything in my ears. I think it's important to be listening to what's going on around you," he said. "I talk to myself a lot and I talk to my bike a lot. I even gave my bike a name."
He calls his bike "Gerty" named after his grandma.
While Peterson and his bike will definitely get to know each other on a personal basis on the nearly four-month trek, it likely won't be a long-term relationship.
"It will feel really good to be done. Then I'll probably sell my bike," Peterson said. "I probably won't do any more biking after this one."
Maybe not, but knowing Peterson's track record, there will probably be another challenge waiting in the wings.
"What I would really like to do is set age-type records," he said, noting that one of the hikers he came across during one of his trips was 84-years-old. "The problem is I have to get a little older before I can get in that conversation."