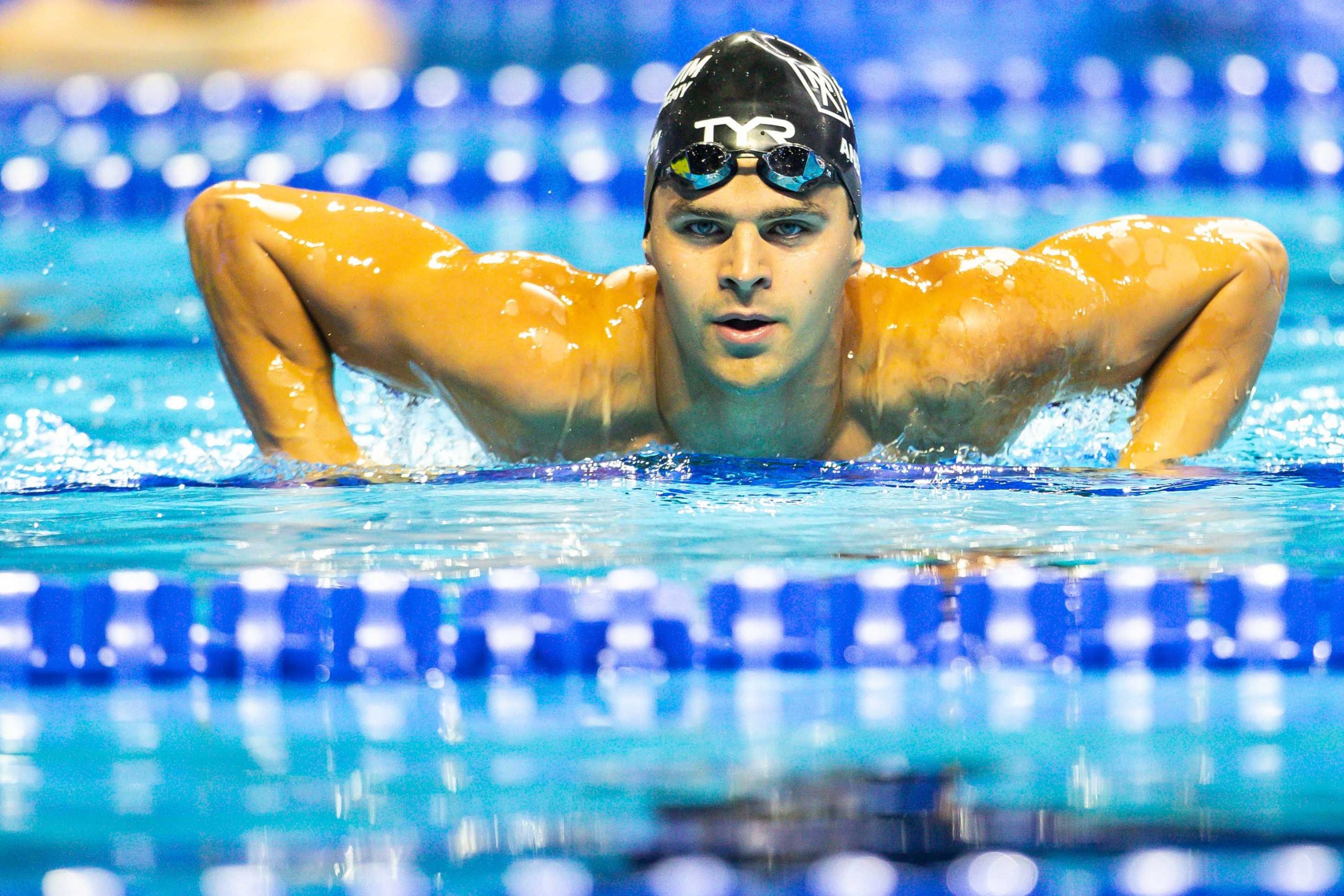 TOYKO, JAPAN – The journey to the Olympic Games is complete. Now, Michael Andrew will be looking to make the most of his opportunity.
The former Aberdeen resident just missed qualifying for the Olympics in 2016, then had to wait out COVID last year before the swimmer punched his ticket in multiple races for The Games which start this weekend in Tokyo.
"I don't want to be arrogant and say yeah, we always knew this is the way it would end up, because you don't, you work towards something and you hope and you pray and you do your best," said Tina Andrew, Michael's mother. "It was so surreal for him to finally reach that mark and having his dreams become true."
Andrew said that while her son was close to qualifying for the 2016 Games in Rio, he never fully expected that to happen.

"He actually never thought that he was a contender to qualify for the last round. For him, he was so content where he was. For him to have gone into the competition and swim best times, and go as far as he did, he was thrilled. That was fuel to his fire," Andrew said. "For me, I thought that he could have made the team."
Instead, of being down and out, Andrew kept working hard, never giving up on the dream to someday make the Olympics.
"We knew very much that it was just the beginning of a journey," Tina said. "We were in it for the long haul."
The entire Andrew family always believed that Michael was destined to be an Olympian, even had it not happened this summer.
"Even if he didn't make it this time around, for him it's always been a long-term dream and a goal," Tina said. "We so strongly believe that he has an exceptional gift of talent, that he was made for this. It was just a matter of time. I'm just glad that he didn't miss it this last time around."
Tina is also thrilled that the Olympics will actually take place, even though she won't be there in person. Peter Andrew, Tina's husband and Michael's dad, will be allowed to be there since he coaches Michael. However, with the current COVID guidelines restricting all fans, Tina will remain in the United States to watch the competition along with everyone else in the country.
"I am very sad that I am not able to be there, I really am," said Tina, who has witnessed nearly every significant race in her son's career.
She said that NBC has arranged to fly two members of every Olympic athlete's family to Orlando, Fla. for a special watch party during The Games. Toyko is 17 hours ahead of the U.S. in time difference. Most of the swimming will take place in the morning in Japan so it will be shown live in prime time in America.
Here are the times that Michael Andrew will be swimming with Toyko times converted to Central Times:
20:55 Tokyo/6:55 a.m. CT – 100m breast heats
Sunday, July 25th:
11:33 Tokyo/9:33 p.m. CT Saturday – 100m breast semi-final
Monday, July 26th:
11:12 Tokyo/9:12 p.m. CT Sunday – 100m breast final
Tuesday, July 27th: OFF
Wednesday, July 28th:
20:15 Tokyo/6:15 a.m. CT – 200m IM heats
Thursday, July 29th:
12:08 Tokyo/10:08 p.m. CT Wednesday – 200m IM semi-final
Friday, July 30th:
11:16 Tokyo/9:16 p.m. CT Thursday – 200m IM final
19:02 Tokyo/5:02 a.m. CT – 50m free heats
Saturday, July 31st:
11:11 Tokyo/9:11 p.m. CT Friday – 50m free semi-final
11:43 Tokyo/9:43 p.m. CT Friday – mixed medley relay final
Sunday, August 1st:
10:30 Tokyo/8:30 p.m. CT Saturday – 50m free final
11:36 Tokyo/9:36 p.m. CT Saturday – men's medley relay final
To see a schedule of other top swimmers click on the following link:
https://swimswam.com/tokyo-timing-top-american-swimmers-olympic-schedules/
Tina believes that last year's break because of COVID was actually a blessing for Michael who got a chance to step away from the competition and exhale for a bit.
"Michael did not have the same reaction and response to COVID as most athletes. He was frustrated in a short and brief moment. Right before it happened and everything was delayed he was swimming lights out," Andrew said. "Then when everything was put on hold, he was quite content. He literally unplugged. It was very clear in a short amount of time that the majority of athletes were in the same boat. Looking back on it, I'm so grateful for that because I feel like Michael had almost a season to just play and not be focused and pressured by training for the Olympics and all of that."
Michael lived in Aberdeen from 2001 to 2012. He competed for the Aberdeen Swim Club for less than a year before Tina started a team called the Aberdeen Aquaholics and Michael swam for that squad.
The family eventually moved to Kansas where Michael continued in his quest for the Olympics. They now live in California.
Michael still has many fans in the Hub City. Those who want to send a message of encouragement can use the directions on the following link:
https://olympics.com/tokyo-2020/en/games/share-the-passion/
You can also record a message on your phone and send it to tina@maswimacademy.com
Tina believes that now that her son has qualified for the Olympics and the pressure to make the team is removed, his best times are ahead of him.
"He's in a great place," she said. "I believe that world records are on notice."
While Michael already owns numerous records and could be primed for a major showing in this year's Olympics, Tina said that no matter what happens, there are bigger things in life.
"If you look at his career, the Olympics is very important and being an Olympian is important and he values that, but it's not all-important and it's never been all-important for him," she said. "It's never been just about the Olympics. Some people, their whole life, everything is just about that. They eat, breath and sleep it. It's never been that for Michael."