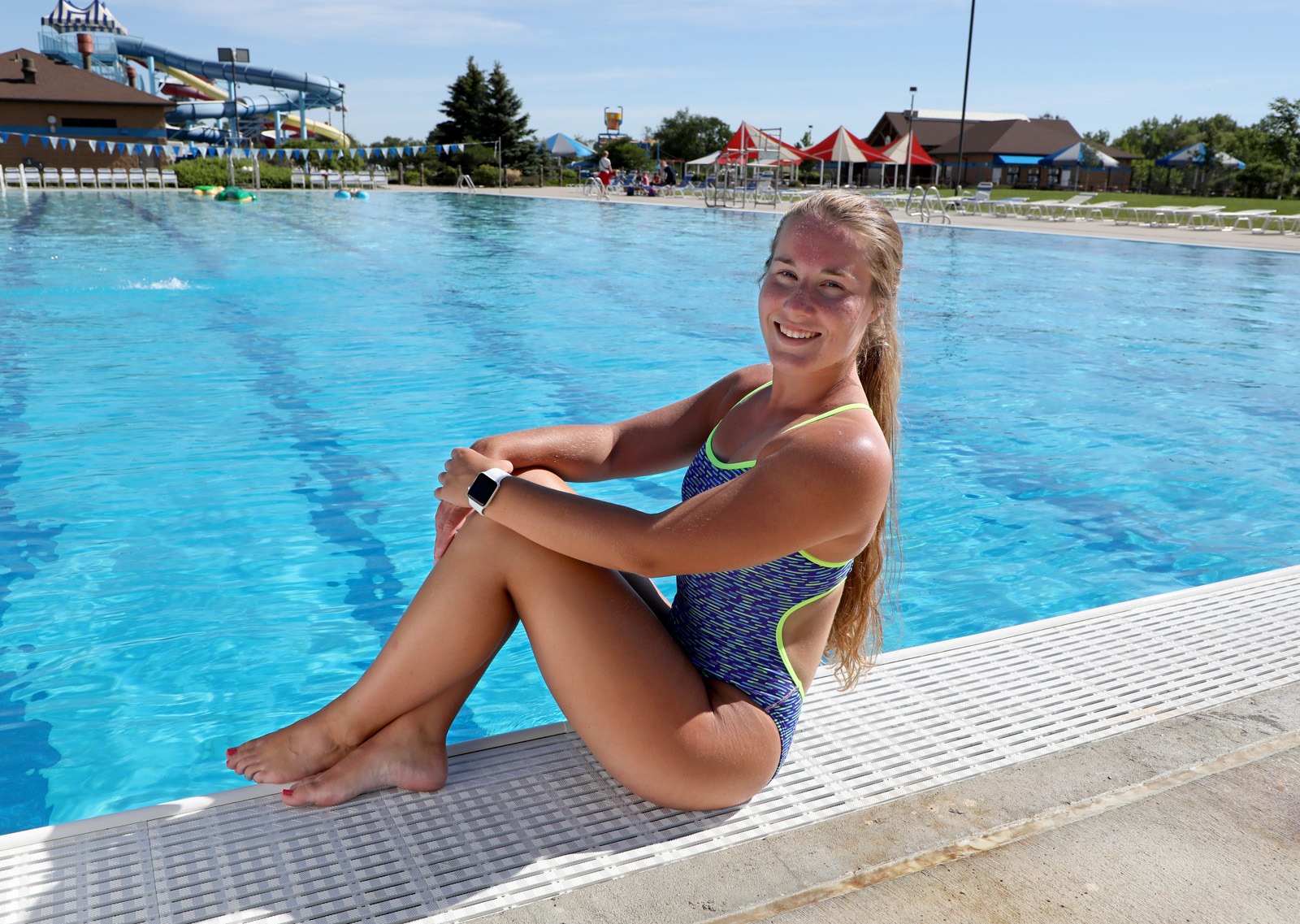 Grace Nelson takes the saying, "She's like having another coach on the team," to a whole different level.
The 18-year-old member of the Aberdeen Swim Club is part athlete, part coach.
"I've always enjoyed swimming and working with kids," Nelson said. "I knew that it was something I could continue past my swimming career as an athlete. So getting to know these little swimmers and helping to raise the next generation has been fun."
Nelson and the rest of her Stingray teammates will be competing in the team's annual High Point swim meet today through Sunday at the Aberdeen Aquatic Center.

Nelson has been a long-time member of the team, but a back injury has limited her time the water, forcing her to miss the bulk of two years of competition. It also gave her a new perspective on the sport.
"I was a team captain and watching the team from the sidelines you see athletes reach so many of their goals when you're on deck vs. in the water" she said. "Then you can share those special moments with them later on."
In her role, Nelson not only contributes to the team while in the water, but is also an advocate for the swimmers out of the water.
"Before she became one of our coaching staff, she was also voted on by the board of directors of our non-profit, to be an athlete representative as well," said ACS coach Sam Gaddie. "So she's actually on our board of directors, being an athlete's voice to our board. She coaches, she deals directly with the athletes in all of our training groups, so she has the background to really be that voice for our swimmers."
So what do the older swimmers think about taking advice from someone so close in age?
"Sometimes they laugh at me and think I'm crazy," Nelson said, "and sometimes they're like you know, she might be right. She might know what she's talking about."
Gaddie said the club has given Nelson opportunities to grow as a coach while at the same time being a member of the team.
"She's learning a lot as she goes. As she continues to progress as a coach, we give more responsibilities and we're trying to foster growth into becoming an excellent coach for our team, which she is already," Gaddie said. "She's certainly got the enthusiasm to continue to grow and be even better than she already is."
Nelson said that swimming is getting a bit more publicity this year because of the Olympic Summer Games which were pushed back from a year ago because of COVID. Former Aberdeen swimmer Michael Andrew just qualified for the Olympics, while Aberdeen native Hannah Kastigar competed in the U.S. Olympic Trials and was edged out in her finals heat.
"I think there is a lot more attention, especially with it being the fifth year between Olympics. I think there's a whole lot of younger athletes at the trials, which is really nice to see," Nelson said. "We had a 13-year-old beat out one of our Aberdeen swimmers, but we all look up to Hannah and we all want to be Hannah when we're older."
Nelson is an example to younger swimmers herself, overcoming a back injury to not only continue in the sport that she loves, but also showing a desire to give back to swimming through helping others.
"Her desire to continue improvement based on wherever she is at any point in time and what she has to push through makes her a shining example of what swimmers can accomplish when circumstances might not be as ideal as what they want them to be," Gaddie said.
Nelson, who works as a lifeguard, said swimming is a sport that provides enjoyment regardless of the final results.
"It's just as much of an individual sport as it is a team sport," she said. "I've never been the fastest swimmer, I've never been the A relay state champion, but you can improve so much on your own that you don't need the others to make yourself happy."
While Nelson plans to be involved with the sport for a long time, this weekend will mark the end of era when she will be competing in the final home swim meet of her career.
"I think it's going to be bittersweet," Nelson said. "I know it's not my last swim meet ever, but it's my last one at home so you're leaving a piece of you in the pool no matter what."