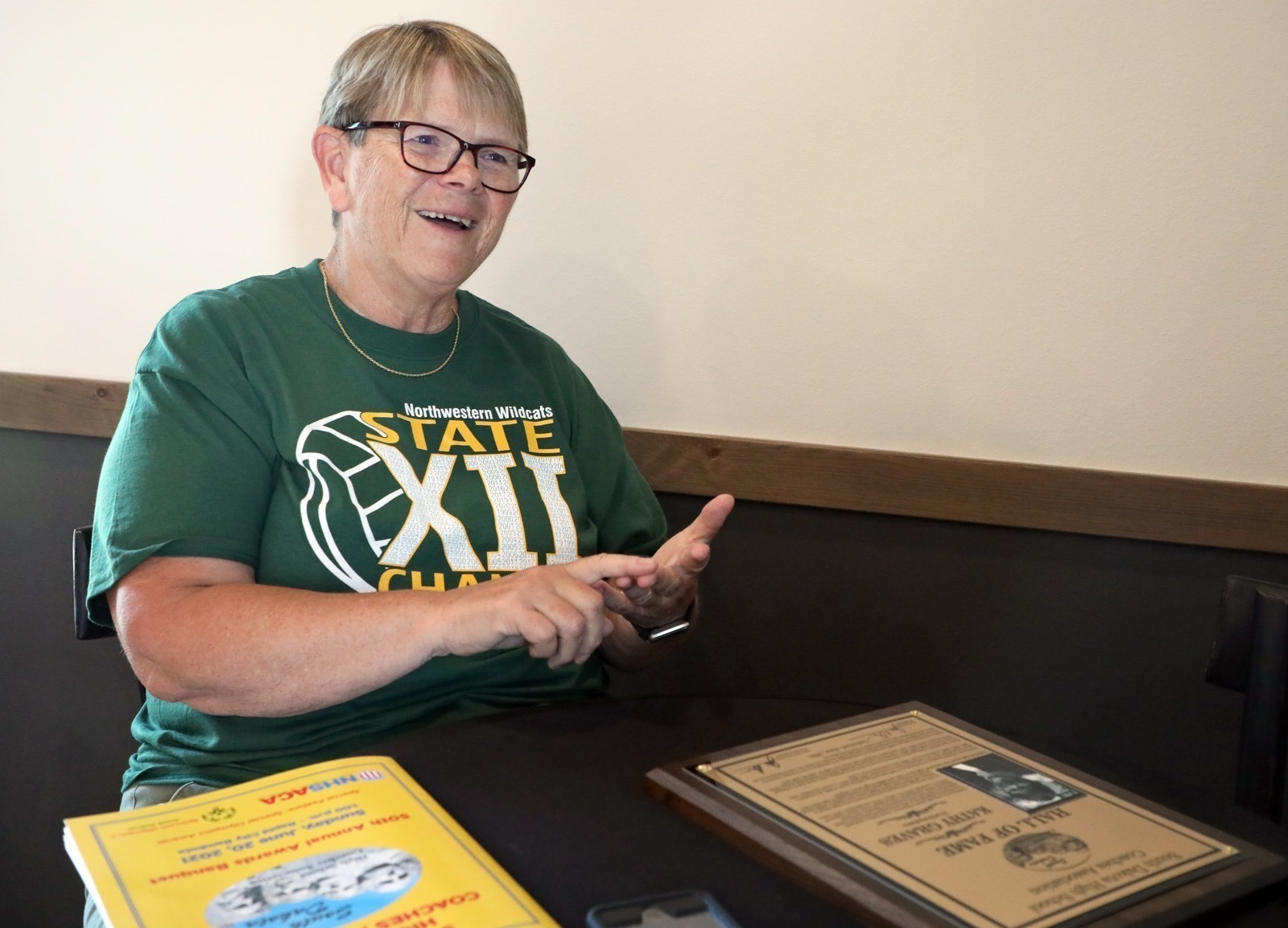 She hasn't coached a competitive match is nearly two decades, but Kathy Graves continues to have a measurable impact on the sport of volleyball.
The former Northwestern coach was recently inducted in the South Dakota High School Coaches Association Hall of Fame. It was an award that caught her completely off guard.
"It wasn't on my radar," Graves said. "I almost didn't answer the phone, because I thought it was a telemarketer."
Graves guided Northwestern to three state championships and four runner-up finishes in her 17 years with the Wildcats. Her former student, player and assistant coach Nora Groft has taken over from there adding nine state titles in her 19 years at the helm. Northwestern recorded its 900th victory last season, a remarkable feat for a program that has only had two coaches in its storied history.
"Nora and I are kind of prideful about that," Graves said of having only two head coaches since the program began in 1985-86. "I think it is unique. It's not something that we planned."
Graves, who moved to West Plains, Mo. about five years ago, knew the program would be in good hands with Groft when she stepped down.
"She's an attention to detail girl," Graves said. "If she's going to do something she's going to do her best at it. She's going to go the extra mile."
In all likelihood it was Graves that set that example not only for Groft, but also for some of her other former players who have gotten into coaching, like Aberdeen Central coach Jackie Bindenagel and Brookings coach Tina Birgen.
Graves said she never thought about the impact she might be having on future coaches back when she was on the sidelines.
"When you have a job, you want to do your best at it. You don't about think whether you're making an impact on anybody," Graves said. "Now days, when you go the extra mile, people put it in that 'extra-mile category.' Back in my day that's what you were supposed to do for your job."
Graves can't tell you how many matches she won during her career (the answer is 338), but she can tell you how much fun she had and how it wasn't all about winning.
"When you think of the memories that you have, sure I have that memory of walking up and getting that championship trophy," she said, "but there are so many other memories that didn't happen in the gym."
Along the way, Graves established a culture that never focused solely on winning, but rather expected effort and unity.
The legendary coach had three simple goals when she coached the Wildcats.
"Obviously, I wanted them to become better in their sport skill-wise and love the sport. I wanted them to love and care about their other players on the floor, and I wanted them to have fun," Graves said. "If you do those three things, a lot of good things are going to happen."
Graves will be the first to admit that she was blessed to have quality athletes through the years, but she also made the most of it.
"There are a lot of good coaches out there, but maybe they don't have those kids that have the athletic ability. The coaches do the right things, they support their kids, they provide them with the same things that I did, but they don't get to go places that I do," Graves said. "As a coach, and I think the coaches that are always concentrating on the wins miss this, is that my experiences are because of those kids, bottom line."
That said, it is the coach that builds the program and also builds the confidence that helps the players to succeed. Instead of tearing players down when they struggled, Graves focused on trying to lift them up.
"They need to know that you still love them," she said "and that you have a way to get out of this."
Graves credited former assistant coach Denise Clemens with something she pointed out following a long state championship match victory.
"Denise said something to me that I'll always remember. She just looked at me and she said, 'I can't believe how courageous these kids are.' I think that people in the stands don't understand how much courage kids have to have to get up there and serve that game point, or when that setter is serving you and you want to put the ball down to win the match to win the state tournament. I don't think they get it," Graves said. "I'm in awe of those kids, because I'm thinking to myself, I'm not sure I could do it."
Maybe not, but Graves had a way of bringing out the best in her players so they could do it. Some of those players are now coaches carrying on that tradition today.
It's one of the many reasons why Graves will continue to impact the sport of volleyball for generations to come.