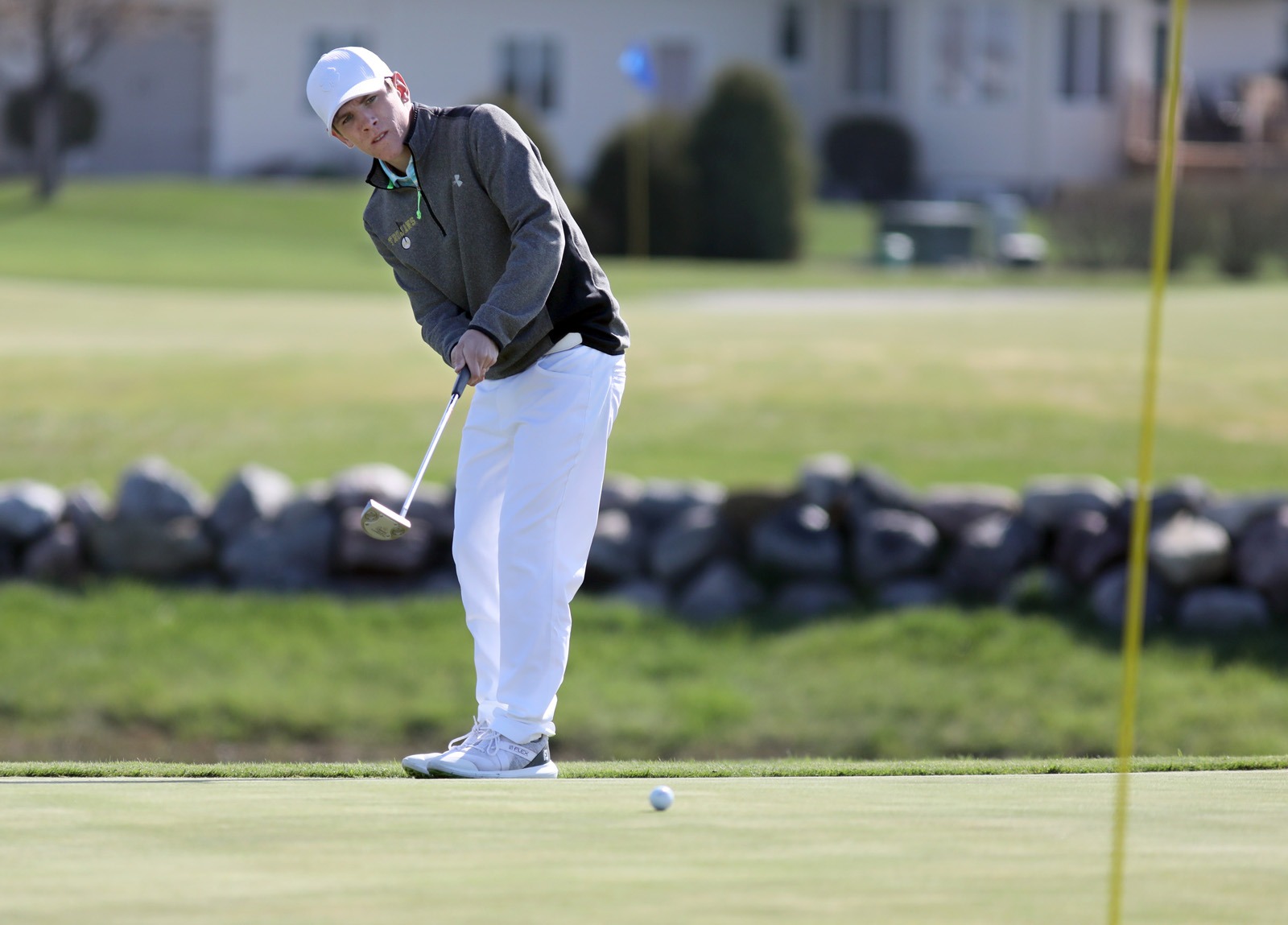 BROOKINGS – Faulkton's Bennett Cassens closed with a flurry and finished runner-up at the Class B State Boys' Golf Tournament on Tuesday. The junior finished just one stroke out of first place. Meanwhile, Miller's Jayce Pugh rallied to win the girls' individual championship.
Cassens, who shot a 78 on Monday, fired a 75 on Tuesday.
"I worried about myself. I was playing confidently. I struck the ball well," Cassens said. "I tried not to worry about where I was going to end up or what was going to happen."
What almost happened was a remarkable shot on the final hole. Trailing by two, Cassens almost put one in the cup from about 50 yards out that would have forced a playoff.

"I thought there was a chance," he said of the ball that rolled about two inches past the hole before Cassens settled for about a 18-inch birdie putt. "It had some check on it. It did slow down a little bit, it just needed to be a little bit farther to the right."
The junior finished 41st at the state tourney two years ago before COVID. When asked about the reason for his dramatic improvement, Cassens responded, "It's my head. I don't get flustered too often. I don't worry about what happened in the past. I worry about the next shot coming up. I think that's really improved my game."
Cassens said he left a few strokes out on the course.
"I definltey could have made a few more putts. I left a lot of them about an inch or two short," he said. "I had the right line, I just didn't hit it hard enough."
The runner-up finish left him motivated for his senior year of golf.
"I can't wait. It gives me a lot confidence," Cassens said. "I'm pretty excited."
Brody Boltjes of Platte-Geddes won the individual title. Chester won the team title by two strokes over Platte-Geddes.
Pugh, just a seventh-grader, trailed for a good share of her round before finishing strong to shoot a 75. She showed an eight-stroke improvement from Monday's opening round.
Estelline-Hendricks won the girls' team crown with Bison second.
Aberdeen Christian's Jett Becker finished 11th after shooting an 84.
"He didn't golf as well as he'd hoped or he would have liked going in," said Christian coach David Rohrbach. "He still had a good tournament. Obviously, he's a little disappointed. He wanted to do well on the last day. I think he struggled with his driver a little bit and didn't putt real well, either."
Still it was Becker's best finish at a state tourney. He was the last remaining member of Christian's state championship squad several years ago.
"He was really young on some of those teams that did so well at state back in the day. He was kind of the last one left as an individual," Rohrbach said. "It's almost like the end of an era. It's good see him do well and have a good state tournament his senior year."
Zeke Becker finished 71st with an almost identical round from the opening day.
"Zeke is really a natural athlete. He took up golf because he got injured and couldn't do things like basketball anymore," Rohrbach said. "He actually gave a pretty good showing and was consistent all year. He did a really good job."
To view complete boys' meet results click on the following link:
https://www.golfgenius.com/pages/7471027064284403531
To view complete girls' meet results click on the following link: