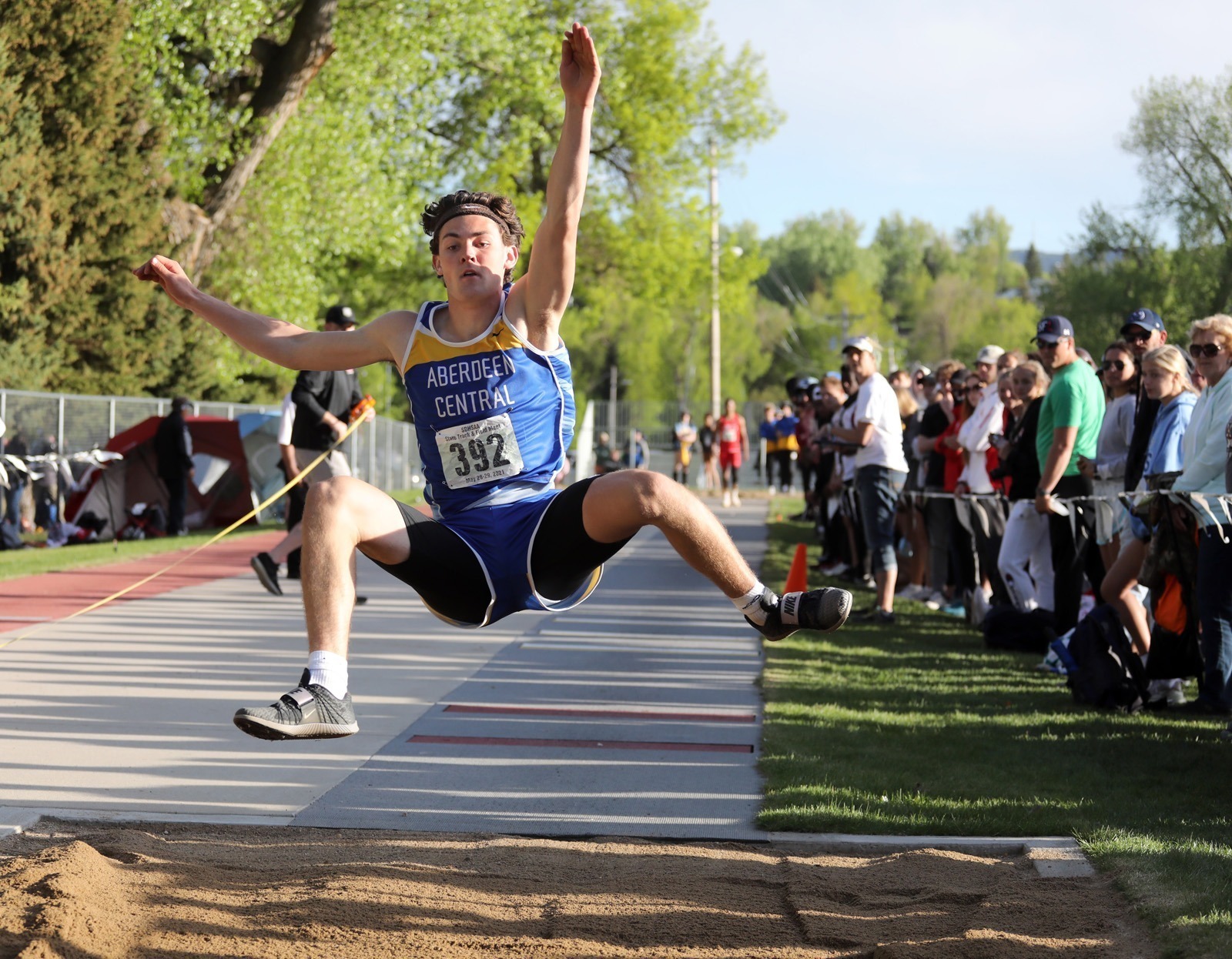 STURGIS – After a late seventh-place showing from Eli Fischer in the pole vault Friday, the Aberdeen Central boys' track and field squad picked up right where they left off Saturday. The Golden Eagles notched four individual placings — highlighted by Sam Rohlfs' victory in the long jump — and a relay showing to finish fifth as a team with 62.5 points at the Class AA state track and field championships in Sturgis.
"That's a pretty solid finish for us," said Central boys' coach Greg Murley. "Like with everything else, you can see where you could have nickeled and dimed some things to get a point here or there, but we had a really good day."
Rohlfs' long jump effort of 22-feet, 1 1/2-inches bested the rest of the field by nearly a foot. He then finished fifth in the 200 meters, while senior Josh Martin claimed third in the 1,600 and fifth in the 800.
Central's sprint medley relay was also fifth on the podium to give Central its final standing in what was a heated battle for the top spot in the team race. In the end it was Sioux Falls Lincoln edging out Sioux Falls Roosevelt — 93 points to Roosevelt's 88.5 points — for the team trophy.

"Lincoln is going to lose a lot of kids," Murley said. "They had a lot of kids that were around two years ago and had a lot of state meet experience and we went in with very little. We have a good number of kids coming back next year and think we have the makings for a good team again next year."
Central's girls' squad finished with 18 points and a 13th place showing with nearly all of its points coming via the relays. The Golden Eagles were second in the sprint medley, eighth in the 4×100 and seventh in the 4×400 Saturday.
"We ended up with three relays placing (Saturday)," said head coach Jim Appl, "and we had one relay place yesterday. So when you look at it that way, that's pretty good. We had four out of five relays place this weekend."
Abby Kopecky finished fourth in the 300 hurdles for the lone individual placing for the Golden Eagles Saturday. Senior Melanie Jacobs just missed the podium in the 800, finishing ninth.
"She ran a 2:20 split in the medley, then came back 40 minutes later and ran a 2:21 in the 800," Appl said. "So to run those two in less than an hour is quite impressive."
Central's 4×100 squad also shaved off a second and a half from its previous best time to slide into medaling position.
After finishing just outside of scoring position in a lot of events on Friday, Saturday's success was a good springboard into the future.
"We asked the team how many of them were at their first state track meet, and out of the 25 kids we brought I think there were 19 or 20 hands raised," Appl said. "So we have a bunch of young kids and four or five seniors that did everything for us. We had good leadership at the top and got a lot of younger kids some good experience."
To view complete meet results click on the following link: