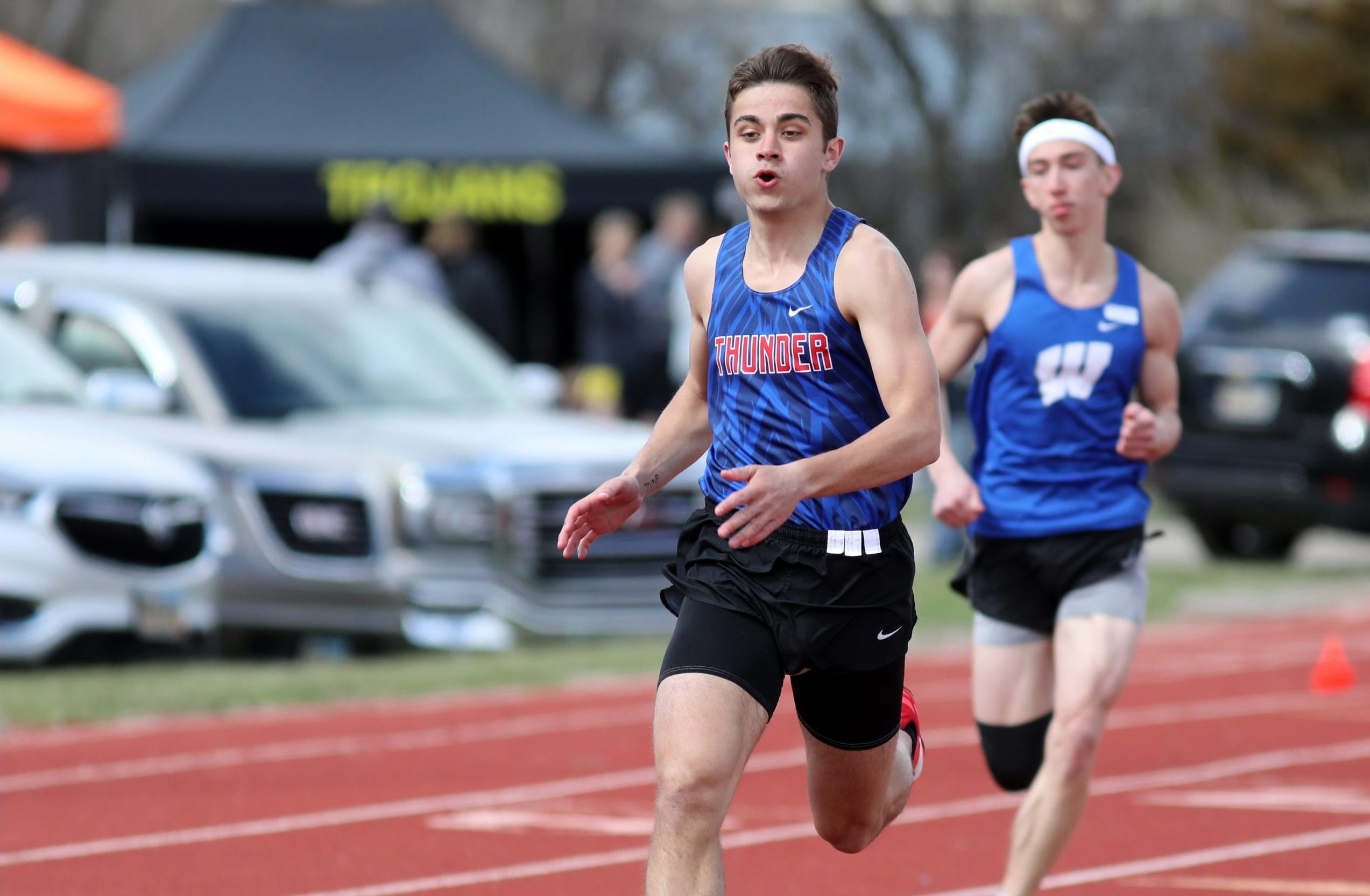 EUREKA – It has already been a memorable senior season for Alec Maier, but there is still one goal yet to be reached.
The runner for the North Central Thunder would like to be able to stand on the podium at this year's state track and field meet. He just missed that opportunity by one place his sophomore season.
"That's been my goal all year, because I've always wanted to be on the podium," said Maier, who actually ran a good enough time a couple of weeks ago to make the podium at the Howard Wood Dakota Relays. There was just one problem. "Howard Wood unfortunately didn't have a podium. I did make top eight, but I didn't get to stand on a podium. That's been my goal. Hopefully, state will have a podium and hopefully I can be at the top or pretty close to the top."
When Maier has a goal, there's a good chance he will accomplish it. The student at Eureka recalled a time that he was in search of the Eureka-Bowdle 400-meter dash record and knew that time was running out before the North Central cooperative with Edmunds Central was formed and a new set of records was established.

"Something that really stuck with me is breaking the Eureka-Bowdle school record in the 400 meter dash when I was a sophomore. I worked really hard for that," Maier said. "I knew I had to get it my sophomore year because that was the last year of being Eureka-Bowdle. I had to get it that year because now we have new track records for North Central. I worked really hard for that and I got it."
The old record belonged to Derek Hoellein at 52.4 seconds. Maier ran a :51.51 that year.
Maier said he also uses the past Eureka track and field records that hang on a banner in the school gym as motivation, although those will never be broken now that Eureka is part of a cooperative.
"I look up there. I try to shoot for those," Maier said. "Those help me push myself to try and reach those, too. Even though I can't technically break them, I still try."
It's that determination and hard work that has set Maier apart and helped to impact the entire Thunder program, according to North Central track and field coach Riley Donovan.
"The best part about Alec is his ability to make others around him better. His work ethic is so intense that it makes others want to work just as hard," Donovan said. "He is our anchor for our 4×800 and 4×400 for that exact reason. He will do whatever it takes to win and is an ultimate competitor."
A case in point is Maier's effort in the 800-meter run this spring. He had never run that particular race in the past, yet still found a way to record one of the state's best times.
"I'm most proud of probably my 800, because I really did not expect to be running that, especially this well. I haven't ran it since I was a freshman in an open event," Maier said. "My coaches threw me in it one race, because they're like OK, might as well try it, and I ended up running a 2:01 which is second in the state right now."
Of course, Maier's specialty remains the 400, where he set a new personal best time of :50.69 at Howard Wood, which ranks third in Class B.
"I was in lane 8," he said. "I didn't get the best lane, but I happened to run my best time."
Maier runs the 800 on a pair of relay squads. He said the biggest difference between the quarter mile and half mile is learning the right pace.
"It's a little more mental in the 800 than it is the 400," he said. "I have to think about it a little more and pace myself better throughout the 8."
That was evident at Howard Wood, where Maier grabbed the baton on the final leg and overcame the leaders only to run out of gas a bit at the end.
"At Howard Wood I didn't pace myself the best in the 800 in the medley. I kind of took off too fast," Maier said. "I caught everybody. I went from last place to first place and then in the last 100 a couple of teams caught me, so we ended up getting third. It was fun though."
Maier, who plans to run track and field at Minnesota State Moorhead next season, plans to have fun at the rest of his prep events, including today at the Lake Region Conference meet in Ipswich.
The LRC is full of solid competition in Maier's open events (200, 400 and 800) including the likes of Isaac Sumption of Frederick and Cody Larson of Warner.
"It's one of the best conferences probably in the state. It's going to be a fun meet," Maier said. "I haven't had the opportunity to run against Isaac this year or Cody in the 800. I'm really excited to hopefully run with them. We can help push each other."