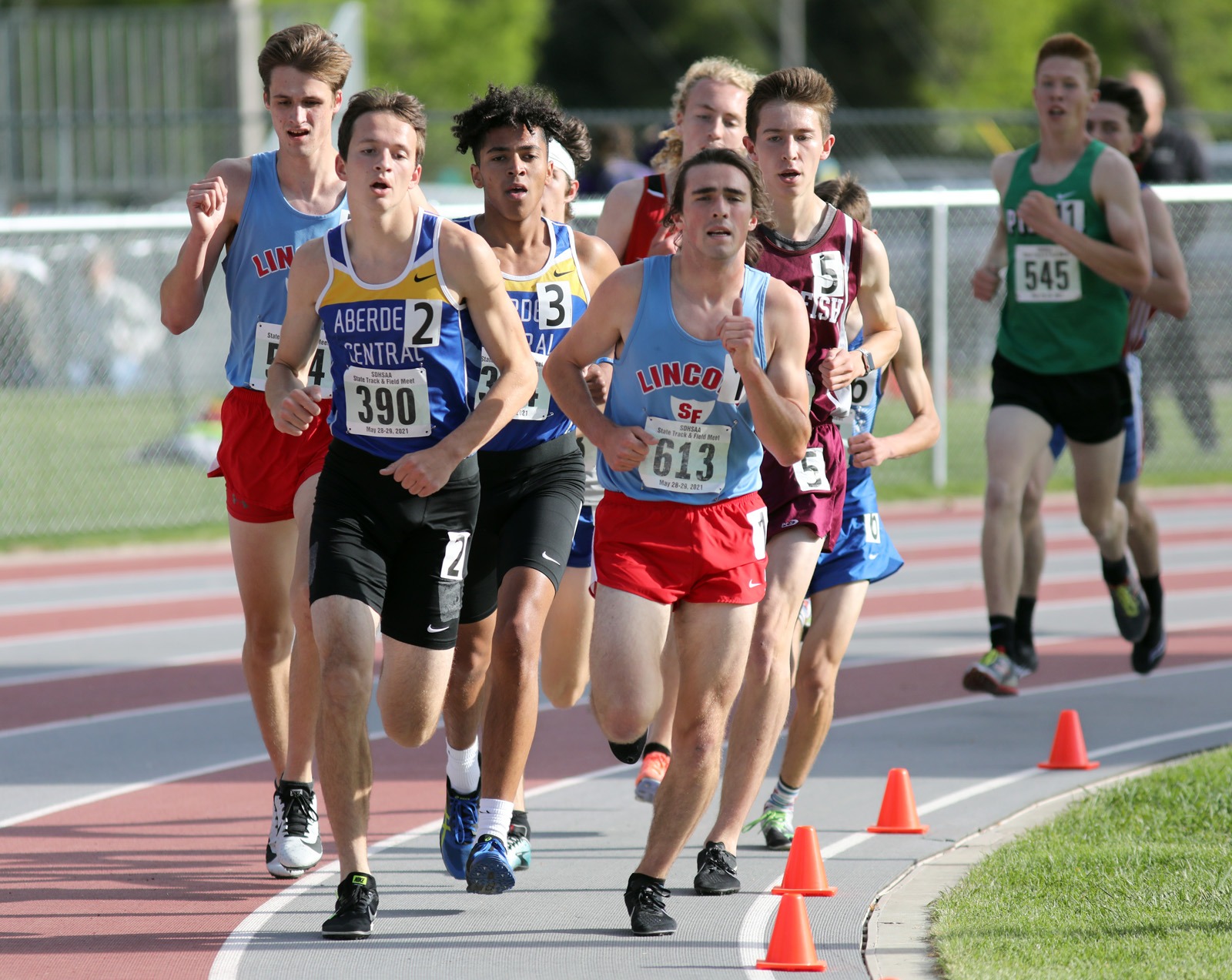 STURGIS – A pair of Aberdeen Central athletes won Class AA Track and Field state championships in the most dramatic ways possible at Woodle Field on Friday.
Josh Martin edged his opponent in a photo finish to win the 3,200-meter run and Sam Rohlfs won the triple jump on his final attempt.
"They're competitors," said Central boys' coach Greg Murley. "Both of them are incredible competitors."
Martin trailed for nearly the entire race before overtaking Sioux Falls Lincoln's Zeb Mendel on the final lap and then out-sprinting him to the finish to win by less than a tenth of a second. Martin's time was 9:46.99 compared to 9:47.07 for Mendel.
"I tried trailing him all the way to the very end, and then I just barely got him," Martin said.
The Central junior was concerned, because he starting hurting about halfway through the race.
"The third to the last lap I started getting a sideache," Martin said. "I thought I was going to drop off hard."
Following the photo finish, Mendel came over to congratulate Martin.
"I even shaved my beard to try to beat you," Mendel said of attempting to gain a bit of a competitive advantage. "I should have gone with the hair, too, I guess."
Rohlfs was locked in a tight battle with a couple of other jumpers, one of which surged ahead of him placing all of the pressure squarely on the Central junior's shoulders.
"I only had one jump left," Rohlfs said. "I was down a couple of inches and I had to give it my all, and it turned out for the best."
Rohlfs said he thought for a moment that his final leap of 45-feet 9-inches might be for naught when he took off.
"Honestly, I thought I scratched right away," he said, "but after that second phase I thought I was going to have a lot left at the finish and I did."
Murley pointed out that both Martin and Rohlfs had teammates that have helped to push and motivate them.
"In both events they have pretty good training partners," Murley said. "Jacob Merxbauer shouldn't be forgotten that he got seventh (in the triple jump). He's made himself a really good athlete. And Daniel Street in the two mile has made himself a good athlete."
Street finished fourth in the 3,200.
Rohlfs ended up sixth in the 100-meter dash in a loaded field.
"That was a race where four guys broke the meet record," Murley said. "That didn't go cheap at all."
The boys' 3,200-meter relay team was sixth and Eli Fischer tied for seventh in the pole vault.
Murley is hoping to score more points when the meet resumes today.
"We'll kind of refocus on what we're doing and hopefully have another great day (Saturday)," Murley said.
The Central girls grabbed a seventh-place finish in the 3,200-meter relay. It was a race that brought back plenty of memories for some of the runners.
"Four years ago our relay team ran here and we got first, so it was really cool to get to run here again in Sturgis," said senior Jordan Hermansen, who along with fellow senior Melanie Jacobs was a part of that state championship squad and also the team that ran on Friday.
Hermansen, who will run for Northern State next season, said Sturgis is one of her favorite tracks and it meant a lot to conclude her prep career there.
"It brought a lot of good memories, especially right before we were ending our 4X8 our freshman year it was really close between first and second, and Abby Kopecky pulled ahead," Hermansen said. "I remember us all just running onto the track and screaming and hugging and yelling. It was such a cool memory and so to get to run here my senior year, last race, was a really cool time."
The Golden Eagles were just out of placing positions in many other events on the opening day.
"We got a lot of 10th places and 10th places don't get you points, unfortunately," said Central girls' coach Jim Appl. "We had some kids PR out here. We have a bunch of young kids who haven't run since seventh grade, eighth grade. Our inexperience is showing up all over the place."
Appl said having young athletes finishing just out of the top eight at state is reason for optimism for the years ahead.
"That's encouraging looking to the future. It kind of stings a little bit now, because the kids are a little bit disappointed in themselves. But we have to remind them that hey, we were nowhere to be found two years ago. We're going to look at it positive that way and go from there. Hopefully, we can get a few more places (Saturday)."
To view complete first day results, click on the following link: