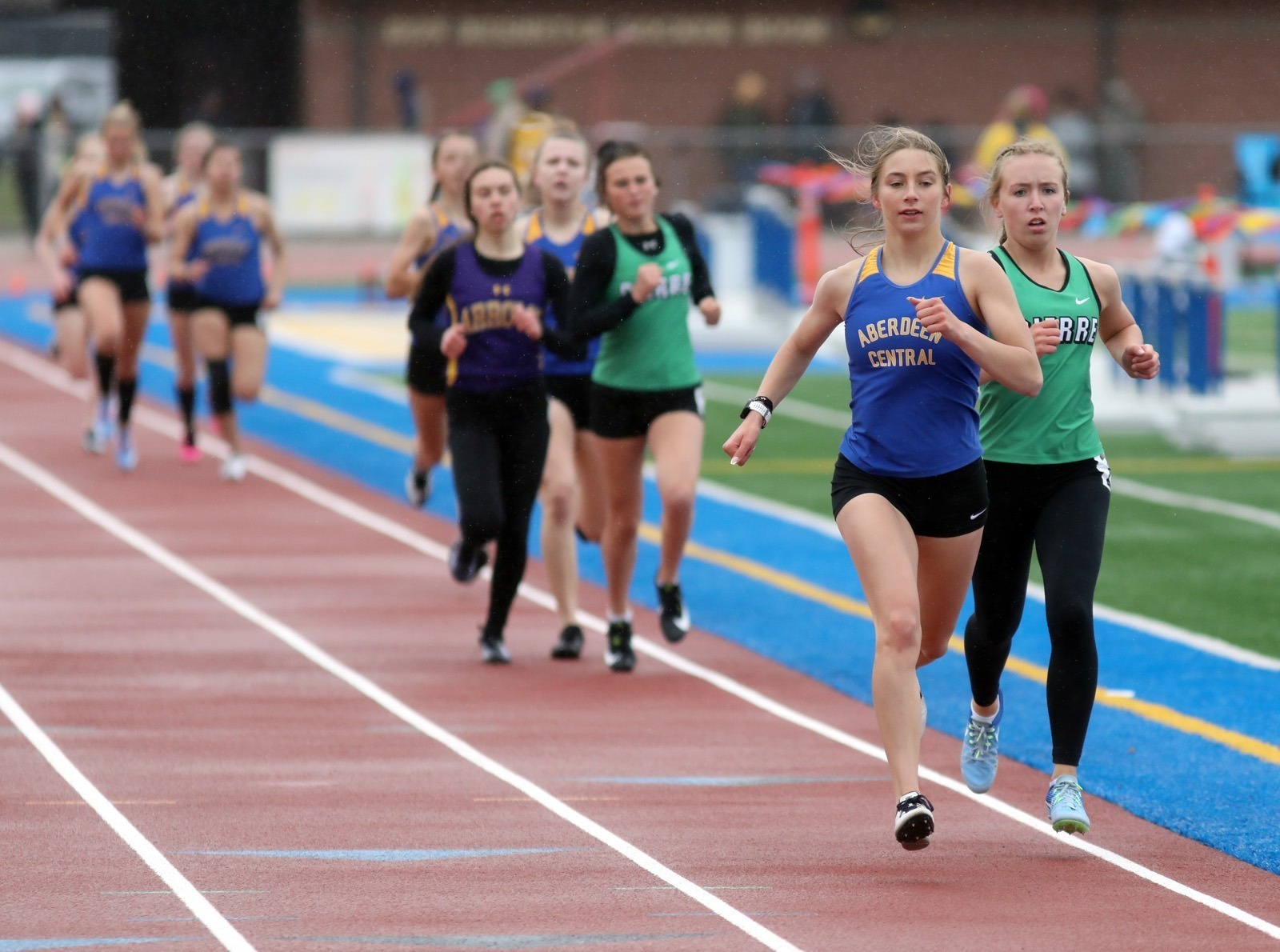 Melanie Jacobs has made a significant impact during her running days at Aberdeen Central. Chances are, that impact will linger on long after the senior graduates this spring.
"She has left her mark on our program and the best part is, it's not just our program, it's our upcoming kids. That's the part that she won't get to see," said Central girls' track and field coach Jim Appl. "There's going to be some kids that are coming up behind her that are like, 'I want to be kind of like her.' That's the part that's the truly special part. Without a doubt, I'll miss her competing, but just the leadership and the smile she brings every day to practice, that's the most important part to us."
Jacobs has played a key role for the Golden Eagles since she hit the varsity ranks as a seventh-grader. She said she was too young to be nervous when she competed in her first ever race in Pierre.
"I think I was so young. I enjoyed running. I didn't know any of the strategies, yet," Jacobs recalled. "There was nothing for me to really worry about."

Soon, her talent and determination caused foes to start worrying about her. Jacobs became a cornerstone for the Central cross country and track and field squads and has been among the state's elite runners throughout her career.
She earned All-America status in cross country her freshman season. That spring she was part of a state champion 3,200-meter relay squad. As a sophomore, Jacobs was the Class AA state champion in the 3,200-meter run.
As a senior, Jacobs has broadened her scope and now runs a quarter mile on the school's 1,600-meter relay team.
"This year all of the sudden she's like, 'Hey, I want to run on the 4X4,' " Appl said. "She's run some of our best splits. "
Always a distance ace, Jacobs has found that she likes the 400.
"I actually really enjoy the 400. It's a fun race for me, because it's over so quick," Jacobs said. "I kind of got a spot on that 4X4 team. I finally got to run the open 400 at our last home meet. It was way different than what I'm used to."
While Jacobs has found success in shorter races, she will return to familiar territory today during the Eastern South Dakota Conference meet at Swisher Field.
"This weekend we're asking her to be a nut," said Appl, noting that Jacobs will run a total of four miles with the 800, 1,600, 3,200 and another 800-leg in a relay. "We don't do that to many girls. There's only one or two kids you ever do something like that to. It takes a special kid to do that and Mel is one of those special kids."
Jacobs has grown accustomed to the mileage. She estimates that during her time with the Eagles, she's logged between 5,000 and 6,000 miles through workouts and meets.
She said she is now running with more purpose than when she first joined the program.
"I think I've developed a lot more of a strategy as I've gotten older. When I was young, it was kind of you go out and run and do what you do," Jacobs said. "These last few years I've been thinking more during my races; trying to pass people at the right times. I always try to stay comfortable the first half of the race and then I try to push the last half. I focus on my finish a lot."
She is also focusing a bit on her high school finish, knowing she has just a few races left in her prep career.
"I definitely have to keep reminding myself of that. It's easy to get caught up in the season, just focusing on my races and trying to perform at my best," Jacobs said. "But then knowing it's your last time at those events, that's a whole different thing to think about."
Jacobs will continue her running career at Texas Tech next season. When she leaves, she will take a load of memories along with her, from her running days to her basketball exploits, where she tied a Class AA state tournament record for three-pointers in a game during her final contest.
For now, she will get one last chance to perform on the surface where she has spent countless hours refining her skills.
"It's kind of a weird thing for me to think about, having a meet at a track where I ran workouts at every day," Jacobs said of hosting the ESD her senior season. "It will be a completely different atmosphere. It's a very competitive meet and it's the biggest meet of the year that we always build up for. It will be fun."
It will also be one of the last times for Jacobs to be around the next generation of Eagles who will soon be asked to fill her role.
"It's cool to see the younger runners, because I realize that's where I was not that many years ago," Jacobs said. "I'll definitely miss it."
More than likely not as much as the Eagles will miss her.