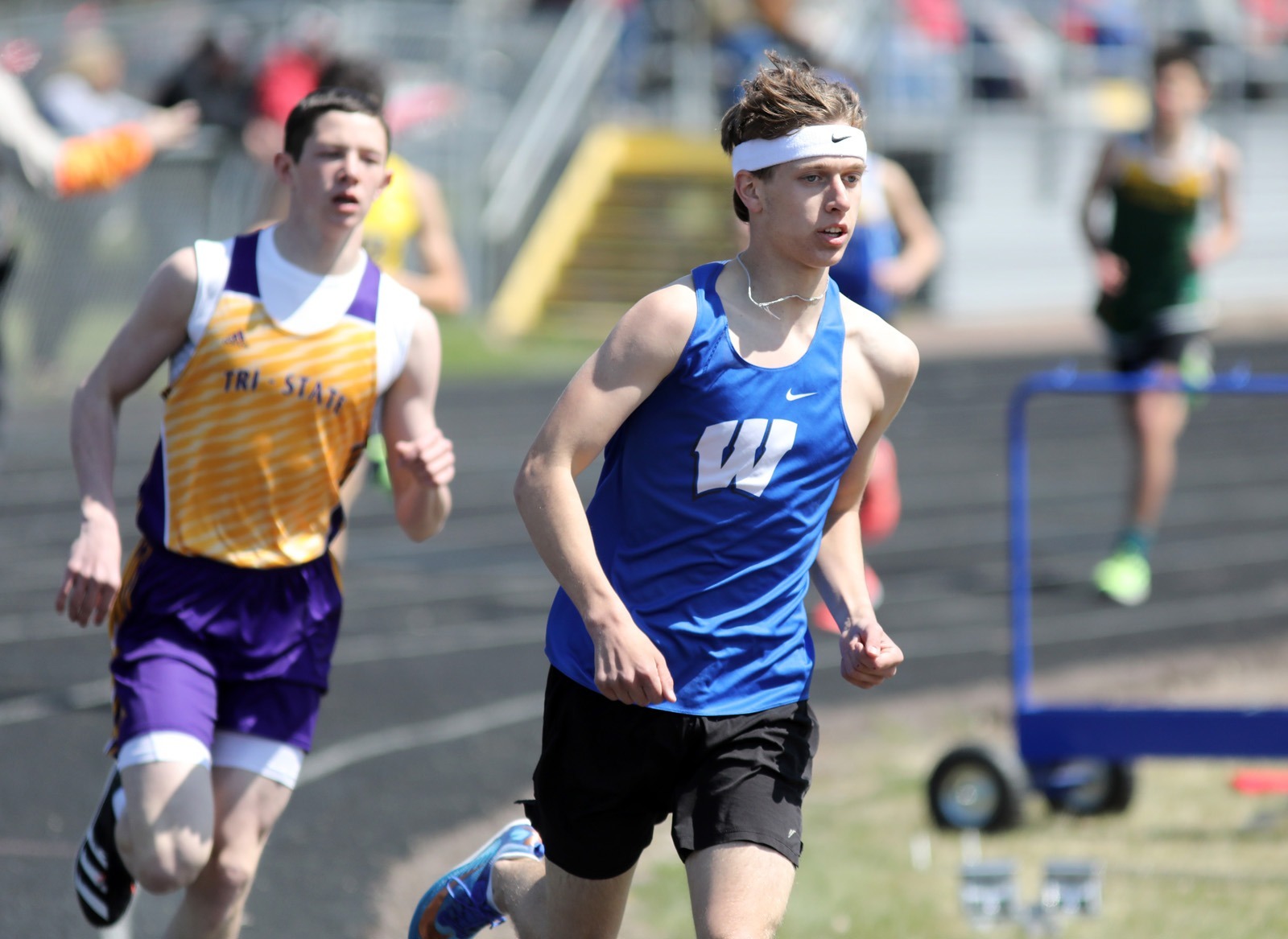 WARNER – When Cody Larson competes, the races are always run on his terms.
The Warner standout does not try to beat others as much as he forces others to try to beat him.
Larson loves to get out early, establish the pace and make others try to catch him. It's a strategy that has worked out well for one of the state's premier distance runners.
"When I step on the line it's just about being confident, just knowing that I can hang with whoever I'm running against and just trust the training that I've been doing and everything like that," Larson said. "When I get to the line, it's either there or it isn't."

The three-time Class B State Cross County Champion owns the top time in Class B in the 1,600-meter and 3,200-meter runs heading into this weekend's state meet. He is currently third in the 800.
"I kind of wanted to take home a triple crown this year, so I knew I had to get a lot faster. That kind of added into running some more 400s and 800s," he said. "Then we found out we had a pretty decent 4X4, so I got put on that and just kind of kept rolling with the shorter distances."
Being a front-runner can have its advantages and disadvantages. He always knows the competition is behind him, but sometimes it's hard to know exactly where.
"You learn a lot about picking out who is behind you from people cheering you on, whether you can hear their breath or not," Larson said. "Sometimes you can see a shadow right behind you."
Larson tried a different strategy at the Howard Wood Dakota Relays earlier this year, but found out he is much better being the hunted rather than trying to hunt someone down.
"I kind of have to run my own race to run good times. I've always been a front runner." Larson said. "At Howard Wood I tried to let them lead a little bit and it didn't' work out too well."
While Larson has been a dominant runner for quite some time and holds all of the Warner distance records, it hasn't always come easy.
"We've had a lot of losses where we just fell on our face, and he just keeps coming back stronger than ever," said his dad and Warner coach Jeff Larson. "It's been a journey and it's hard to see it come to an end."
Both father and son agree that a background in wrestling has helped to shape the runner's mindset when it comes to strategy and determination.
"I think it's maybe one of the reasons I'm a front runner, just being so aggressive right off the front in wrestling. In cross country and track and field you're racing against people, but you're also kind of racing against yourself with times and stuff like that," Larson said. "It's a lot easier to take a loss in those sports. When you get into wrestling, it's either you win or your lose. The mental preparedness that you have to have, you have to know you're first couple of moves before you even step on the mat."
It's that ability to channel thoughts and turn them into action is what Coach Larson feels is his son's strongest attribute.
"I've always said his mind sets him apart. He has the ability to process things quickly," said the elder Larson. "He's very confident in his running ability. When he steps on the line he knows what he wants to do; he knows what the consequences are if he doesn't do it. He is very strong minded to get things done."
When it comes to running distances, there is definitely a strong mental component, before and after a race.
Last fall the state cross country meet was run in a blizzard with a temperature of 27 degrees. Larson had decided he was going to run without winter gear unless the temp was 20 or below. He ran without tights, gloves or hat.
Message sent.
"I don't know if I was sending it to the other comeptitiors or if I was sending a message to myself," Larson said. "We're used to running early morning, so I was kind of used to the cold weather. I actually like the cold weather way better than the warm."
Larson will compete for South Dakota State University next season. Before then, there's this matter of winning a triple crown: the 800, 1,600 and 3,200. Larson knows he is third in the state right now in 800 and he will have to find a way to make up a few seconds.
"That 800 is going to probably be my hardest race of the day. It's going to be one of those confidence things," Larson said. "They've got a lot of foot speed on me. I'm going to have to try to lead it out early and get a gap on them so they can't close it in."
That set-the-pace strategy doesn't work for everybody, but it has turned out to be a proven method for an athlete who possesses the confidence to trust his training and his mindset.
"I don't take credit for anything that Cody does. I can write workouts and I can design some plans for him, but at the end of the day he has to do them. He has to stay focused on what he wants to accomplish," Coach Larson said. "The thing that I've given him the most is the belief that if he wants it, he can attain it. That it's in his reach."
And more times than not, on his terms.