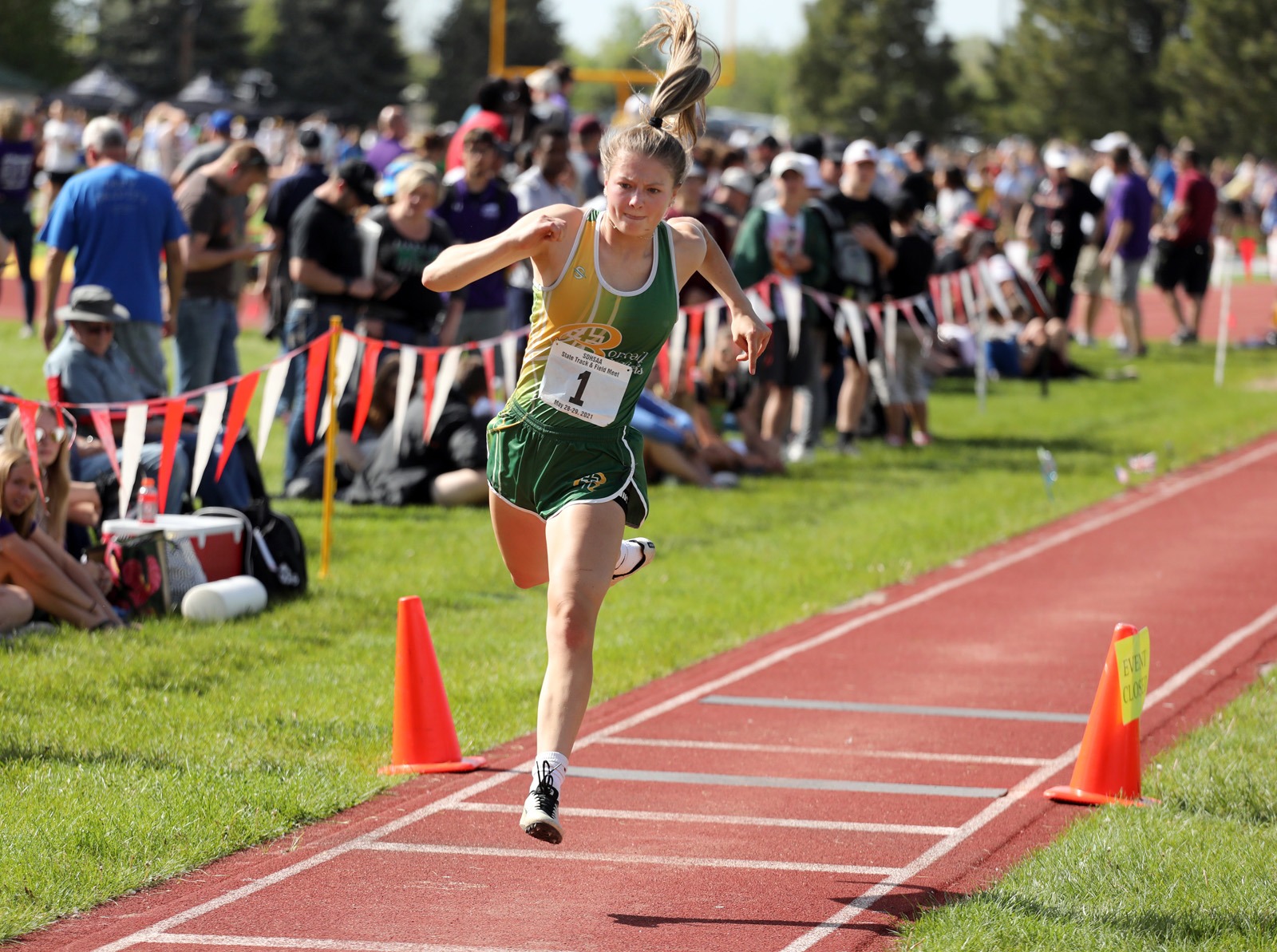 SPEARFISH – At the beginning of the season, Morgan Fiedler had never even tried the triple jump. On Friday, the Aberdeen Roncalli junior won the Class A state championship in the event at Lyle Hare Stadium.
"I fully did not expect it at all," Fiedler said of her state title. "I would have been so happy with 8th place, because I PRd by almost two feet."
Fiedler's winning attempt was 35-feet 71/4-inches. Pretty remarkable considering she was running back and forth competing in the 100-meter dash prelims at the same time.
"That is one of the things that makes me the most nervous in track is when things overlap," Fiedler said. "After I was done running my 100, I just felt good and was ready to keep jumping."
Fiedler ended up finishing fourth in the 100 as well.
The state title is the second for Fiedler in the past three months. She was a key member of Roncalli's girls' basketball team that won the State A championship last March.
"I am so thankful and so grateful. It's awesome," Fiedler said. "I have amazing, supportive teammates that are always there cheering me on and that gives me a little bit more of a boost, because I don't think I could do it without them."
Fiedler was one of two Cavaliers who placed in the triple jump. Jayden Munroe finished fourth in the boys' event.
"We've got two triple jumpers," said Roncalli coach Mark Stone, "one won the state title and one got fourth, and they started triple jumping about seven weeks ago."
Stone said a lot of Roncalli athletes had big days, even if they did not end up placing during the opening day of the state meet.
"We had just a pile of personal best performances today," Stone said. "If you're going to have a personal best, it sure makes a coach proud if you have it on the last day and that last opportunity."
One of those personal bests came from Mason Carrels in the pole vault, who had a personal best attempt by a foot.
"Mason Carrels vaulted 11 feet, which did not place, but it puts him fifth place all-time on our school records," Stone said. "And when you read the names of our pole vaulters, they're all state champs."
Stone also noted the relay efforts of Ella and Olivia Ulmer, and the personal best time by Paige Schmidt in the 3,200-meter run.
It was also a big day for other Northeast Conference athletes.
Milbank Area's Greta Snaza won the pole vault state championship, coming from behind to do it.
The senior, who will vault for the University of Sioux Falls next season, missed her first attempt at 9-feet 9-inches, but came back strong and eventually cleared 10-3 and edged Kylie Krusemark of Madison on jumps.
"I just mess up sometimes and then I just get back into my zone and do it," Snaza said. "I've cleared 10-6 before, I knew I could clear (9-9)."
Snaza, who came into the meet as the top vaulter, said it's not easy being the hunted.
"It's really nerve-wrecking," Snaza said. "I was really nervous that something like this probably would happen."
Milbank Area's Bennett Schwenn won the triple jump with a leap of 46-feet, 31/2-inches. Hamlin's Gracelyn Leiseth won the discus with a throw of 149-feet, 3-inches.
Sisseton's Andrew Kranhold concluded his career on a high note. The senior turned in a personal-best effort on the way to a third-place finish in the high jump.
"I was hoping for 6-1 and I got it, so I'm kind of happy with myself," Kranhold said.
While the high jump was in progress, races were being run around the track. Kranhold said it was tough to maintain focus with so many other things happening.
"It's kind of distracting. I could see how it could mess someone up," Kranhold said. "If they'd come around the bend, I'd watch them if I knew them, but I tried to stay focused on my event."
One of those races was the boys' 3,200-meter relay, where Clark-Willow Lake pushed the leaders hard before finishing third in that event with a new school-record time of 8:20.20.
"We knew we weren't the top dogs, but basically we wanted to come out and compete and see what we could do," said Clark-Willow Lake's Brady Jordan.
The sophomore set the tone for the race early with a strong leadoff leg for the Cyclones.
"I had to get out in front and try to stay with the lead pack," Jordan said. "I didn't want to get too far behind and let my teammates down. I was just running with a lot of confidence."
That Cyclones relay team does not have a senior on the squad, so the future looks bright.
"We don't lose anyone," Jordan said. "We'll remember this one and hopefully come back and compete next year, too."
To see complete first day results click on the following link: