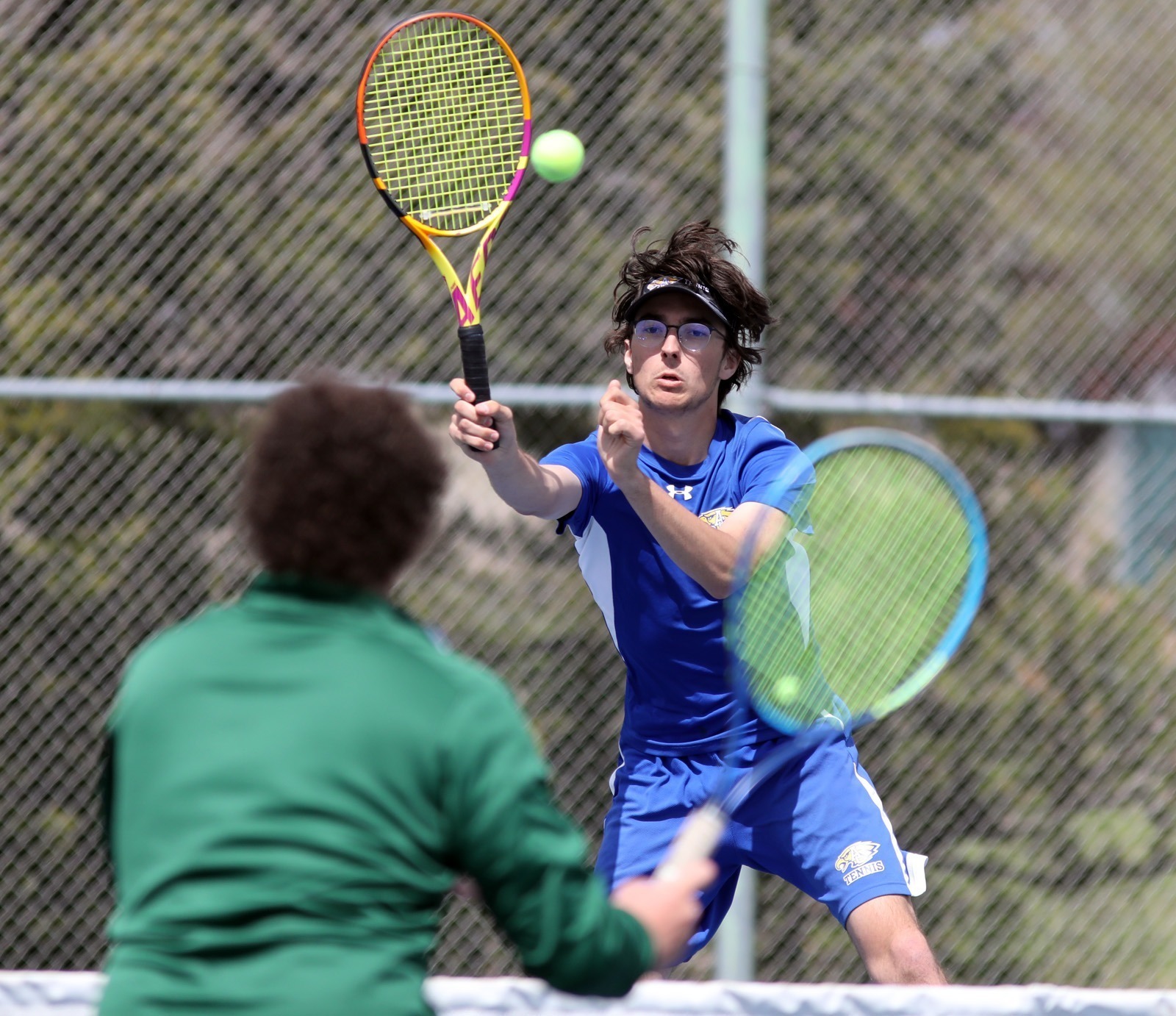 Aberdeen Central won a pair of tiebreaks, came up big in other matches and grabbed an 8-0 tennis victory over Aberdeen Roncalli on Thursday at the Holgate Courts
"I thought there was about four flights where we had a pretty good advantage and then I thought there would be a lot of close ones," said Central coach Trent Kurtz, "so to come out of it with an 8-0 sweep is really good for our guys. We played really well, especially singles."
Meanwhile, it was a rough day for the Cavaliers, who lost top player Gray Imbery to an injury during prematch warmups.
"It wasn't the best showing for us, today," said Roncalli coach JD Carrels, "but happy we were finally able to find a time this season to get this match in."

It was a special day for Central seniors Zach Gonsor, Lincoln Wilkinson and Henry Fouberg on Senior Day.
"Those three seniors kind of lead the way there. They're awesome leaders," Kurtz said. "They're really good on the court, but we're going to miss everything they give to us off the court."
Fouberg had a big day losing just one game in singles and teamming with Brett Jacobs for a doubles win, which featured a second-set tiebreaker.
"I was hitting my forehands very well, today, I have to say that," Fouberg said following his singles victory. "I've never hit groundstrokes that well, so I was pretty excited about that."
Kurtz was pleased with the play of his number five singles player.
"Henry played really well. He kind of carried us late in that doubles match and then Brett picked up his play in the tiebreak in that second set," Kurtz said. "And then in singles Henry played as well I've seen him play all year."
That doubles match also drew the attention of Carrels.
"We played very well. I'm very happy with how three doubles has been playing," Carrels said of the tandem of AJ Prehn and Gannon May. "They've definitely stepped up their game. They've started to play a little bit more aggressive which is what I've kind of been preaching."
The other tight match came at number six singles where Jacobs defeated Palmer Johnson in a second set tiebreaker.
"I'm just trying to get it away from him, most of the time," Johnson said of his strategy against Jacobs. "A cross-court shot here if he runs up to the net or maybe a good lob, just anything to get the ball away from him so that he might whiff it or I just get a winner."
Kurtz noted that Jacobs was more aggressive than usual.
"Huge win by Brett. Palmer is really good. He's been one of their better flights all year long. I knew it would be a good match," Kurtz said. "Brett came in a lot more, hit some really good approach shots. He came in a lot more than he normally does, but understood that that's what he had to do to win that match."
Both Central and Roncalli are right back in action again today.
The Golden Eagles will head to Brookings where they will face Brookings, Huron and Yankton.
"Three huge ones," Kurtz said of facing a trio of Eastern South Dakota Conference foes. "ESD entries are due afterwards, so kind of a last chance to pick up some seed points for the tournament next week."
Meanwhile, the Cavaliers head to Pierre for a tournament.
"An event that was scheduled for Friday-Saturday is getting squeezed into one day. It looks like most of our kids are going to have the possibility of playing six matches," Carrels said. "It's definitely going to be a full day. It's going to be an early morning and a late night for the boys."
SINGLES
Zach Gonsor, AC, def. Cason Hellwig, 6-0, 6-1.
Ian Ahlberg, AC, def. Jackson Henrichs, 6-1, 6-0.
Lincoln Wilkinson, AC, def. Mason Carrels, 6-0, 6-0.
Henry Fouberg, AC, def. AJ Prehn, 6-0, 6-1.
Brett Jacobs, AC, def. Palmer Johnson, 6-2, 7-6 (7-2).
DOUBLES
Gabe Goetz-Gonsor, AC, def. Johnson-Carrels, 6-0, 6-0.
Ahlberg-Wilkinson, AC, def. Hellwig-Henrich, 6-3, 6-1.
Fouberg-Jacobs, AC, def. Prehn-Gannon May, 6-0, 7-6 (7-1).