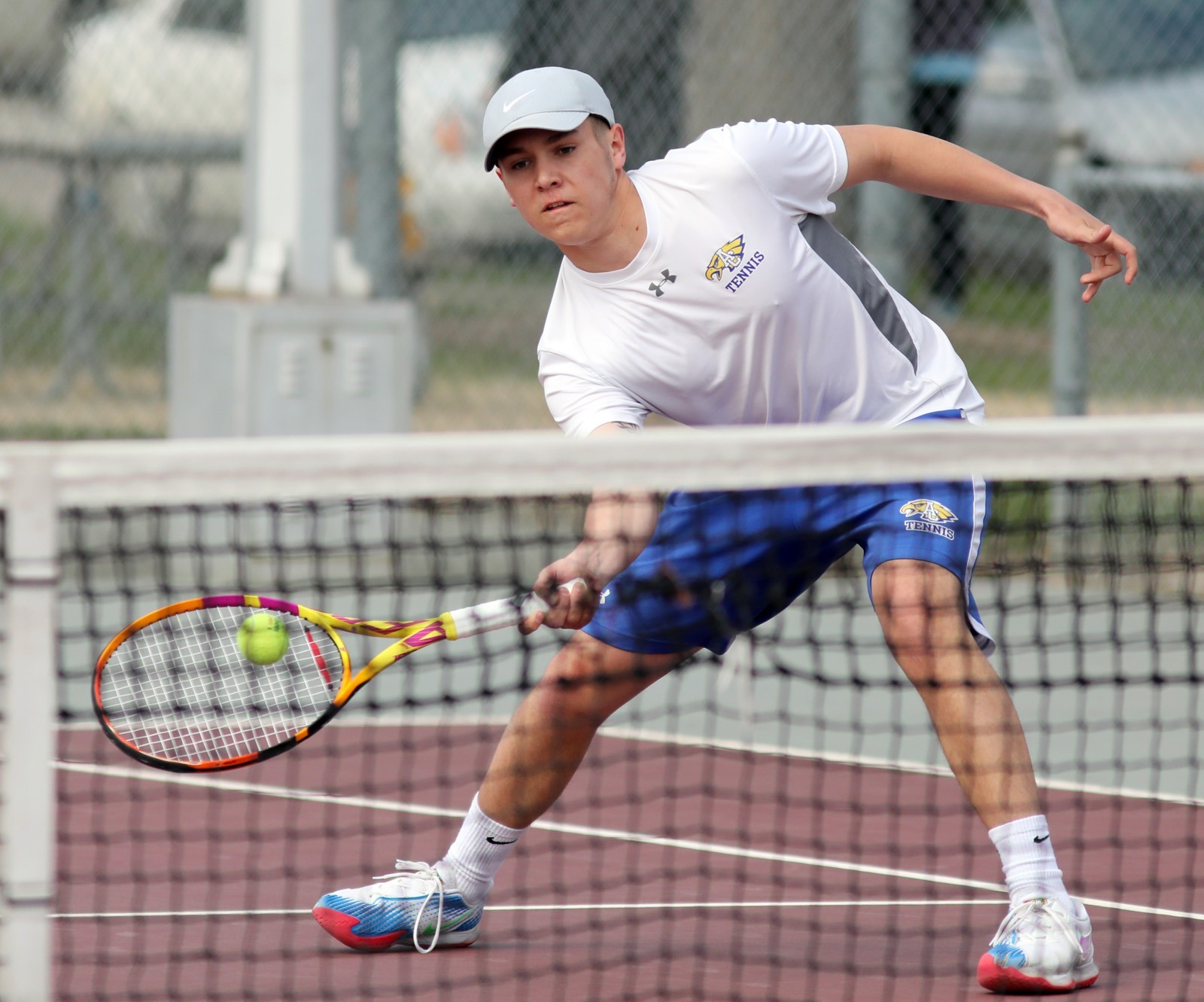 MILBANK – Aberdeen Central, playing on the road for the fourth time in the past eight days, came out firing and defeated Milbank Area 9-0 in tennis action on Monday.
The Golden Eagles did not surrender more than one game in any set except one.
Central coach Trent Kurtz was pleased with how the players responded on the heels of a three-day trip to Rapid City over the weekend.
"This whole season has kind of been a grind. We're kind of in the dog days of it right now. Our kids probably don't realize it, but I think they're kind of mentally fatigued, too," Kurtz said. "It's been a tough travel season. We've been on the road a ton."

Kurtz and assistant coach John Vogel figure the Eagles have already spent more than 50 hours on the road so far this spring.
"We looked into it, by the end of the year we'll be at 85-90 hours in the van. It takes a toll," Kurtz said. "The kids are young, they don't realize it, it doesn't effect them. But I know me and Vogel, we're getting up there in years. It's effecting us. We're tired all the time."
Kurtz said the trip across the state is always a tough one to bounce back from.
"That west river trip always takes a bunch out of you, too. It takes a few days to get back into the swing of things," Kurtz said. "So, I'm definitely happy with how our guys played today.
The Eagles won't have to travel for their next match.
Central faces Aberdeen Roncalli at 2 p.m. on Thursday at the Holgate Courts.
Kurtz said the match against the cross-town rival is always a special one.
"The dual scores don't matter a ton in high school tennis, but I can guarantee you I know my win-loss record against Roncalli and I don't know it against anybody else. It definitely does play a role, that rivalry factor," Kurtz said.
He said that importance of that dual has stood the test of time.
"Even back when I was player a bunch of my friends were Roncalli tennis players. It was always one match you wanted to win," he said. "Same thing now. I have a ton of respect for JD (Roncalli coach JD Carrels). He's a friend of mine. He's done a great job over there, but definitely the one dual I would like to win more than most of them."
SINGLES
Gabe Goetz, AC, def. Mason Riley, 6-1, 6-0.
Zach Gonsor, AC, def. Benett Street, 6-0, 6-0.
Ian Ahlberg, AC, def. Joe Schultz, 6-0, 6-0.
Lincoln Wilkinson, AC, def. Leyton Raffety, 6-0 6-0.
Henry Fouberg, AC, def. Isaac Perez, 6-0, 6-1.
Brett Jacobs, AC, def. Gregory Grabow, 6-0, 6-0.
DOUBLES
Goetz-Gonsor, AC, def. Riley-Raffety, 6-0, 6-4.
Ahlberg-Wilkinson, AC, def. Street-Schultz, 6-0, 6-0.
Fouberg-Jacobs, AC, def. Perez-Grabow, 6-1, 6-1.