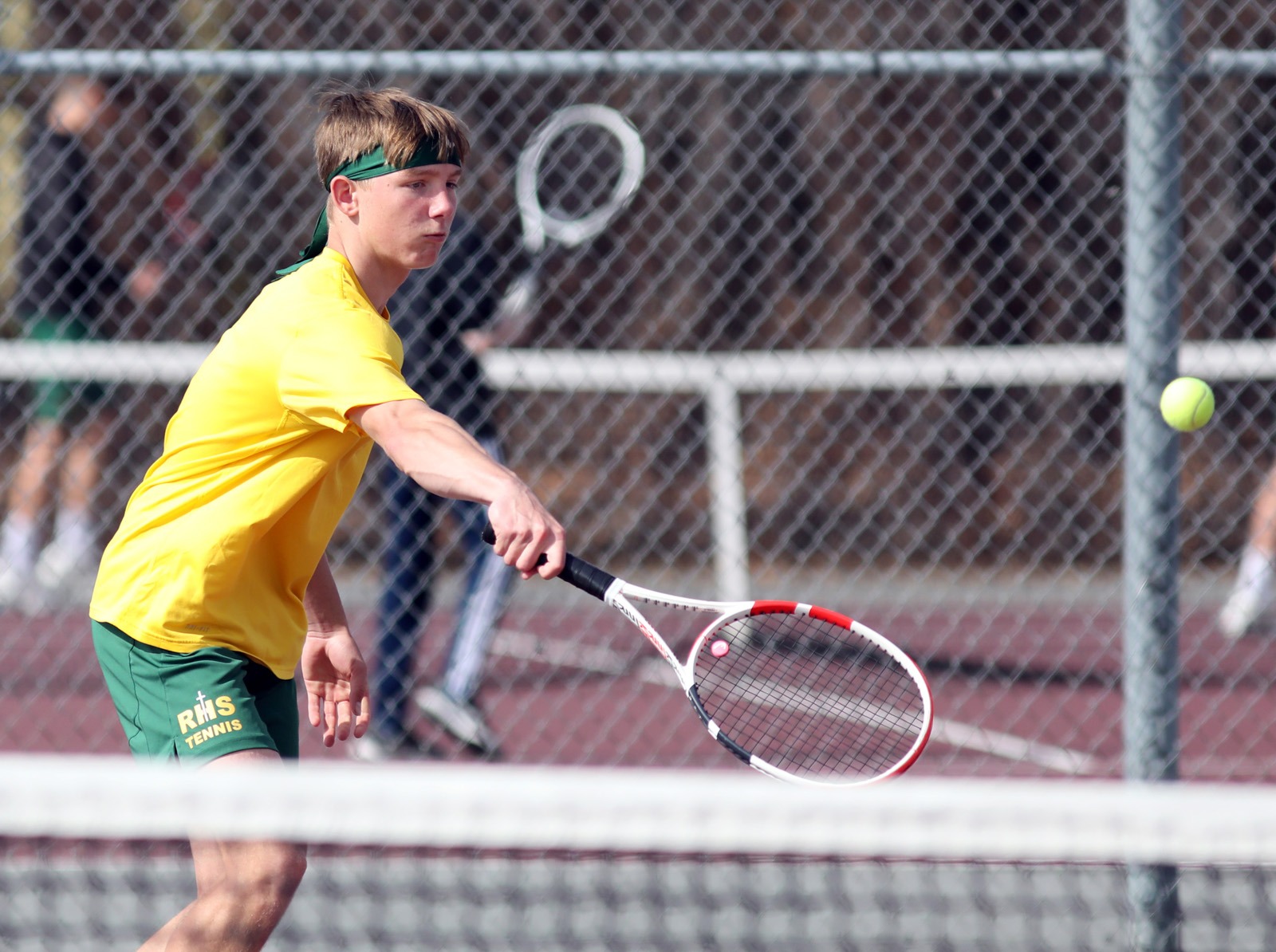 WATERTOWN – Aberdeen Roncalli dropped a 7-2 tennis decision to Watertown on Tuesday, but the Cavaliers were still able to celebrate as they left the courts.
Junior Mason Carrels capped a remarkable day by winning a dramatic 12-10 super-tiebreaker at number four singles. The match ended a very busy day that began at a track and field meet in Milbank. Following competing in the pole vault and a relay race, Carrels hopped in a vehicle and went to Watertown and immediate began playing doubles.
"When he went into his singles match, I knew he had to be gassed a little bit," said Roncalli coach JD Carrels. He came out playing really well. The second set you could see it kind of setting in a little bit. That second set went pretty quick."
That set up a super breaker.

"Isaiah (Vilhauer), my assistant coach, went out and talked to him. He had said he had this whole (talk) planned and then just he looked at Mason and Mason goes, I'm not losing. I've got this," Coach Carrels said. "Isaiah came and talked to me and said, 'I don't think I said what I was even planning on saying. I just looked and him and he looked at me and said, 'I got this. I'm going to win,' and that was enough."
Carrels said it was fun environment to finish the day.
"It was definitely fun for him to have the win at the end. He was the last match on. Everyone was watching him," Coach Carrels said. "I can't imagine how tired he is."
Roncalli's other win came at number one singles where Gray Imbery won in straight sets.
"Gray played very well from the get-go. He had his normal style: chip and charge," Coach Carrels said. "He got the better of the guy right away and he just kind of kept the gas on him."
Roncalli faces cross-town rival Central at 2 p.m. Thursday at the Holgate Courts.
"That will be a big one. It's obviously kind of special to have both teams in Aberdeen play each other. Even though now we are in two different divisions," Coach Carrels said. "So many of the kids play with each other throughout the summer. It's always fun to have them play in an actual event where they get to go against each other. It should shape up for a very good match. I think there's going to be a lot of competitive tennis played on Thursday."
SINGLES
Gray Imbery, AR, def. Mark Mahowald, 6-2, 6-2.
Zander Binde, W, def. Cason Hellwig, 6-2, 6-1.
Jacob Meester, W, def. Jackson Henrich, 6-2, 6-0.
Mason Carrels, AR, def. Adam Keys, 6-3, 0-6, (12-10).
Curtis Sneden, W, def. AJ Prehn, 6-0, 6-0.
Evan Meester, W, def. Palmer Johnson, 6-0. 6-1.
DOUBLES
M. Mahowald-Sam Mahowald, W, def. Imbery-Carrels, 6-4, 6-3.
J. Meester-Keys, W, def. Hellwig-Henrich, 6-2, 6-3.
Sneder-E. Meester, W, def. Prehn-Gannon May, 6-3, 6-1.
Exhibition
Singles: Justin Remmers, W, def. May, 8-0; Paul Vacu, W, def. Landon Zikmund, 8-3; Jaden Lindor, W, def. Sawyer Henrich, 8-1; Jack Sjoberg, W, def. Parker Grieben, 8-2; Tyler Dingsor, W, def. Ezra Feickert, 8-1; Gage Lalim, W, def. Jayden Reecy, 8-0; Logan Schwartz, W, def. Ben Goebel, 8-0.
Doubles: Remmers-Binde, W, def. Johnson-Zikmund, 8-2; Vacu-Lindor, W, def. Henrich-Grieben, 8-4; Sjoberg-Lalim, W, def. Feickert-Reecy, 8-2; Schwartz-Dingsor, W, def. Goebel-Feickert, 8-2.