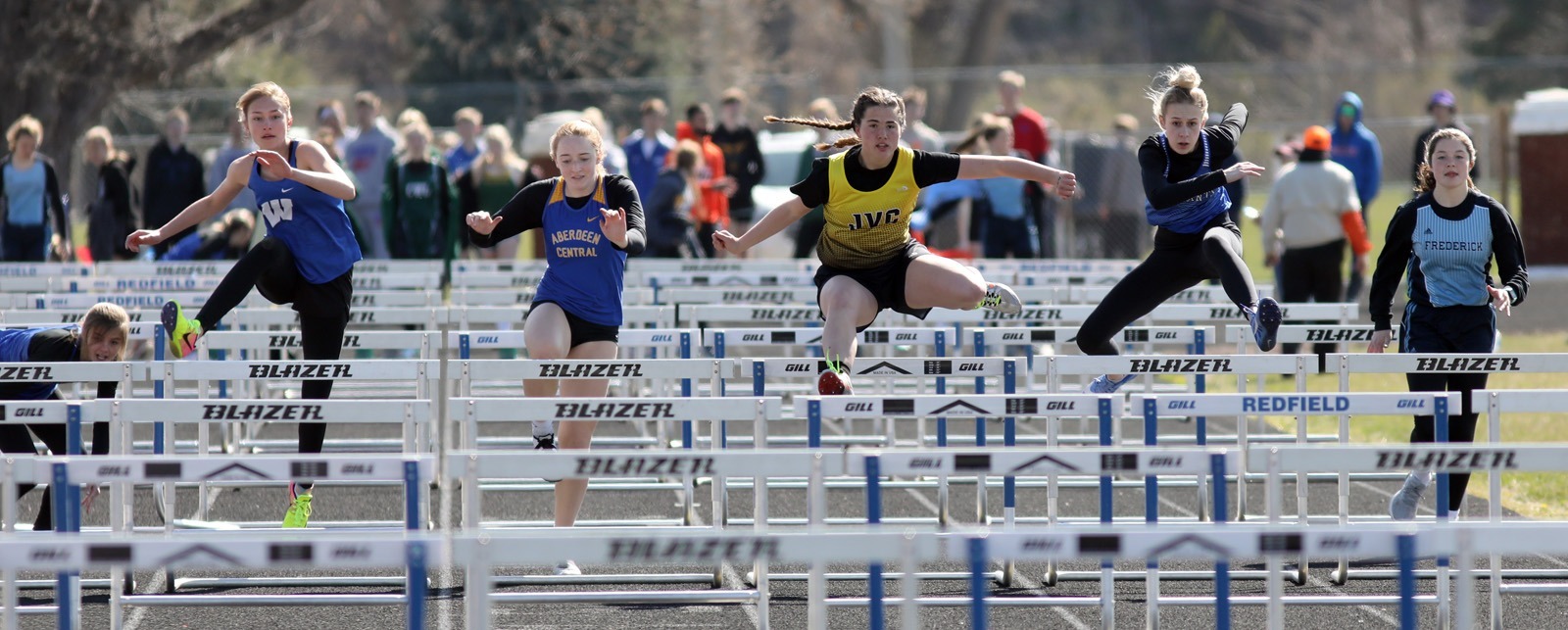 REDFIELD – The track and field action in Redfield Thursday was a long time coming for the Aberdeen Roncalli and Aberdeen Christian squads.
The Knights took were back in action at the Redfield Relays after a two-and-a-half-week layoff, but for the Cavaliers of Aberdeen Roncalli, Thursday's meet marked the first taste of outdoor competition since 2019.
"It was just good to see our athletes enjoy their first outdoor meet in nearly two years," said Roncalli coach Mark Stone. "We almost forgot what it meant to take a bus ride, set up camp, pray as a team and compete in a meet."
Morgan Fiedler provided a handful of several standout performances for the Cavaliers, winning the triple jump and the 100-meter dash, plus running a leg on the 4×100-meter relay that finished first. Fiedler was also second in the 200-meter dash and was named as the Female Athlete of the Meet.
Roncalli's girls 4×800-meter relay squad also finished first, while Stone noted that the girls also scored well in the 1,600-meter race.
On the boys side, Ben and Brendan Livermont had solid days in the throws, and Caden Shelton was strong in the long jump.
"Overall, we had some strong performances in the field events," Stone said. "Our jumpers and throwers had a successful day and a good starting point to the rest of the season."
And, while Aberdeen Christian didn't have to wait quite as long to start its outdoor season, the Knights still relished the opportunity to race on a track surface.
"We're still trying to figure some stuff out," said Knights' head coach Noah Aderhold. "It's tough not having a track surface to train on and not having meets to supplement that lack of surface training, so I think the guys and girls performed really well (Thursday)."
On the boys side, the Knights were fairly sprint-heavy, Aderhold said, noting in particular the 4×100 and 4×200-meter relay squads, which have state-meet hopes. That group includes Abe Kretchman, Jackson Isakson, Andrew Brennan, Malek Wieker and Ben Rohl — or various combinations of the five.
"It's a pretty fun group to have and they did well today," Aderhold said.
Rohl, who anchored the 4×200-meter group on Thursday, also finished second individually in the 100 and 200-meter dashes.
On the girls side, the focus switched from sprints to the longer distances. Aderhold noted that the 4×800-meter relay squad shaved 16 seconds off its season-opening time. Rachel Beaner in the 800 and Kira Koldade and Katie Steger in the 1,600 also turned in solid performances.
"I thought today was a pretty good day," Aderhold said. "It seems like it's been a long time since we've had a meet — and it has been — but the kids stayed pretty focused on these weeks off. … We knew we needed to get some good times and marks just because we've had so little meet experience."
Both Roncalli and Christian will have just one day off before heading to Ipswich on Saturday.
To see complete meet results, please click on the following link:
https://www.athletic.net/TrackAndField/MeetResults.aspx?Meet=415195&show=all