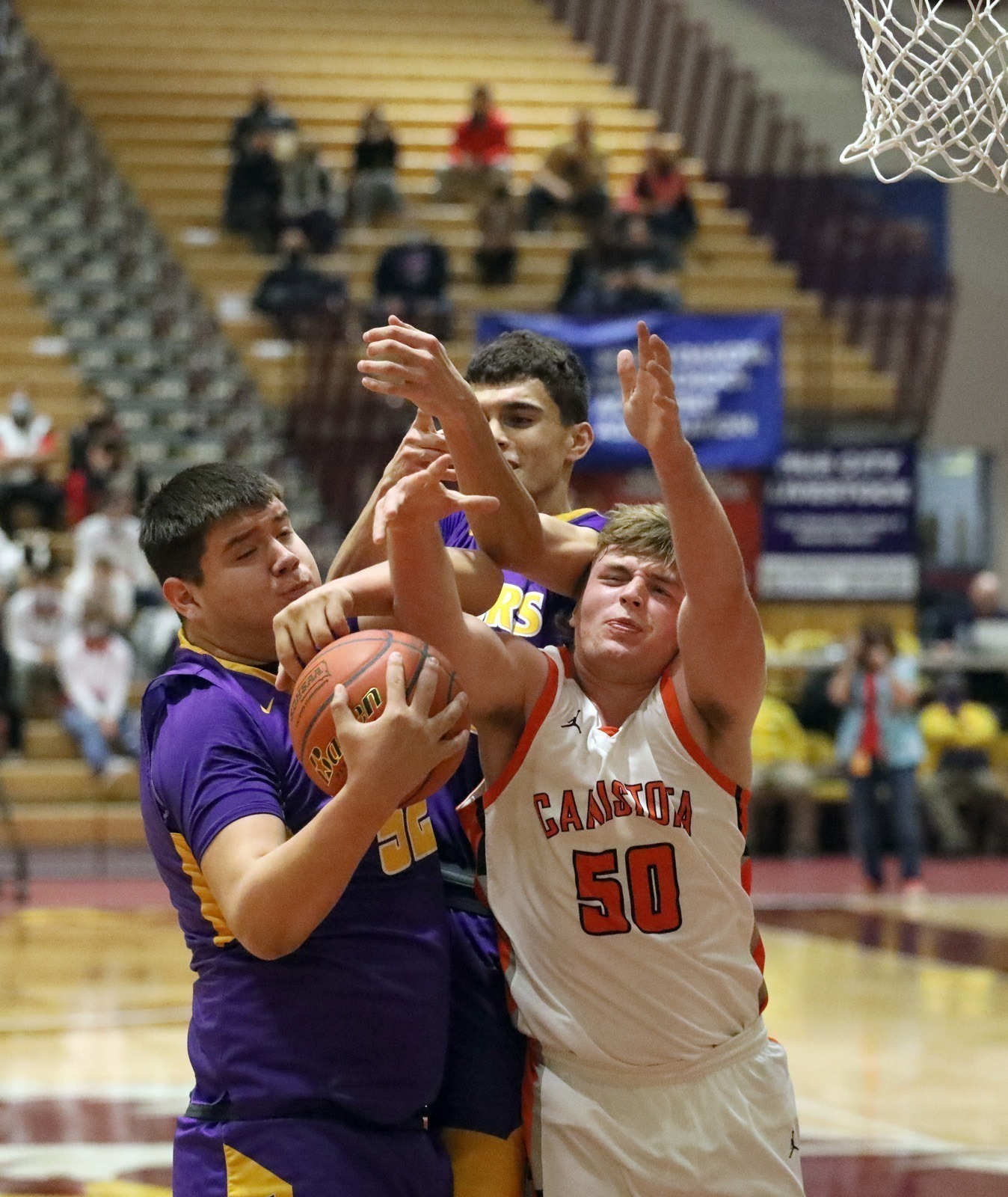 It took a scoring surge and some help off the bench, but White River eventually found a way to take down Canistota.
The Tigers gained a measure of revenge with a 74-69 consolation round victory during the Class B State Boys' Basketball Tournament at Wachs Arenda Friday afternoon.
"They've had a our number for a couple of years now. To be able to get a big win like that against a very-well coached team is huge for our program and these guys," said White River Coach Eldon Marshall. "It's a whole new breed of dudes. We're young. We've got new guys. For all of them it's really the first state tournament for them. It's a high-quality win for sure."
One of the key's to the victory was a 12-0 scoring surge for the Tigers, which turned a three-point deficit into a 38-29 advantage early in the third quarter.
Canistota defeated White River by nine points earlier this season.
Dylan Marshall said his team was better defensively against the Hawks this time around.
"I felt like we came more prepared," said the junior point guard. "We played better defense. We sat down and played good defense when we had to."
Another key to the victory was the play of reserve center Daice Marshall. The 6-foot-9 senior scored 17 points and grabbed six rebounds in less than 12 minutes of action.
"In the first half we had zero offensive boards. That's something that we talked about halftime," Coach Marshall said. "We needed to look to rebound on the offensive end. Daice came in and did a good job of that. He just played a great all-around game. He really stepped up big time."
The Tigers scored on eight of their first nine possessions of the fourth quarter. On those occasions when they did miss, they got the rebound and eventually scored.
"The second-chance opportunities for them hurt us," said Canistota Coach Pat Jolley. "They were patient on offense. They worked hard to get a good shot. They broke our defense down. They were scoring a lot and we had to score and of course we had to get stops to come back once you're down 10."
It was Daice Marshall who worked inside to keep the Tigers on top. He scored eight points in the final quarter, six of them on second chances.
"The big kid really hurt us inside," Jolley said. "We really didn't have an answer for him."
Joe Sayler led White River with 23 points, including six clutch free throws down the stretch. Dylan Marshall finished with 20 points, six rebounds and three steals. Colbe Scott added 10 points.
Dylan Marshall said it's hard to lose in the opening round and come back for consolation round action.
"It's really hard mentally. It wears you down," he said. "It's tough, but we fought, we fought and we got them."
Chase Merill finished with a game-high 26 points to power the Hawks. Tyce Ortman contributed 17 points, four assists and three steals. Cole Papendick added 13 points.
Canistota (21-4) faces Lyman for seventh place at noon today.
"We'll have another tough one tomorrow," Jolley said. "I've seen Lyman play. They're good."
White River (18-6) meets Lower Brule for fifth at 2:15 this afternoon.
"They're very good. They're playing well right now," Coach Marshall said. "They're quick and athletic. They have speed and they can shoot it, so we're going to have to play well. Hopefully, we can play at our tempo and finish out the tournament strong."
WHITE RIVER (18-6): Nicolas Marshall 1 0-0 2, Dylan Marshall 6 8-9 20, Colbe Scott 2 5-6 10, Joe Sayler 7 7-9 23, TJ Beardt 1 0-0 2, Daice Marshall 6 5-8 17. Totals 23-39 25-32 74.
CANISTOTA (21-4): Will Ortman 0 1-3 1, Logan Katzer 0 1-2 1, Cole Papendick 5 3-4 13, Isiah Robertson 1 0-0 2, Tyce Ortman 7 3-4 17, Tate Tieszen 1 0-0 2, Tye Merrill 2 0-0 5, Chase Merrill 12 1-1 26, Blake Anderson 1 0-0 2. Totals 29-61 9-14 69.
White River 15 33 53 74
Canistota 19 29 47 69
3-point field goals – Scott, Sayler 2; T. Merrill, C. Merrill. Total fouls – White River 15; Canistota 20. Rebounds – White River 25 (D. Marshall 6); Canistota 30 (Papendick 11). Turnovers – White River 15; Canistota 12. Assists – White River 7 (D. Marshall 3); Canistota 11 (T. Ortman 4). Steals – White River 1; Canistota 8 (T. Ortman 3).