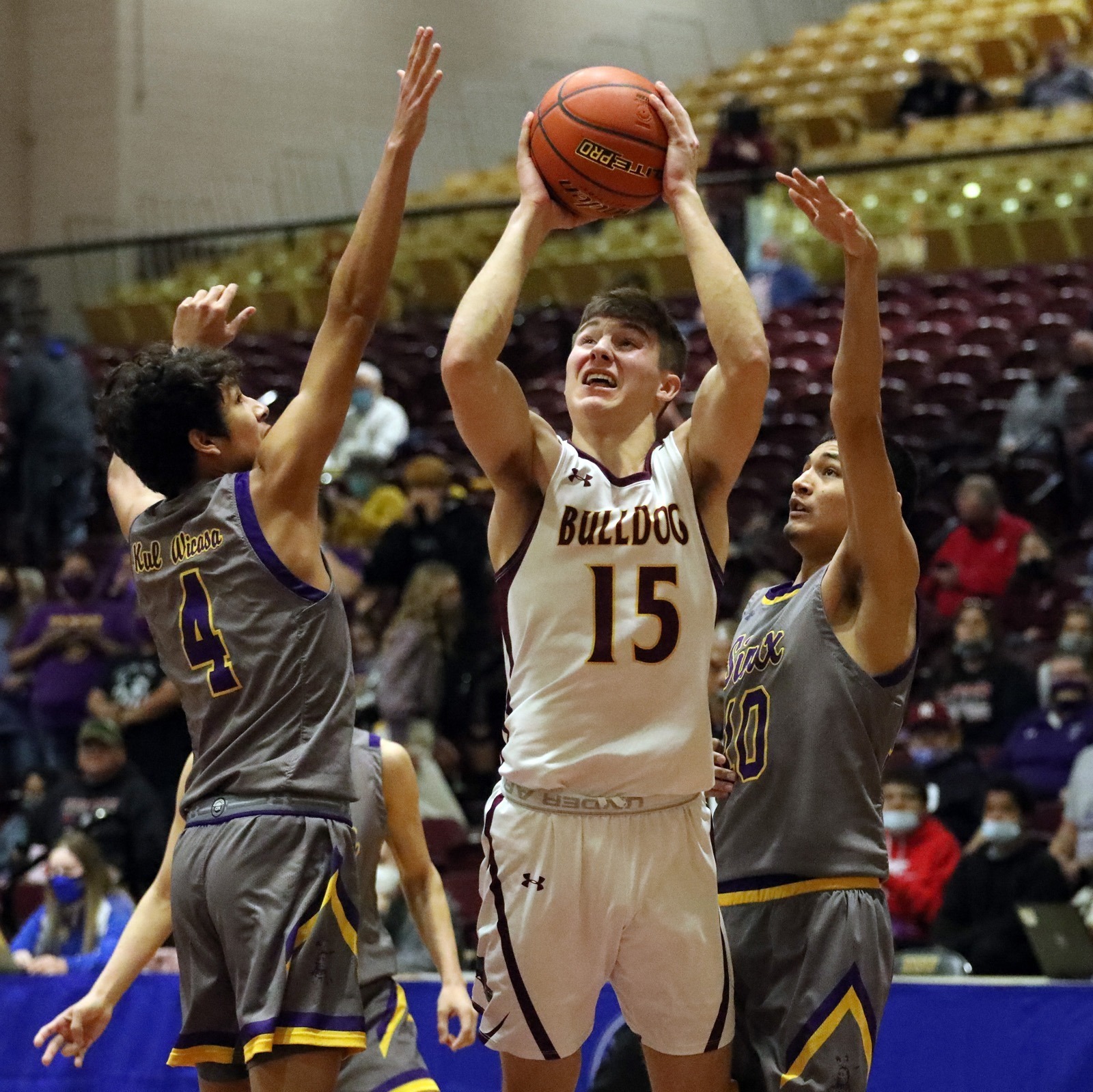 The number one-seeded Bulldogs of De Smet advanced to the semifinals of the Class B State Boys' Basketball Tournament with an 80-53 win over Lower Brule in the opening round of the tourney at Wachs Arena Thursday afternoon.
De Smet jumped out to an early 25-14 lead after one quarter, led by junior guard Kalen Garry who scored the first eight points for the Bulldogs. Garry, De Smet's leading scorer on the season with nearly 23 points per game, created open shots for his teammates to expand the lead on the Sioux entering halftime. Garry recorded 15 points, seven rebounds and five assists through two quarters.
De Smet led 46-24 at halftime, a lead generated by three-point shooting and ball movement. The Bulldogs went 8-of-18 on 3-pointers in the first half and tallied 13 assists on 18 made field goals.
The offensive efficiency continued for the Bulldogs in the second half despite an increase in defensive pressure from Lower Brule. De Smet left no opportunity for a late upset bid from the Sioux in claiming the victory.
"We just wanted to focus on getting our offensive boards, getting our defensive boards, pushing in transition and guarding the three-point line," Garry said. "Our shots were falling tonight and hopefully they do the rest of the tournament."
Garry finished the game with 24 points, 10 rebounds and three steals to lead the team in all three statistical categories. He also provided seven assists on the afternoon, leaving him three assists shy of a triple-double.
"He's always our steady guy," said De Smet Coach Jeff Gruenhagen. "He's always moving around and if he's hitting shots then our guys are more apt to find him, and even if he's not hitting shots, he's still flying around and picking up rebounds."
Sophomore center Damon Wilkinson provided 15 points off the bench while forwards Ethan McCune and Tory Holland also scored in double figures with 13 points each.
Three players scored in double figures for Lower Brule, headlined by junior forward Keshaume Thigh who recorded 12 points, eight rebounds and three blocks. Brian LoRoche Jr. and Gavin Thigh also scored 12 points for the Sioux.
"We need to adjust on our defense and we need to be ready," said Lower Brule Coach Brian LaRoche. "On offense we need to move the ball more and trust each other to open up shots and attack."
With the win, De Smet (23-1) advances to the semifinals to face Viborg-Hurley this evening at 5. Lower Brule (16-8) will kick off the second day of tournament play with its consolation bracket matchup with Lyman at noon.
De SMET (23-1): Ethan McCune 4 2-2 13, Tory Holland 5 1-2 13, Rett Osthus 2 0-0 6, Kalen Garry 11 0-2 24, Cody Cavanaugh 4 0-0 9, Damon Wilkinson 7 0-0 15. Totals 33-59 4-8 80.
LOWER BRULE (16-8): Keshaume Thigh 3 4-5 12, Shane Grey Owl 2 1-2 7, Brian LaRoche Jr. 6 0-0 12, Gavin
Thigh 3 6-8 12, Lane Gray 2 0-0 5, Christian Bishop 2 1-2 5. Totals 18-46 12-17 53.
De Smet 25 46 63 80
Lower Brule 14 24 42 11
3-point field goals – McCune 3, Holland 2, Osthus 2, Garry 2, Cavanaugh; K. Thigh 2, Grey Owl 2, Gray. Total fouls – De Smet 16; Lower Brule 8. Rebounds – De Smet 33 (Garry 10); Lower Brule 23. Assists – De Smet 21 (Osthus 8); Lower Brule 5. Steals – De Smet 8; Lower Brule 1.