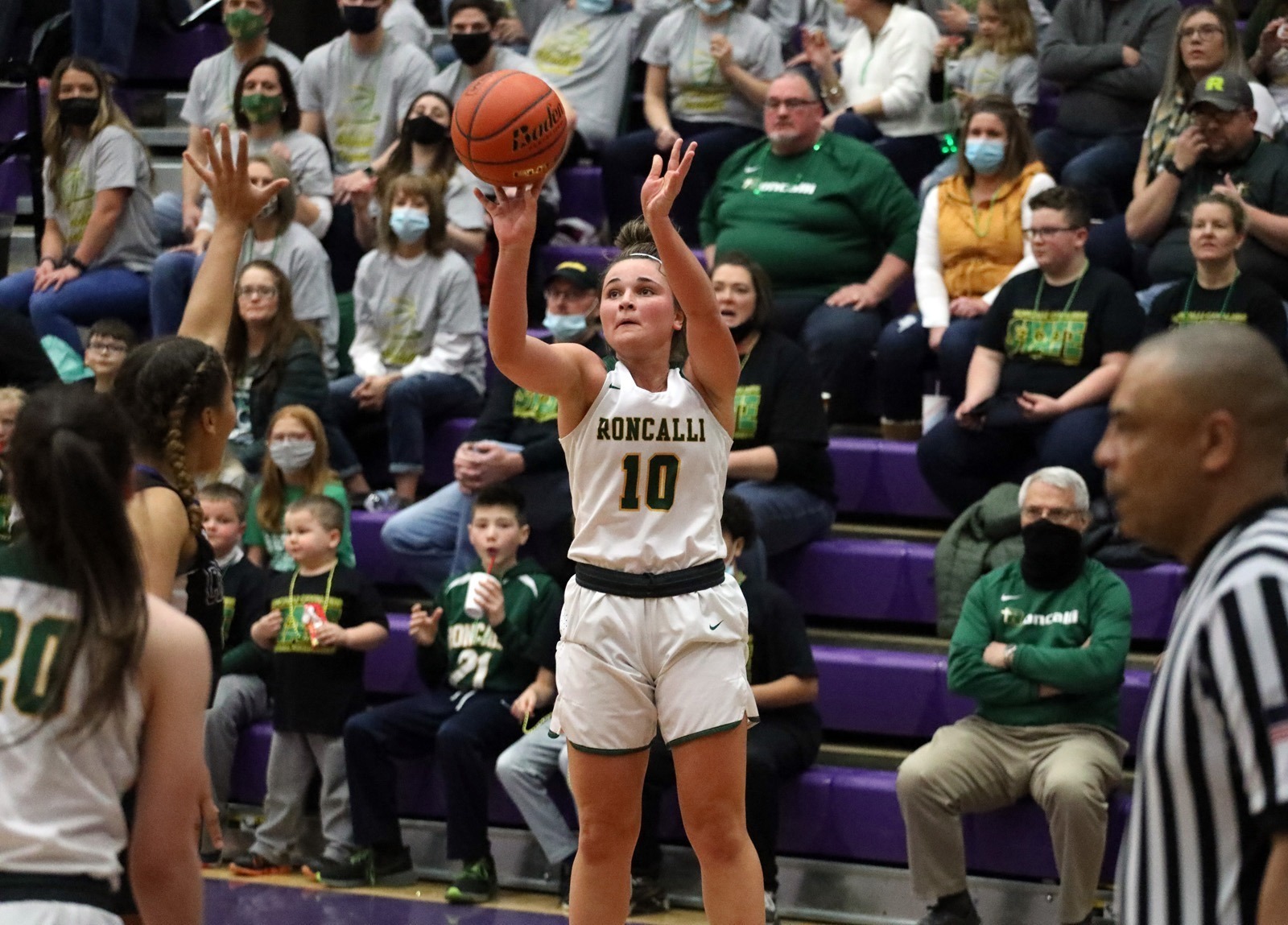 WATERTOWN – This was payback in the best way possible.
Aberdeen Roncalli used two free throws from Olivia Hanson with one second left to defeat top-seeded St. Thomas More 36-35 in the semifinals of the Class A State Girls' Basketball Tournament Friday night at the Watertown Civic Arena. It marked the first victory over STM after several near misses in the past.
"We've been on the other end of this before," said Roncalli Coach Derek Larson. "We had them down 10 going into the fourth and lost in overtime one year. Last year we were up with six seconds to go by two and then they hit a three-point winner."
This time, it was Roncalli's turn to pull one out of the fire.

Trailing by one after STM missed a free throw, Hanson took the ball the length of the court and ended up getting fouled with one second remaining. She calmly made both free throws to put Roncalli on top.
"A lot was going through my mind. I kind of just thought, well I better put this one in," Hanson said.
The junior had just missed a foul shot moments earlier.
"It went through my head, I've kind of been little rusty from the line tonight, umm, I might need to put this one in," Hanson said.
Larson wasn't sure whether to call time out to set up a final possession or just let things run their course.
"The debate was whether we call time out or we don't call time out. We didn't call time out and it ended up working out for us," Larson said. "You want to leave it in the kids' hands. Olivia basically had a one on one and the way she's played in the state tournament, we were going to take that for what it was worth. She ended up making two big free throws."
Interestingly enough, Hanson was not even expecting the ball to be in her hands with the game on the line.
"Honestly, I had no idea I was going to get the ball. I mean Morgan Fiedler the best guard on the team, I was thinking she's going to get the ball, we're good," Hanson said. "And then I get it and I'm like, oh it's me on the dribble, I should run. I was like I'm just going to go to the hole and hope I get something called or make it or something like that, because there was a game on the line."
Then Hanson delivered two spot-on daggers from the charity stripe.
"I was like I have to keep it cool. I kind of put myself in a practice situation," she said. "I was like, I just have to make it, I'm in practice, we're good."
Roncalli trailed by seven points in the fourth quarter, a deficit most times insurmountable against STM. However, Fiedler nailed two big three-pointers (one just before the shot clock expired), Jeci Ewart made a key basket and Madelyn Bragg hit five crucial free throws in the final quarter.
"We had some kids really step up to the plate, tonight," Larson said. "We obviously needed every point we could get."
Bragg finished with 13 points and Hanson followed with 10.
Haleigh Timmer led all players with 27 points for STM.
"We really played a great defensive game, I thought," Larson said. "I know we let Timmer score 27, but I thought overall we did a pretty good job of making some other people make some plays for them."
Roncalli, 22-2, meets Northeast Conference foe Hamlin for the state championship at 7 tonight. It will be another shot at payback.
"They beat us by one the last two years," Larson said. "Obviously, both teams are playing really well right now. We're happy to be here, but we want to try to get one more."
Hanson said it will be a fitting way to end the season.
"I think it's the best matchup. We were both kind of underdogs the whole entire season coming into the state tournament," Hanson said. "I think it's the best matchup we could ask for."
ABERDEEN RONCALLI (22-2): Madelyn Bragg 4 5-6 13, Elissa Hammrich 0 2-2 2, Morgan Fiedler 3 0-0 8, Jeci Ewart 1 0-0 2, Olivia Hanson 3 2-5 10, Ella Hanson 0 1-1 1. Totals 11-37 10-14 36.
ST. THOMAS MORE (21-2): Mairin Duffy 1 0-0 3, Jenna Jacobson 0 0-1 0, Reese Ross 1 1-2 3, Haleigh Timmer 11 3-5 27, Jada Mollman 1 0-0 2. Totals 14-46 4-8 35.
Aberdeen Roncalli 4 17 19 36
St. Thomas More 8 17 24 35
3-point field goals – Hanson 2; Duffy, Timmer 2. Total fouls – Aberdeen Roncalli 11; St. Thomas More 15. Rebounds – Aberdeen Roncalli 31 (Bragg 12); St. Thomas More 23 (Timmer 6). Turnovers – Aberdeen Roncalli 17; St. Thomas More 8. Steals – Aberdeen Roncalli 3; St. Thomas More 7 (Timmer 3).