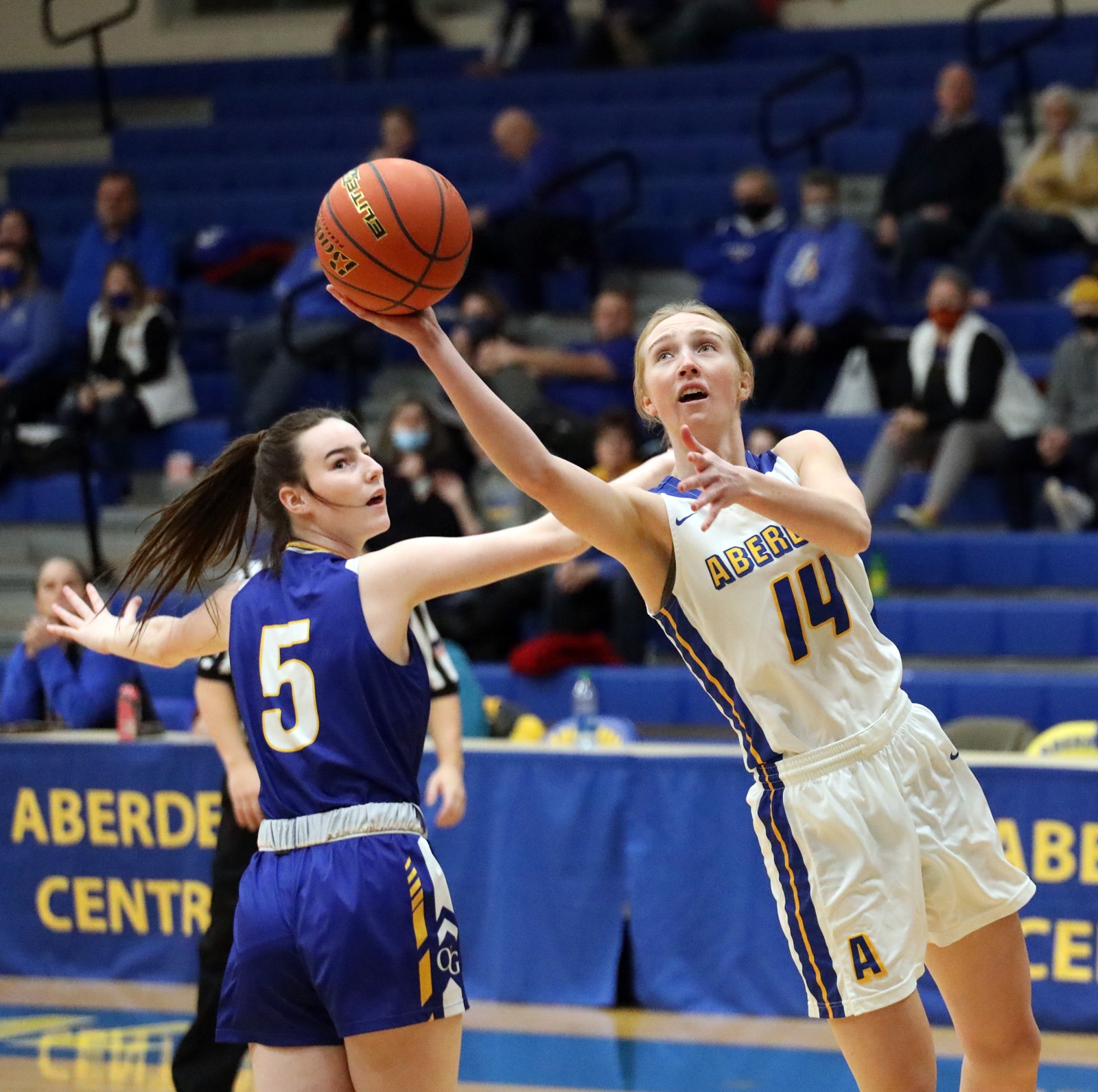 Abby Kopecky checks all the boxes.
From scoring inside, outside and mid-range to defending the other team's best players, the Aberdeen Central senior provides whatever her team needs.
"She's a complete player. She's a kid who can hit the outside shots. She's capable of shooting the three. She can also put it on the floor. She's got the mid-range jumper, that pull up that a lot of girls don't have," said Central Coach Dawn Seiler. "She usually defends one of the toughest players. She's versatile because she's got some size, she's got some length."
Put it all together and it's easy to see why Kopecky is one of the top players in AA basketball.

Kopecky is the ideal compliment to senior teammates Melanie Jacobs and Brooklyn Kusler.
"I'd say that one of my go-to moves is the middle drive and then pull up," Kopecky said. "That happens a lot, because Melanie can help spread out the defense and then they also have to watch out for Brooklyn in the middle of the lane, so it helps that there's always three scorers on the floor."
While Kopecky is content to pick her spots, she can take over a game if it comes to it. A couple of weeks ago in a tight battle, Kopecky scored 11 unanswered fourth-quarter points in a win over Mitchell.
"I thought that our team did a great job trying to get the ball moving," said Kopecky, deflecting the praise back onto her teammates. "When the ball started moving, we got an opportunity to get some of those drives going and shots that were in rhythm. Everyone was doing their role."
Kopecky's ability to hit those shots when they present themselves is a big key to Central's offense.
"Being a senior, she knows she's one of those players who has to score for us. She's gotten so much better in that area. She knows that Kusler is going to be double-teamed a lot inside. Mel usually has a good perimeter player (on her) on the outside. Being able to create her own shots off the dribble has been very useful for us, because she can get by people and elevate. That's a skill a lot of players don't have."
There's not much higher praise than when opposing coaches know where you're at every second of the game. That's the case for Kopecky.
"Coaches have a lot of respect for her. She always gets the best perimeter defender," Seiler said. "Teams are denying her the basketball. She has to work hard to get the basketball and get her touches. I know that opposing coaches definitely respect her game."
Of course, Kopecky also plays a huge role in Central's defensive scheme. She likes the challenge of locking down an opposing player.
"I like it because then your mind is on something and you can focus on that one thing. You know you're helping the team in a big way," Kopecky said. "It's good to have one thing to focus on. If you do that well on the defensive end that usually helps you on the offensive end."
Kopecky said a key factor in the Central program is the contribution from all the team members. She said Seiler calls it 'the push comes from the bottom.'
"You can definitely tell that they've gotten better as the season has gone on," Kopecky said of the reserves. "They're starting to help us when it really counts. That's going to help us during this state push, because we've been able to practice against them all year. We really learn to play as a team together."
Kopecky will play basketball for Wayne State next season. The staff undoubtedly saw the skill set that she possesses and what she will bring the squad in the future.
"I thought it was a great fit," Kopecky said of her decision. "I love the coaches and I love how they saw me fitting into their program. They had an idea of what I was going to do and how I was going to help their team."
Kopecky is one of four Central seniors who will also compete in college athletics. Kusler will play volleyball at Southwest Minnesota State, Jacobs will run at Texas Tech, and Jordan Hermansen will run for Northern State.
Before then, the quartet has a trio of games coming up at the State AA tournament in Sioux Falls.
"We've really been working hard these past couple of seasons and throughout the summer to have this opportunity to have a final state push," Kopecky said. "It's going to be exciting for all of us to see how we do and see how it ends up."