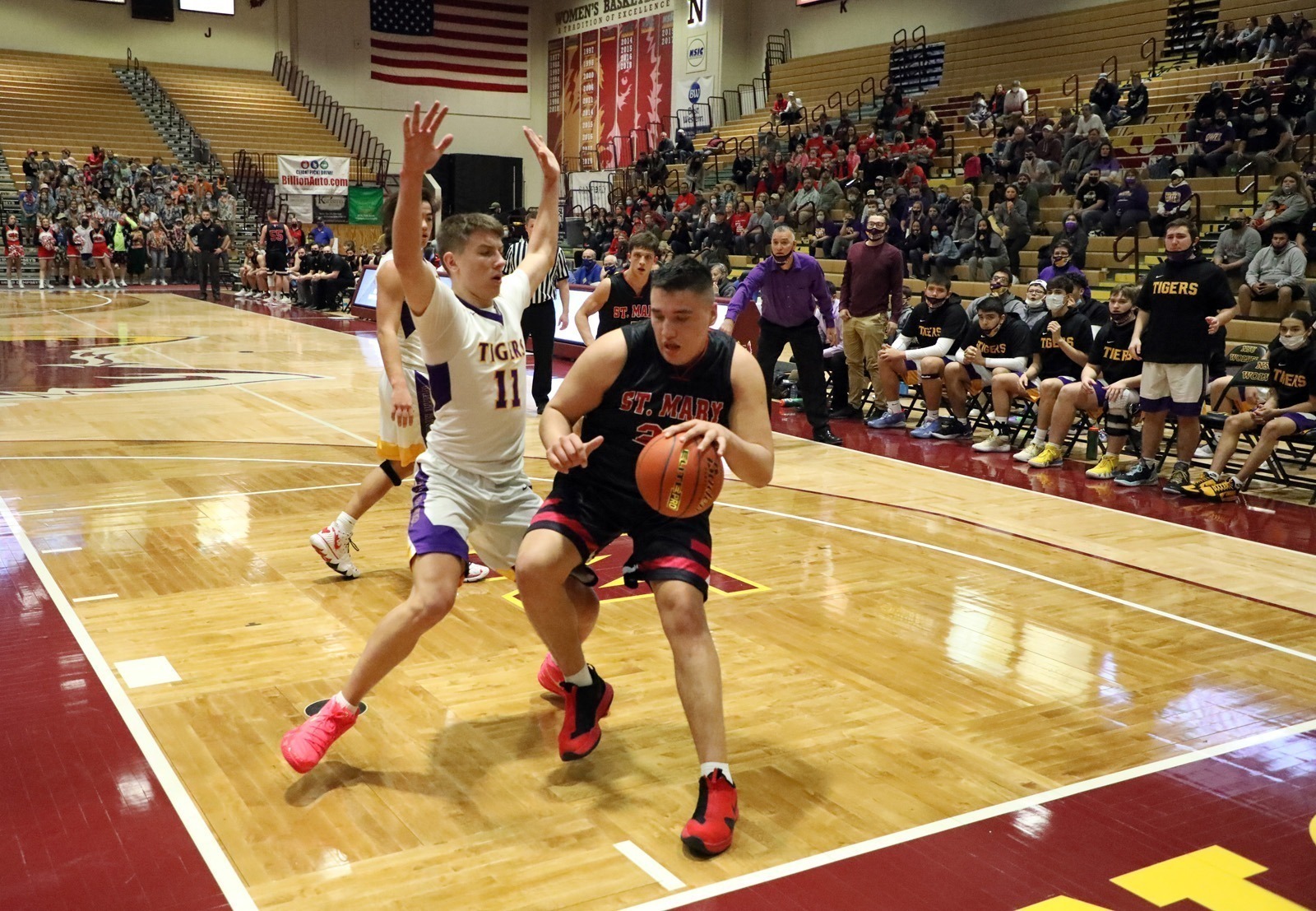 The Cardinals of Dell Rapids St. Mary advanced to the semifinals of the Class B State Boys' Basketball Tournament with a 75-69 win over third-seeded White River Thursday night at Wachs Arena.
Both teams love to utilize the fast break and each has one of the top scorers in South Dakota boys' basketball. Dell Rapids St. Mary's Connor Libis and White River's Joe Sayler delivered in producing a run-and-gun, fast-paced nightcap to the first day of the tournament.
Dell Rapids St. Mary closed the first and second quarters strong and held a 39-24 halftime lead. Libis led the half in scoring with 16 points on 8-of-13 shooting from the field and dished out three assists.
DRSM defeated White River 89-72 in the regular season back on Jan. 2. While the Tigers made defensive improvements in Thursday night's rematch to keep the game more competitive down the stretch, the Cardinals forced enough timely defensive stops in the second half to thwart a comeback attempt.

Dell Rapids St. Mary shot 54.7% from the field on the night compared to 43.6% for White River.
Libis led the Cardinals with 28 points and 6 assists. Libis and senior forward Ashuan Roach-Valandra, who scored 18 points and shot 3-of-7 on 3-pointers, are proving to be one of the best scoring combinations in the tournament.
"We just click together," said Roach-Valandra. "I live with him and we're just really close. We know what we're going to do and we get the ball to whoever is hot at the time."
Roach-Valandra plays with a lot of emotion on the court, and the matchup with White River extends beyond the boundaries of Don Meyer Court. He recently moved from Todd County where he grew up playing with many of the current White River players as the two schools are merely 20 minutes apart.
"I just love the game of basketball. Where I'm from, the Rosebud Sioux Tribe, that's what we thrive off of. I know all of those White River guys and it was like playing backyard basketball."

It was also an emotional win for St. Mary head coach Colby Fitzgerald, who won a State B championship in Wachs Arena in 2004 playing for the Cardinals. After the opening round game, his father rushed to the sideline to congratulate his son on the victory before the team departed for the locker room.
"It's a family thing," said Coach Fitzgerald. "He played in a state tournament in '75 and I had my opportunity. We really love basketball; we really love St. Mary's and couldn't be more proud of the group of boys out there tonight."
Sayler finished with 29 points and 11 rebounds to power White River. Dylan Marshall followed with 20 points, and Colbe Scott added 14.
Sam Palmer added 13 points for the Cardinals, while Max Herber contributed 10.
Sixth-seeded DRSM (20-4) will face seventh-seeded Aberdeen Christian in the semifinals at 7:45 tonight. While the Cardinals and Knight play contrasting styles, the two teams share a similar motivation of continuing as tournament underdogs.
"They're a really good inside-out team," said Fitzgerald. "We're going to need to play really good defense, limit their touches in the post and get out and play our game."
White River (17-6) enters the consolation bracket and will play Canistota at 2:15 this afternoon.
DELL RAPIDS ST. MARY (20-4): Ashaun Roach-Valandra 6 3-4 18, Max Herber 5 0-0 10, Connor Libis 12 3-9
28, Sam Palmer 4 2-2 13, Nic Gasper 2 0-0 5, John Pica 0, 1-2 1. Totals 29-53 9-17 75.
WHITE RIVER (17-6): Nicolas Marshall 1 0-0 2, Dylan Marshall 7 3-4 20, Scott Colbe 5 0-1 14, Joe Sayler 9
8-11 29, Daice Marshall 2 0-0 4. Totals 24-55 11-18 69.
Dell Rapids St. Mary 21 39 47 75
White River 13 24 40 69
3-point field goals – Roach Valandra 3, Libis, Palmer 3, Gaspar; D. Marshall 3, Scott 4, Sayler 3. Total fouls – Dell Rapids St. Mary 15; White River 13. Rebounds – Dell Rapids St. Mary 31; White River 33 (Sayler 11). Assists – Dell Rapids St. Mary 11 (Libis 6); White River 11. Steals – Dell Rapids St. Mary 5; White River 6.