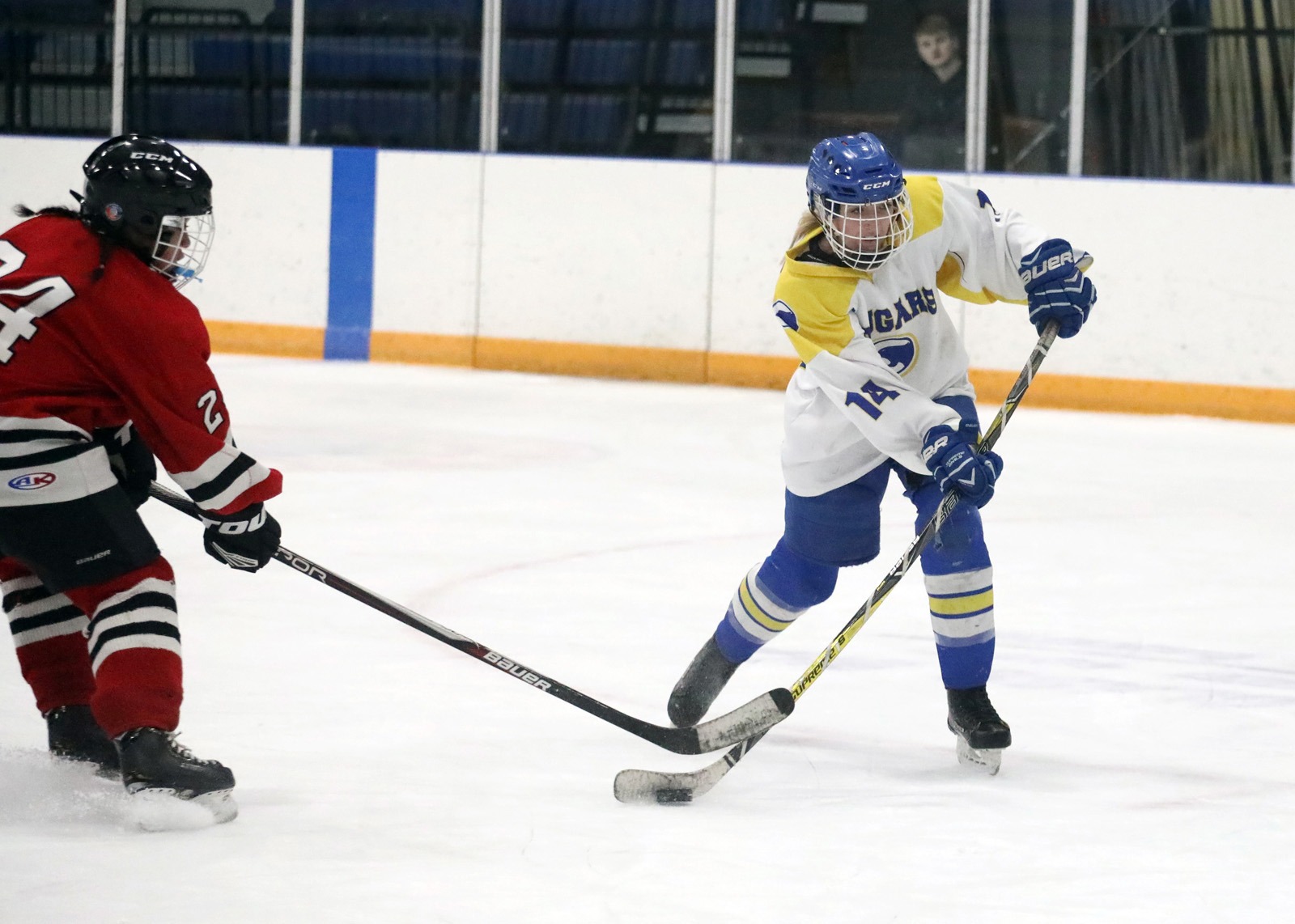 WATERTOWN – The Aberdeen Cougars exploded for five third-period goals to defeat the Mitchell Marlins 7-2 in the semifinals of the State Girls' Varsity Hockey Tournament Saturday night. The Cougars will be gunning for their seventh title in the past eight seasons this afternoon.
"It was a close battle and Mitchell really gave us a run for our money on that one. Congrats to them on a hard fought game," said Cougars Coach Shelby Edwards. "Their goalie really stepped up and was blocking everything we put on her in the first two periods."
The Cougars trailed 2-1 in the second period before tying the score heading into the final period. There, Aberdeen took control with two goals from Morgan Dean, and one each from Kaitlyn Holland, Shelby Nash and Joclyn Orr.
"It was a lot of back and forth, but in the third period we really came alive," Edwards said. "Scoring five in the third period really set the tone for (Sunday) and we are ready to take on Sioux Falls."

Dean and Holland both finished with two goals and two assists. Orr also scored twice as Aberdeen outshot Mitchell 48-12 in the contest. Shelby Nash had the other goal for the Cougars, while Justice Small finished with a pair of assists.
Aberdeen will now take on the Sioux Falls Flyers in the state championship game at 2 p.m.
Mitchell Marlins 1 1 0 – 2
Aberdeen Cougars 1 1 5 – 7
First Period: 1, Aberdeen Cougars, Kaitlyn Holland (Morgan Dean), 10:14; 2, Mitchell Marlins, Kelsey Amick (Brynlee Sabers, Tristen Zimmer), 16:58.
Second Period: 3, Mitchell Marlins, Sabers, 6:58; 4, Aberdeen Cougars, Joclyn Orr (Estelle Harrison, Kailyn Poppen), 7:17.
Third Period: 5, Aberdeen Cougars, Dean (Holland and Justice Small), 4:00; 6, Aberdeen Cougars, Holland (Danielle Podoll), 6:52; 7, Aberdeen Cougars, Shelby Nash (Dean), 12:05; 8, Aberdeen Cougars, Orr (Small), 13:35; 9, Aberdeen Cougars, Dean (Small and Holland), 16:59.
Goalies: Mitchell Marlins, Sadie Kludt, 48 shots, 41 saves; Aberdeen Cougars, Ava Myhre, 12 shots, 10 saves.