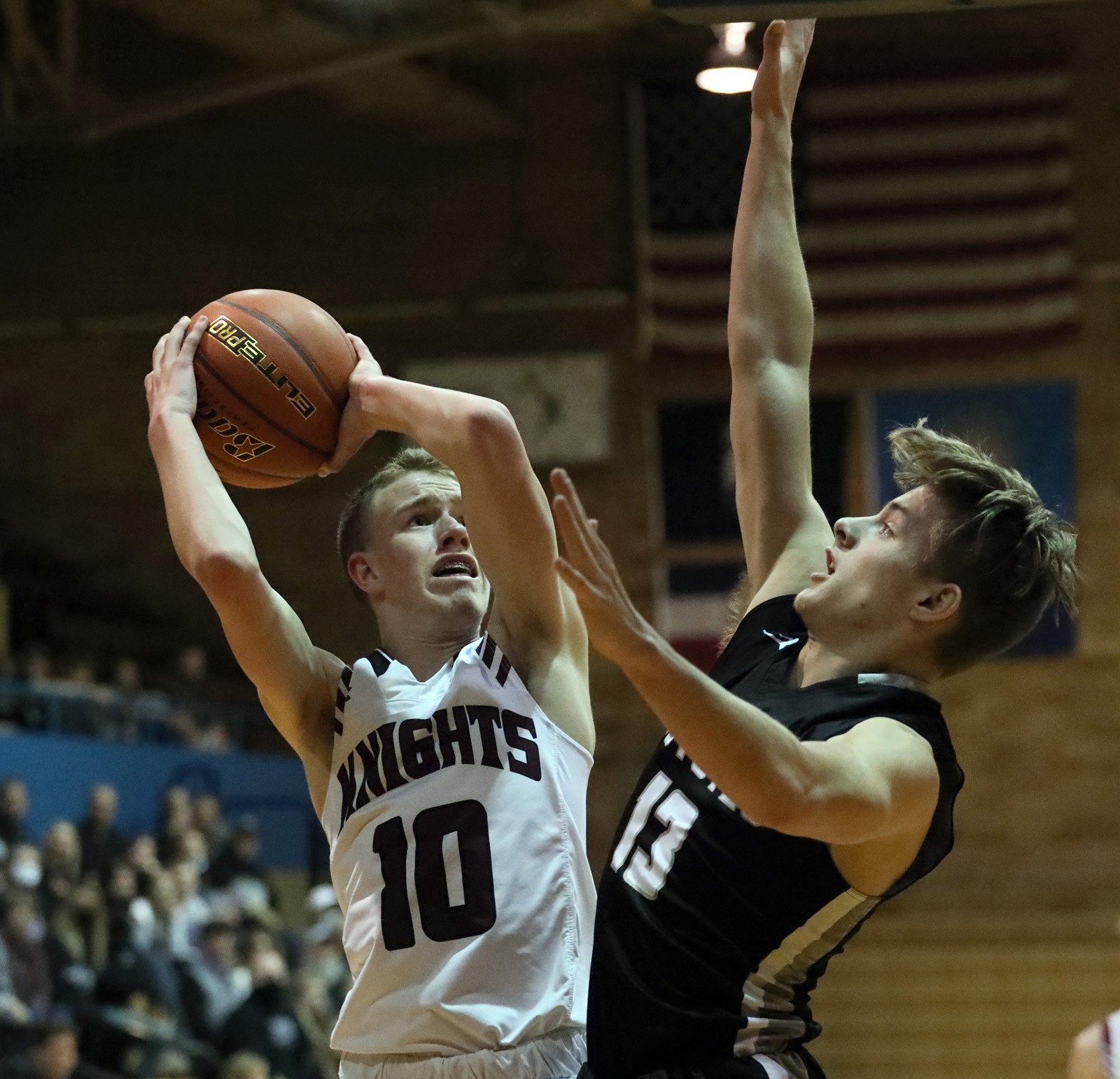 Malek Wieker proved to be ice under fire. The sophomore scored Aberdeen Christian's final eight points – including six straight-free throws in the final 42 seconds – in a 52-47 overtime victory over Waverly-South Shore.
The Region 1B boys' basketball victory Friday night at the Aberdeen Civic Arena puts the Knights back in the SoDak 16 field.
"He's just a really good point guard. He's one of those kids you want the ball in his hands at the end of the game" said Christian Coach David Rohrbach of Wieker. "Once he sees a couple go in, he's pretty confident. He just really stepped up. Huge, huge free throws in a pressure situation."
Wieker said the accuracy from the charity stripe was the result of hours of practice.

"It's all those hours in the gym I put up," Wieker said. "I had a lot of confidence, just ice running through the veins. Just taking advantage of the moment, soaking it all up, that's what it's all about."
It was Wieker's floater in the lane with 1:02 left that put the Knights up for good and set the stage for his free-throw performance to close out the contest.
The game featured plenty of big shots from multiple players on both sides. Davin Quail's free throw with four seconds left in regulation forced the extra period.
It was a battle all the way with the biggest lead five points by each team.
"At the end of the day, you have to find a way to win, especially when we didn't' shoot as well as we would have liked. We didn't shoot a great percentage from three," Rohrbach said. "I did think our guys found a way to win. Credit to them. We hit some shots when we needed them. We had multiple guys step up and hit shots when we really needed them."
Wieker finished with a game-high 18 points. Ethan Russell followed with 13 and Brent Ekanger added nine.
Tanner Fonder topped the Coyotes with 16 points. Adam Comes netted 11 and Austin Applehof contributed nine.
Christian (17-4) now advances to the SoDak 16 Tuesday for the second straight season.
"It just give us another shot to go on the road somewhere and just give it what we've got and see if we can go back to state," Wieker said. "We're excited."
Rohrbach knows his team will need to put forth a maximum effort the deeper it goes into the post season.
"We'll definitely need to put together all four quarters," Rohrbach said. "Every possession is going to be huge in the SoDak 16."
WAVERLY-SOUTH SHORE: Adam Comes 5 1-3 11, Davin Quail 2 3-7 8, Austin Applehof 4 0-0 9, Tanner Fonder 5 5-5 16, Carter Comes 1 1-4 3. Totals 17 10-20 47.
ABERDEEN CHRISTIAN: Jackson Isakson 1 0-0 2, Ethan Russell 4 2-2 13, Malek Wieker 5 6-6 18, Brent Ekanger 4 1-4 9, Jett Becker 3 0-2 6, Kaden Clark 2 0-0 4. Totals 19 9-14 52.
Waverly-South Shore 11 21 27 42 47
Aberdeen Christian 11 18 28 42 52
3-point field goals – Quail, Appelhof, Fonder; Russell 3, Wieker 2. Fouled out – Appelhof; Ekanger. Total fouls – Waverly-South Shore 17; Aberdeen Christian 19.