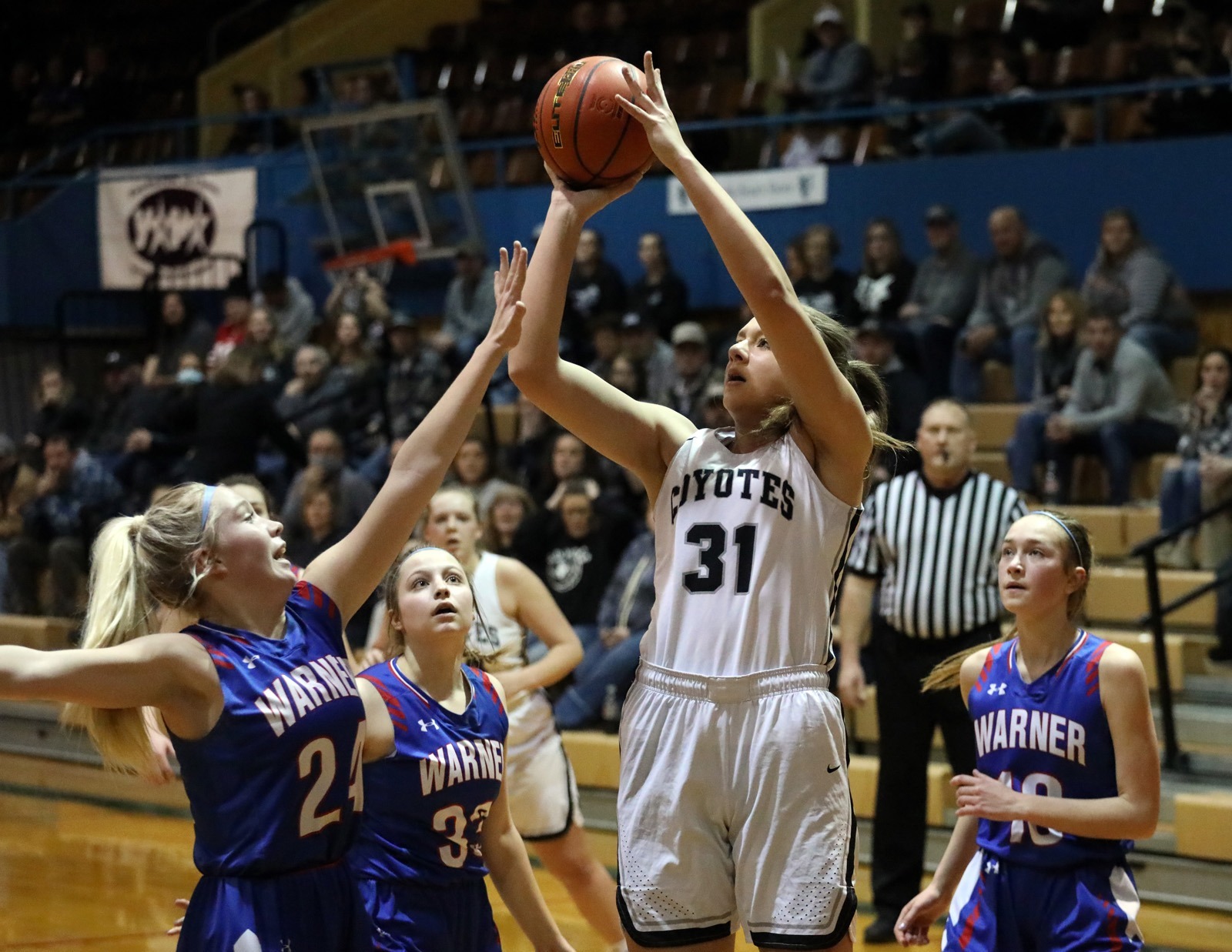 Waverly-South Shore let one lead slip away, but the Coyotes didn't let the second one get away Thursday night. The top seed in Region 1B defeated Warner 47-38 in the semifinals of the girls' basketball tournament at the Aberdeen Civic Arena.
The Coyotes scored the first 11 points of the game, but eventually found themselves trailing.
"We did not take care of the ball very well. They put some pressure on us and we got flustered," said Waverly-South Shore coach Taylor Rymerson. "You would have thought they were the seniors and not us. They played well. Warner came with a good game plan, I thought."
The contest was tied at 25-25 early in the third quarter when the Coyotes began to pull away. W-SS was up seven in the fourth period, but the Monarchs kept battling back, eventually cutting the margin down to 40-37 with 1:46 remaining. However, Warner could not get any closer after that.

"They never quit and we were getting tired," Rymerson said. "We fought hard. We made some mental mistakes that cost us from keeping it a 10-point game."
Emily Kranz was a force inside all night for the Coyotes, finishing with 24 points and 17 rebounds.
"Emily has been tough all year," Rymerson said. "Most teams sag to defend her. We just tell our guards to attack. You're going to have to shoot, because that's the only way to pull the defenders off her. She did a heckuva job getting boards."
Ava Nilsson and Kendyl Anderson each scored a dozen points to lead Warner.
Waverly-South shore now advances to next week's SoDak 16.
"This year, at least we did the work during season. Last year we were 15th, this will year we will be at worst 10th," Rymerson said. "We're looking forward to another week of practice."
WARNER (10-11): Kyra Marcuson 2 2-5 7, Ava Nilsson 3 4-4 12, Jennifer Aman 2 1-2 5, Kendyl Anderson 3 3-6 12, Lauren Marcuson 1 0-0 2, Peyton Fischer 0 2-2 2. Totals 11 12-19 40.
WAVERLY-SOUTH SHORE (15-4): Breanna Breske 2 2-6 6, Brooklyn Kranz 0 0-2 0, Lydia Schroeder 2 0-0 5, Hope Buchholz 3 3-5 9, Emily Kranz 7 9-14 24, Carly Heuer 0 3-5 3. Totals 14 17-32 47.
Warner 6 21 26 40
Waverly-South Shore 11 21 24 47
3-point field goals – K. Marcuson, Nilsson 2, Anderson 2; Schoederm Kranz. Fouled out – K. Marcuson. Total fouls – Warner 24; Waverly-South Shore 10. Rebounds – Warner 24; Waverly-South Shore 34 (Kranz 17). Turnovers – Warner 19; Waverly-South Shore 20.