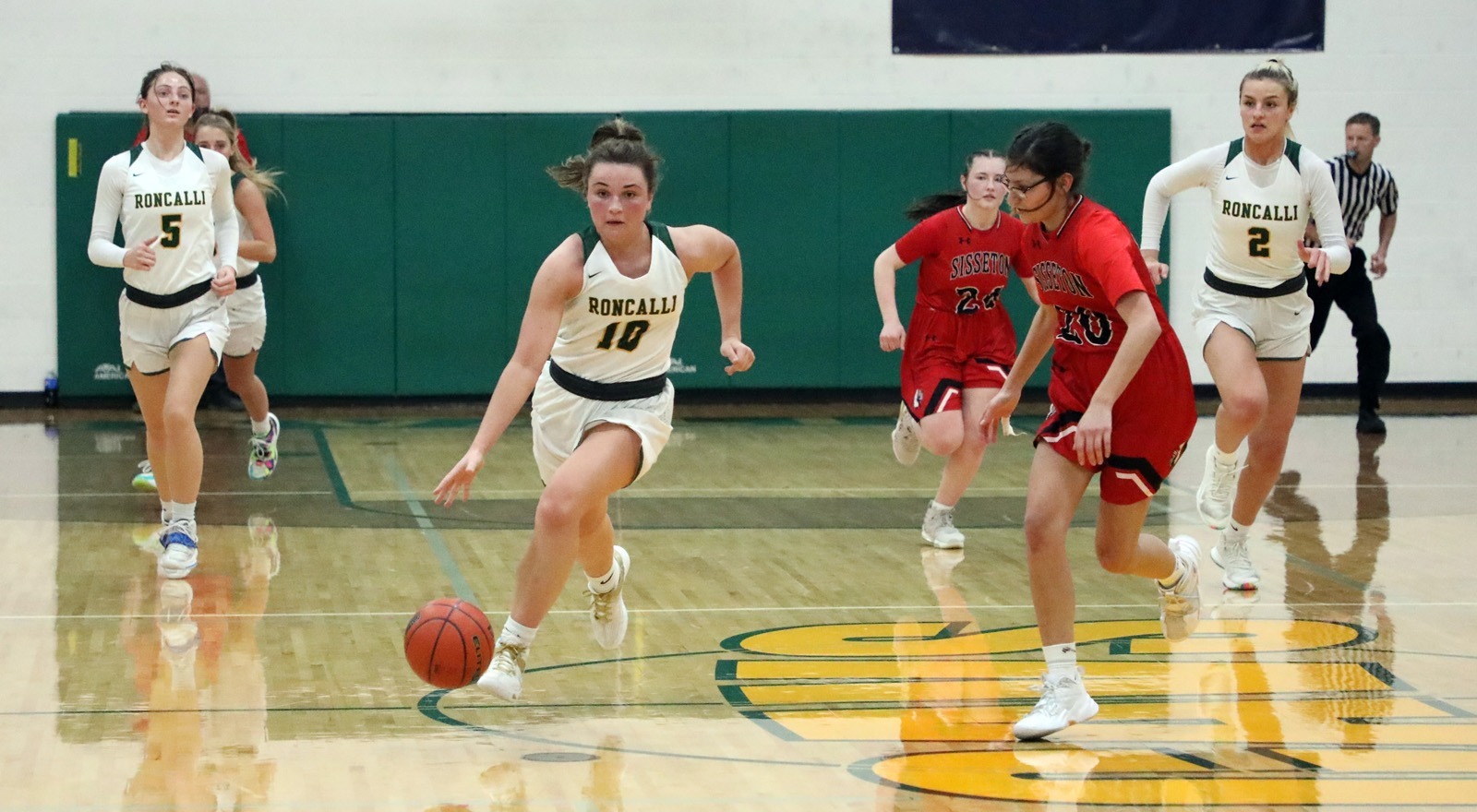 Aberdeen Roncalli set the tone with defense and earned a spot in next week's Class A girls' basketball SoDak 16. The Cavaliers allowed just six-first-half points on the way to a 54-25 Region 1A victory Thursday night at Roncalli Gym.
"I thought we really did a great job on the defensive end. We didn't let them get to where they wanted," said Roncalli coach Derek Larson. "They're a really good basket cut team and I thought we stopped them from getting those basket cuts in front of our face. That kind of set the tone for the rest of the night."
The Cavaliers allowed just one field goal in the first eight minutes on the way to a 16-2 lead. Then gave up just two more baskets the remainder of the half.
Larson said his team executed its game plan going into the contest.
"When we took that confidence away offensively, they took some bad shots. Our plan going in was with how young they are, we thought maybe we could get into them early," Larson said. "But I thought they did a better job the second half of just getting shots they wanted. They threw up a lot of stuff that went in. Give them credit the second half. I thought they continued to play hard even though they were down."
Like it has all season, Roncalli featured a balanced offensive attack from the opening tip to the end. The Cavaliers received points from five different players in the first quarter when they built a double-digit lead.
Madelyn Bragg and Elissa Hammrich each finished with 13 points to lead Roncalli. Morgan Fiedler contributed nine.
Raegan Jansen's eight points topped Sisseton.
The Cavaliers (19-2) now head to the SoDak 16 next Thursday. As the regional semifinals proved, anything can happen on any given night.
"There was a lot of upsets tonight," Larson said of the regions. "We're just happy to be where we're at right now."
SISSETON (11-11): Emmalee Nielsen 1 0-0 2, Kierra Silk 1 2-2 4, Hailey Nelson 3 0-0 7, Raegan Janssen 4 0-0 8, Veronica Rice 2 0-0 4. Totals 11 2-2 25.
ABERDEEN RONCALLI (19-2): Madelyn Bragg 6 1-4 13, Morgan Fiedler 4 0-0 9, Jeci Ewart 2 0-0 5, Olivia Hanson 2 3-4 7, Elissa Hammrich 6 1-2 13, Allie Morgan 1 1-2 3, Ella Hanson 1 0-0 2, Ava Hanson 1 0-0 2. Totals 23 6-14 54.
Sisseton 2 6 19 25
Aberdeen Roncalli 16 32 44 54
3-point field goals – Nelson; Fiedler, Ewart. Total fouls – Sisseton 12; Aberdeen Roncalli 10.