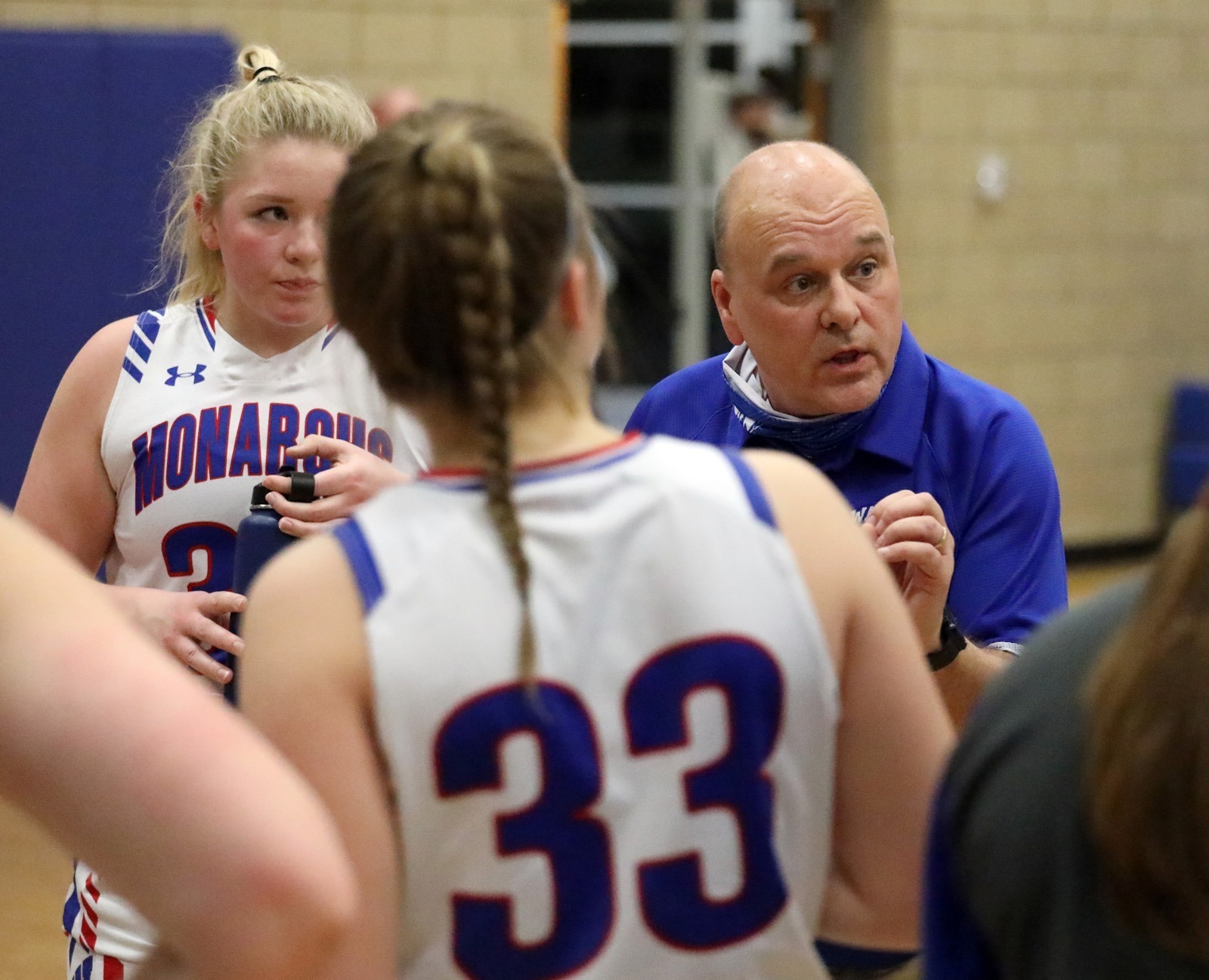 Action starts heating up as girls' basketball teams begin their post-season journey this evening. A total of 16 teams from Class B will advance to next week's SoDak 16 with state tournaments berths on the line. This year's State B girls' tourney will be in Huron, March 11-13.
Here is a look at a couple of regions in the area:
Region 1B at Watertown, top seeds and the Aberdeen Civic Arena
This promises to be an interesting region before all is settled. Waverly-South Shore is the top seed and will benefit from having a quarterfinal game at home. The Coyotes are unbeaten against regional competition, including two victories over Waubay-Summit, the second seed.
Waubay-Summit will also be at home for the quarterfinals and is a dangerous foe. Any time Zoey Wohlleber is on the floor, the Mustangs have a chance. If Waubay-Summit has a lead late, she is automatic at the free-throw line, a career 91 percent shooter from the charity stripe.
Aberdeen Christian is the third seed, closed the season with a flurry and is playing its best basketball of the season. Christian went toe-to-toe with Waubay-Summit midway through the season. Should the Knights reach the semifinal round, they will benefit from the game being played on their home court at the Aberdeen Civic Arena.
Warner is always a factor as this time of the year. The Monarchs played a tough schedule and will not back down to any challenge.
Waverly-South Shore 13-4
Waubay-Summit 13-5
Aberdeen Christian 10-8
Warner 9-11
Northwestern 4-10
Britton-Hecla 2-18
Leola-Frederick 5-15
Great Plains Lutheran 2-11
Langford Area 1-19
Monday's Game: Langford Area at Great Plains Lutheran, 6:30 p.m.
Tuesday's Games at Waverly: Leola-Frederick vs. Waverly-South Shore, 6 p.m.; Northwestern vs. Warner, 7:30 p.m.
Tuesday's Games at Summit: Langford Area/Great Plains Lutheran winner vs. Waubay-Summit, 6 p.m.; Britton-Hecla vs. Aberdeen Christian, 7:30 p.m.
Thursday's Games at Aberdeen Civic Arena: Semifinal, 6 p.m.; Semifinal, 7:30 p.m.
Region 2B at higher seeds
Life is crowded at the top in this region. The top four seeds all have a legitimate shot at advancing to play next week.
Herreid-Selby Area is the top seed and blends size with outside shooting. The Wolverines have lost to just one South Dakota Class B school all season. However, the second, third and fourth seeds here all lost to HSA by less than 10 points during the season.
Highmore-Harrold is the second seed. The Pirates struggled a bit down the stretch, losing four out of five at one stage, including one setback to Ipswich, a potential semifinal opponent.
Third-seeded Ipswich will be a tough out in the post season and is battle tested with several close games this season. The Tigers also had a rough stretch late in the year, dropping four straight games.
Faulkton is looking to get back to the state tournament again this season. The Trojans struggled early, but flourished late in the season and are playing some of their best basketball of the year. They enter the post season on a nine-game winning streak.
Sully Buttes and Lower Brule are capable squads, but will need to win back-to-back road games in order to keep their seasons going.
Herreid-Selby Area 17-3
Highmore-Harrold 14-5
Faulkton 13-7
Ipswich 13-7
Lower Brule 10-8
Sully Buttes 10-10
North Central 9-11
Potter County 4-14
Sunshine Bible Academy 0-16
Monday's Game: Sunshine Bible Academy at Potter County, 7 p.m.
Tuesday's Games: SBA-Potter County winner at Herreid-Selby Area, 7 p.m.; Sully Buttes at Faulkton, 7 p.m.; North Central at Highmore-Harrold, 7 p.m.; Lower Brule at Ipswich, 7 p.m.
Thursday's Games at higher seeds: Semifinal, 7 p.m.; Semifinal, 7 p.m.