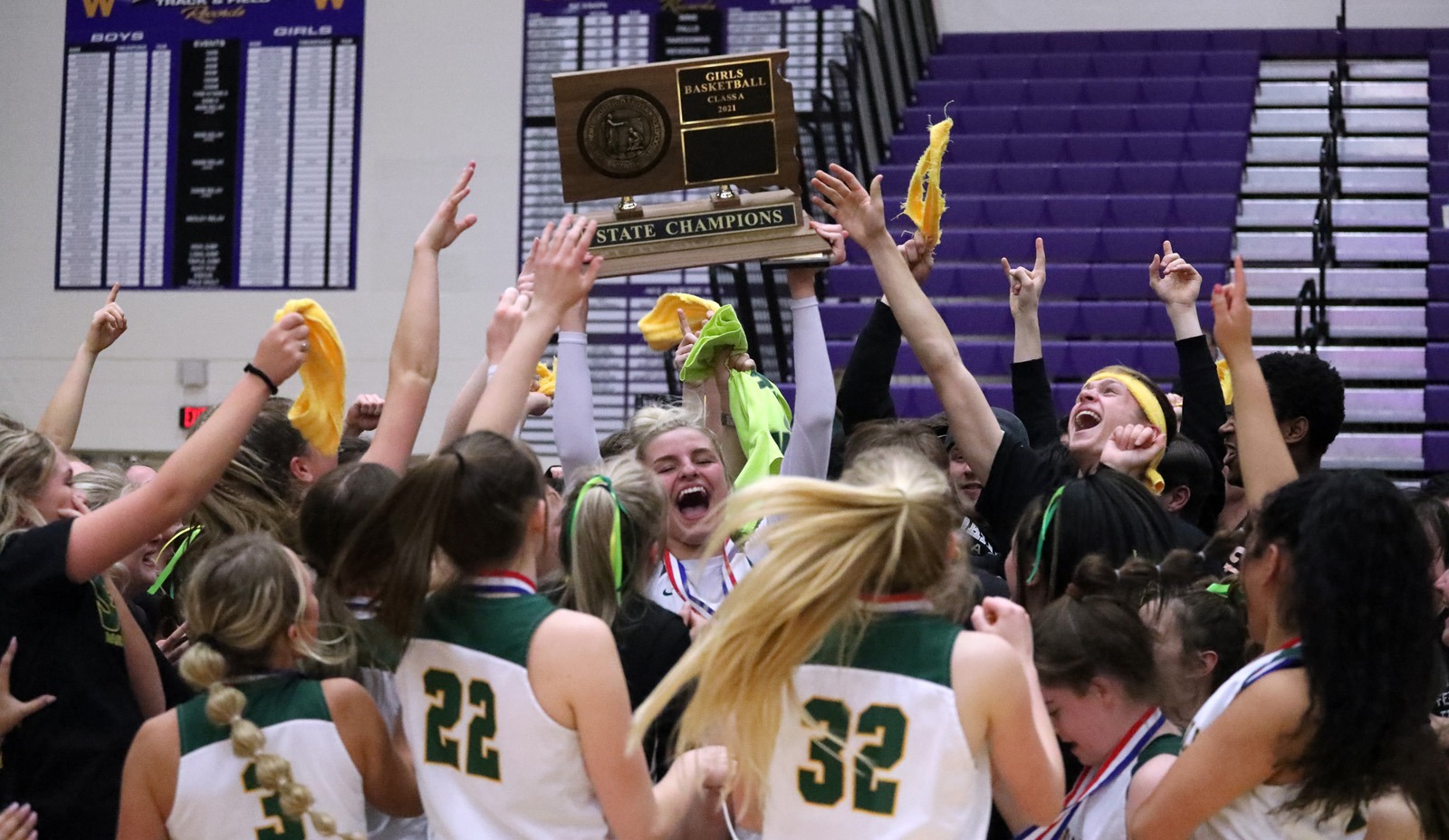 WATERTOWN – A championship caliber performance resulted in a state championship trophy Saturday night.
Aberdeen Roncalli was opportunistic on offense, suffocating on defense and captured its first ever Class A state girls' basketball title with a 48-31 win over Hamlin at the Watertown Civic Arena.
"In the three games that we just played we've couldn't have played much better on the defensive end," said Roncalli Coach Derek Larson. "We really dominated on that end. That's why we won a state title is because of the defense."
The Cavaliers set the tone early with their intensity and consistently beat Hamlin to the ball all night long. Roncalli finished with 15 second-chance points in the contest.

"I thought we did a really good job of winning the 50-50 balls," Larson said.
Roncalli's desire to win a state championship was evident from the opening tip.
"I think that we played really well as a team," said lone Roncalli senior Elissa Hammrich. "We knew what we wanted and we got it."
The Cavaliers methodically built a nine-point halftime lead and then extended it throughout the second half. It marked the first time that Roncalli had beaten Hamlin since 2013.
"The last two years we played them to one point each," Larson said. "Going in we wanted to win by one. It was nice to have the lead we did."
Roncalli kept pulling away as the game wore on with the margin reaching more than 20 points on one occasion. A big reason why was defense as the Cavaliers allowed just four points in the final quarter.
"I feel like we really improved our defense and really worked hard," said Jeci Ewart. "We doubled up the post and really shut them down."
A key factor was the play of Roncalli center Madelyn Bragg, who blocked three shots and impacted many others.
"I think it's just goes with being 6-2," Bragg said of her ability to swat shots. "Just being that tall and being able to find the ball and not playing stupid, not do silly things."
Morgan Fiedler led the Cavaliers with 15 points, Bragg followed with 12, Olivia Hanson added 10 and Hammrich finished with eight.
Hamlin Coach Tim Koisti said the contest came down to two things: Roncalli's energy and execution.
"They came out with some energy that we just couldn't match right away. They got some offensive rebounds. They beat us to a lot of basketballs that typically we get," Koisti said. "And then they hit some shots. For example the Hammrich girl hit 3-4 elbow shots and that just stretches us with Bragg inside, and the Hanson girl attacked us pretty good and Fiedler. There's just some good players there and if they're going to make shots, we're in trouble."
Kami Wadsworth led the Chargers with 13 points.
Interestingly enough, Hamlin won the Northeast Conference championship this season. That marks the second time that Roncalli has won a state championship without winning an NEC title in the same season. It also happened with the Roncalli football team in 2005.
"We told our coaches, we'd have rather lost the first one and win this one," Larson said. "It's a good feeling."
There will be a welcome home celebration for the Cavaliers at 4 this afternoon at Roncalli High School.
Bragg, Fiedler and Hanson were named to the all-tournament as were Kylee Wadsworth and Kami Wadsworth.
In the end, it was a performance for the ages with a championship trophy to prove it.
"I don't think there's any better feeling than this," Bragg said.
HAMLIN (22-3): Ashtyn Abraham 2 0-0 5, Mckenna Prouty 0 3-6 3, Ally Abraham 2 0-0 4, Kylee Wadsworth 1 1-2 4, Kami Wadsworth 6 0-0 13, Gracelyn Leiseth 1 0-0 2. Totals 12-49 4-8 31.
ABERDEEN RONCALLI (23-2): Madelyn Bragg 5 2-2 12, Elissa Hammrich 3 2-3 8, Morgan Fiedler 5 3-4 15, Jeci Ewart 1 0-0 3, Olivia Hanson 5 0-0 10. Totals 19-46 7-9 48.
Hamlin 7 18 27 31
Aberdeen Roncalli 12 27 39 48
3-point field goals – Ashtyn Abraham, Kylee Wadsworth, Kami Wadsworth; Fiedler 2, Ewart. Fouled out – Ashtyn Abraham. Total fouls – Hamlin 13; Aberdeen Roncalli 9. Rebounds – Hamlin 29 (Kylee Wadsworth 10); Aberdeen Roncalli 30 (Bragg 8). Turnovers – Hamlin 9; Aberdeen Roncalli 5.