The ability to finish off sets provided a solid post-season start for Aberdeen Roncalli Tuesday night.
The Cavaliers recorded a 25-16, 25-14, 25-22 sweep over Langford Area in Region 1B volleyball action at Roncalli Gym.
Roncalli pulled away in each of the first two sets and then finished off the sweep by scoring seven of the last 11 points to break an 18-18 tie in the third.
"It was good to see them be able to regroup and get themselves together and finish out that third set," said Roncalli coach Mandy Smid, "and not take it into a fourth and have to keep getting through the mental side of things."

The Cavaliers have had a few difficulties holding onto leads this season, but that was not the case in their first post-season match.
Senior Jeci Ewart said a couple of ingredients played a key role in the victory.
"I think we just brought a lot of energy tonight and excitement for the first post season game," Ewart said. "I think that's what kept us up."
Ewart finished with nine kills. She was one of three seniors who played a key role in the final home match of their careers. Hayley Schmidt had three ace serves and 25 digs, while Olivia Hanson contributed 23 set assists.
"I would say that they're kind of quiet leaders. None of them get too wound up," Smid said of the trio. "Their emotions were under control for it being a post season game and it definitely is a lot easier for the younger girls to follow their suit when they're able to play at that level."
Ella Hanson led the Cavaliers with 12 kills to go along with 21 digs and a block.
"They have some girls with some really nice arm swings," said Langford Area coach Susan Larson. "They can hit the line really well so it's kind of hard to cover them."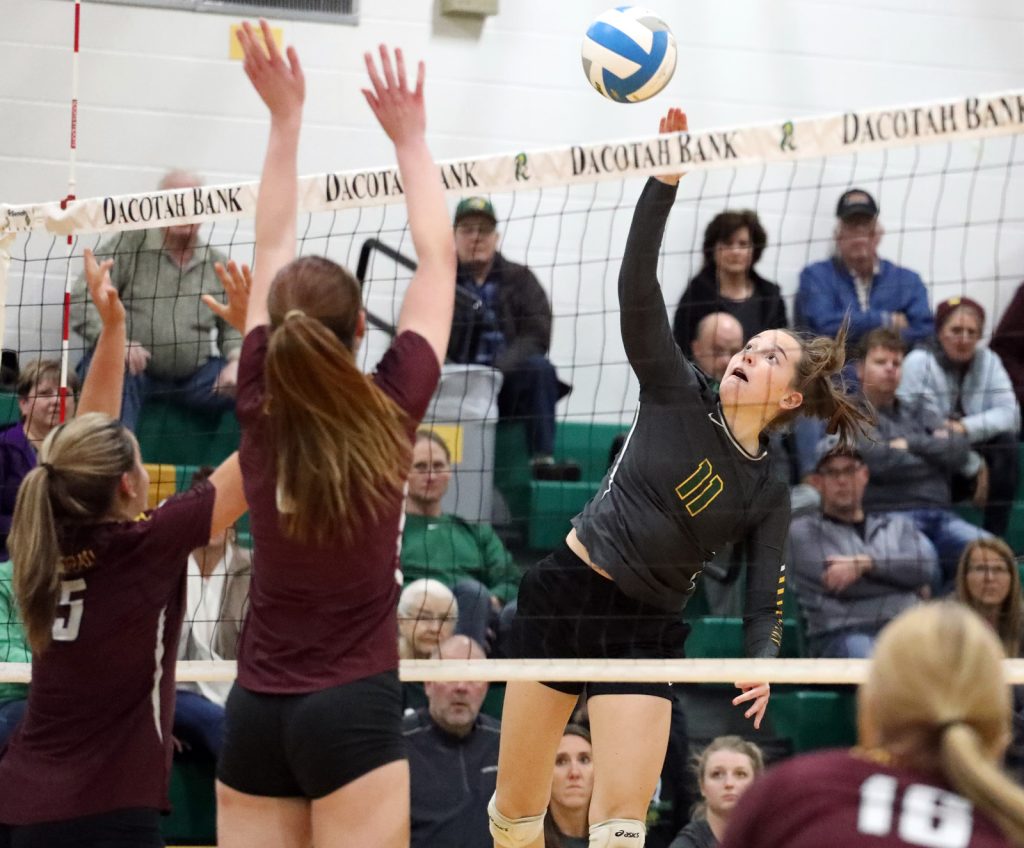 The two teams met during the regular season, which Ewart said helped in the victory as well.
"I think it was a really big advantage," she said, "because we came in and knew what we could do and we just really put it in play."
Becca Hanson had four kills and Katie Jensen three to pace the Lions, who closed out their season at 15-18. Larson was pleased with the way her team overcame a rough start to battle back and push Roncalli the entire way in the third set.
"It seems like our last few matches we've kind of had a slow start. It takes us a while to get going, but we've got a great group of seniors and we're going to miss them," Larson said. "They played hard. I'm proud of the way they played. At least they just didn't give up and lay down and quit. They played it to the end."
Roncalli, 15-8 on the season, now takes on Warner in the semifinals at 5:30 p.m. Thursday in Groton. The Monarchs defeated the Cavaliers during the regular season.
"I'm hoping for a battle. We've been wanting a rematch," Smid said. "We've seen them play enough times, they've seen us play enough times, we both kind of know what each other is in for."
The Cavaliers will take some momentum into that contest after winning three straight matches to close out the regular season and start the post season.
"We'll carry this energy. These last few matches of the season really to fine tune things have set the tone," Smid said. "I think we're prepared."
Serving: Langford Area 47-62 4 aces (Gracie Cadwell 13-13 2 aces, Ashley Cadwell 7-8 1 ace); Aberdeen Roncalli 71-79 11 aces (Hayley Schmidt 15-17 3 aces, Jaidyn Feickert 11-11 2 aces).
Hitting: Langford Area 70-91 13 kills (Becca Hanson 15-18 4 kills, Katie Jensen 12-16 3 kills, A. Cadwell 16-17 1 kills); Aberdeen Roncalli 70-89 27 kills (Ella Hanson 27-35 12 kills, Jeci Ewart 16-20 9 kills).
Setting: Langford Area 88-92 13 assists (A. Cadwell 55-58 8 assists, Gustafson 9-9 2 assists, B. Hanson 12-12 1 assist); Aberdeen Roncalli 77-77 25 assists (Olivia Hanson 72-72 23 assists).
Digs: Langford Area 52 (G. Cadwell 11, Olyvia Dwight 9, Morgan Glines ); Aberdeen Roncalli 81 (Schmidt 25, E. Hanson 21).
Blocks: Langford Area 7 (A. Cadwell 3, Dwight 3, Jensen 1); Aberdeen Roncalli 1 solo 4 assists (E. Hanson 1 solo, Feickert 2 assists).