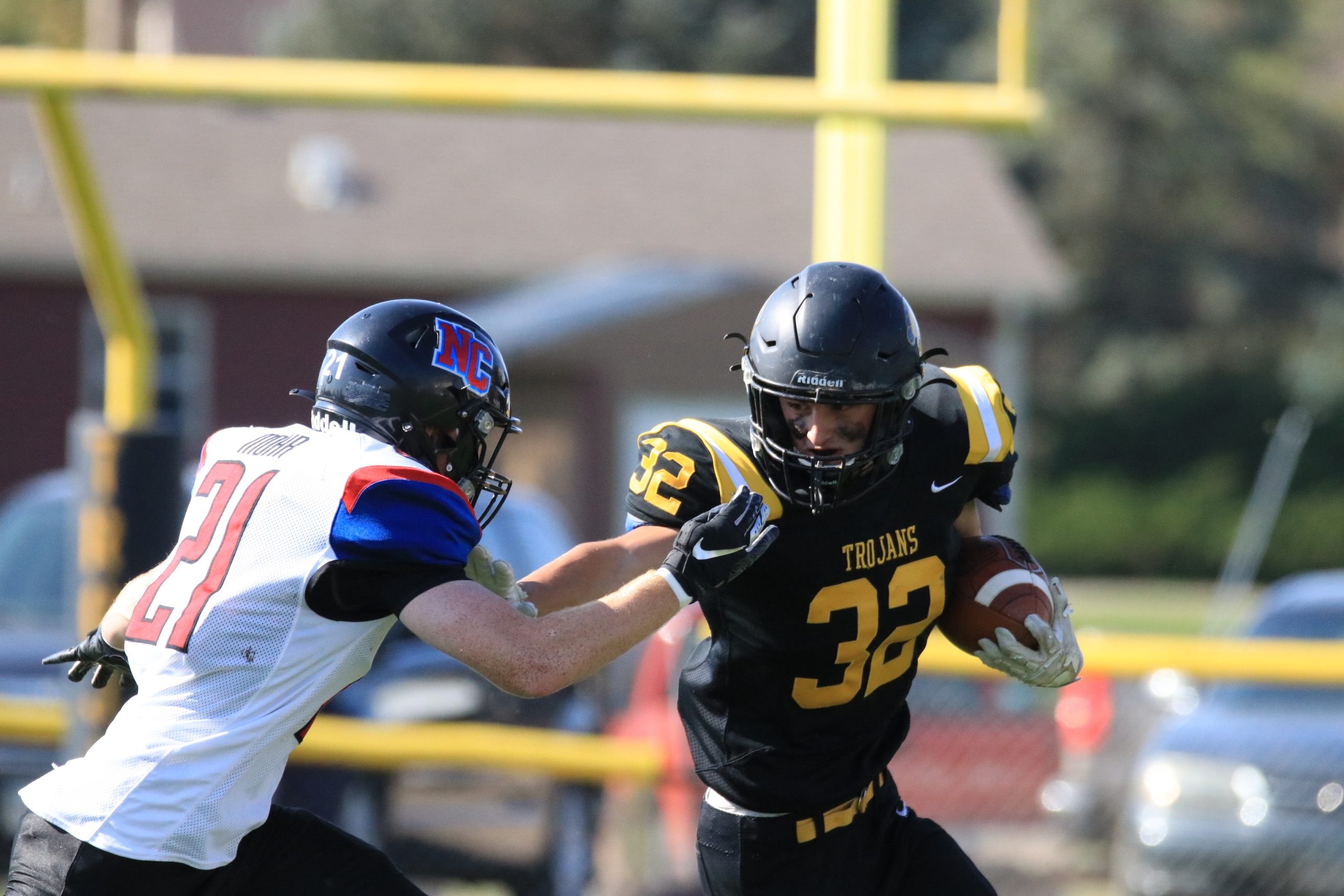 FAULKTON – There won't be any need for introductions when a Class 9B football semifinal playoff game is settled on Friday night.
Potter County will make the 42-mile trek over to Faulkton for a 7 p.m. rematch of the season-opener for both teams which took place in Gettysburg.
"I think it's definitely an advantage to be at home, but I don't think it's a huge advantage in this situation," said Faulkton coach Shayne Geditz. "Any time Potter County and Faulkton get together, it doesn't matter the sport, it's always a big one."
Both teams are 7-2 on the season. Faulkton won the first encounter 36-18, taking advantage of two interceptions returned for touchdowns.

Potter County coach Vern Smith said that the first contest does have meaning in the fact that his team would like to gain a measure of revenge against Trojans, but noted both quads have changed since that initial contest.
"That's two and half months ago already," Smith said. "Both teams have grown and progressed from that to where they're at right now. You still have to try and figure out exactly what each team is going to do."
Smith said his players knew there could be a potential rematch on the horizon during the playoffs.
"We've had that goal as far as wanting to play against them since probably right after that game, because we feel that we can play better than what we did that first go round," Smith said, "and I'm sure Faulkton thinks they can play better than what they did as well."
Faulkton hasn't played for a state championship since 2014. While the Trojans are just one game away from doing that this season, Geditz said he doesn't talk about that.
"We don't focus on things like that. You focus on getting better every day and going out and playing your best football, and if you play your best football things take care of themselves," Geditz said. "We still haven't talked about it. We don't plan on talking about it. Let's worry about this week and see what happens, and if we play well and do our job then I guess we'll play again next week."
The Battlers haven't been in a state championship game since they won a title in 2013. They come into the semifinals off a 40-point victory over Hitchcock-Tulare last week.
Smith said the key to Friday's game is trying to win every play.
"We have to be consistent," Smith said. "We have to make sure we keep play after play, whether it be a play that has success for us or a play that has success for Faulkton, keep our minds and our bodies going with the same goal in mind as far as to win as many plays as we can."
Faulkton, which ran the ball for more than 400 yards in win over Harding County in the playoffs last week, is looking to keep its ground game going. The Trojans ran for 305 yards in the first contest against Potter County.
That is one of the key's for Geditz heading into the rematch with the Battlers in addition to slowing down standout quarterback Grant Luikens.
"We have to control their quarterback and we have to keep him in the pocket and not let him run around and throw it all over the place," Geditz said. "We have to protect the football and be able to run the ball. I was really proud of how our guys played last week and ran the ball."
While there will be plenty on the line Friday evening, Geditz is trying to keep things in perspective.
"We all know what outcome you want to have, but I think when you start focusing on the outcome too much you get caught in things that are out of your control," he said. "You just have to play the best you can and do what you can, and see what happens."