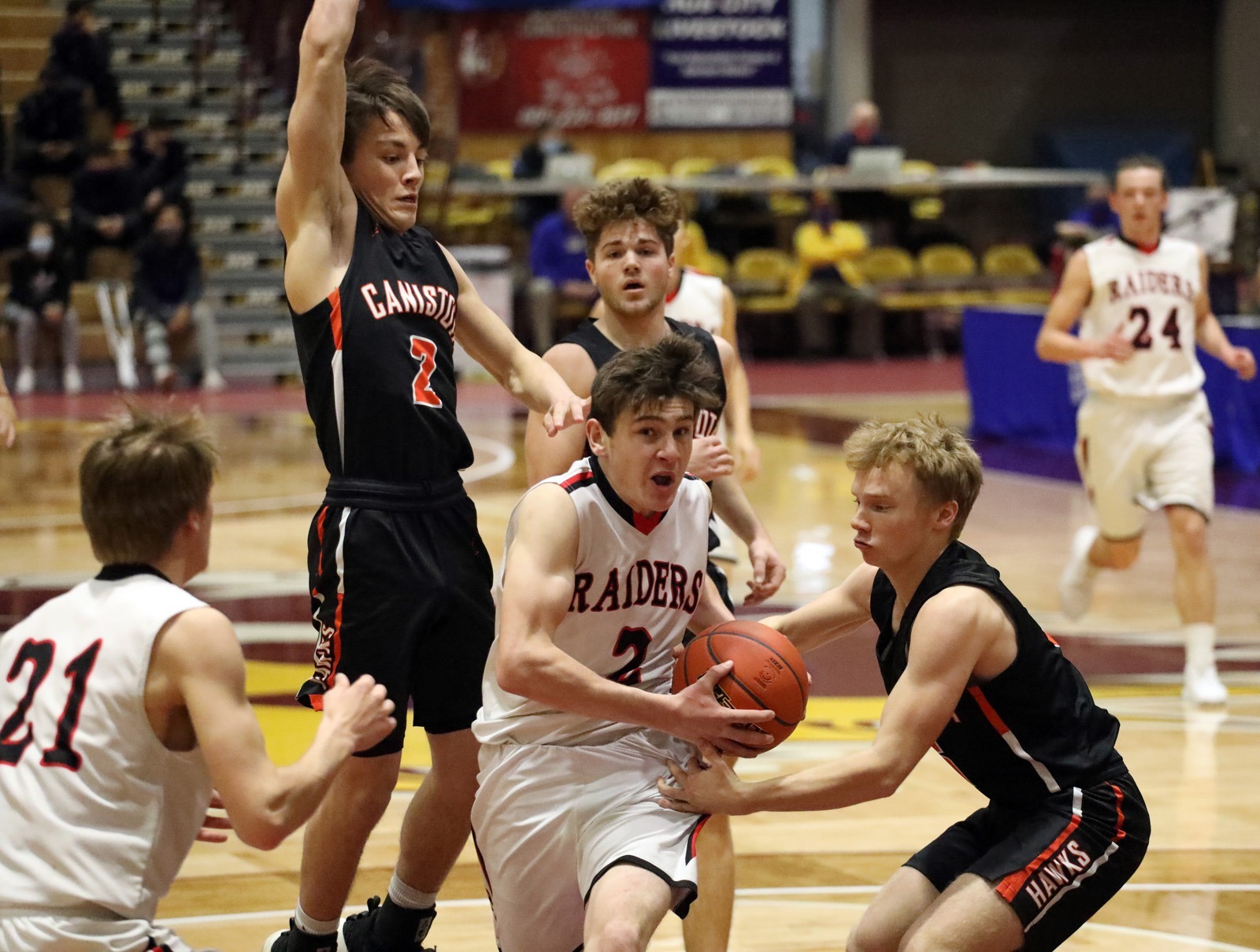 The second-seeded Hawks of Canistota ended their season on a high note with a 59-44 win over Lyman in the seventh place game of the Class B State Boys' Basketball Tournament Saturday afternoon at Wachs Arena.
Canistota did not expect to lose their first two games of the tournament and the Hawks wanted to end their season on a high note for their graduating seniors.
"Mentally, we had to convince the boys that we need to pick ourselves up and handle adversity," said Canistota Coach Pat Jolley. "Even at halftime we talked about that a lot again."
Despite a slow start from both teams, both gained offensive rhythm following the first media timeout. After a 2-2 score at that point, Canistota closed out the first quarter with a 10-8 lead.
The scoring accelerated in the second quarter as Lyman more than doubled their first quarter scoring and Raider senior Cruz Garnos tied the game at 28 with a layup at the end of the half.
"We were really simple in terms of rhythm," said Lyman Coach Cooper Garnos on his team's offensive improvements. "We had movement, we had picking and we had people giving themselves up for their teammate."
Canistota began the third quarter on a 10-3 run propelled by three-pointers on their first two possessions.
However, Lyman responded by going on a 7-1 run to set up an exciting fourth quarter. The Hawks led the Raiders 39-38 after three.
Canistota's experience prevailed in the fourth as they outscored Lyman 20-6 in the final frame. Hawk center Cole Papendick sealed the victory with a three-point-play off an offensive rebound to expand the lead to 10 points with only 4:09 remaining.
Papendick is one of the five Canistota starters who will graduate this year, a senior class highlighted by guard Tyce Ortman who led the game in scoring with 19 points.
"Obviously, we lost the first two, so our final goal was to come out on top and win that final game," said Ortman. "We've made it to the state tournament three times now and it's an incredible experience."
Chase Merrill added 14 points for Canistota, which finished the year at 22-4. Papendick contributed nine points and 12 rebounds.
In Canistota, the eighth graders join the high school squad once the middle school season ends, meaning that Jolley has coached this senior group for the last five years.
"To go through five years with them, of course the heartbreak of last season, I'm so happy for the guys to finish their careers with a win and finish it at the state tournament," Jolley said.
Toby Estes and Sam McClanahan each scored 13 points for Lyman, which ended the year at 19-7.
Lyman graduates five seniors. One of those is Coach Garnos' son Cruz.
Despite not picking up a win in Aberdeen, Coach Garnos will be forever grateful for the opportunity to coach his son in the state tournament. "It's definitely something I'm going to look back on and cherish," he said.
CANISTOTA (22-4): Cole Papendick 4 1-1 9, Tyce Ortman 3 11-14 19, Chase Merrill 3 7-10 14, Isiah Robertson 3 1-2 8, Will Ortman 1 0-0 2, Tye Merrill 2 0-0 5, Logan Katzer 1 0-0 2. Totals 17 20-27 59.
LYMAN (19-7): Toby Estes 5 3-4 13, Sam McClanahan 4 3-6 13, Cruz Garnos 2 3-5 8, Stockton McClanahan 1 0-0 2, Colton Collins 1 1-3 3, Jacob Sazue 0 1-1 1, Declan Cleveland 1 0-0 4. Totals 15 11-21 44.
Canistota 10 28 39 59
Lyman 8 28 38 44
3-point field goals – Ortman 2, C. Merrill, Robertson, T. Merrill; Sam McClanahan 2, Garnos. Total fouls – Canistota 17; Lyman 19. Rebounds – Canistota 43 (Papendick 12); Lyman 33. Assists – Canistota 10; Lyman 7.