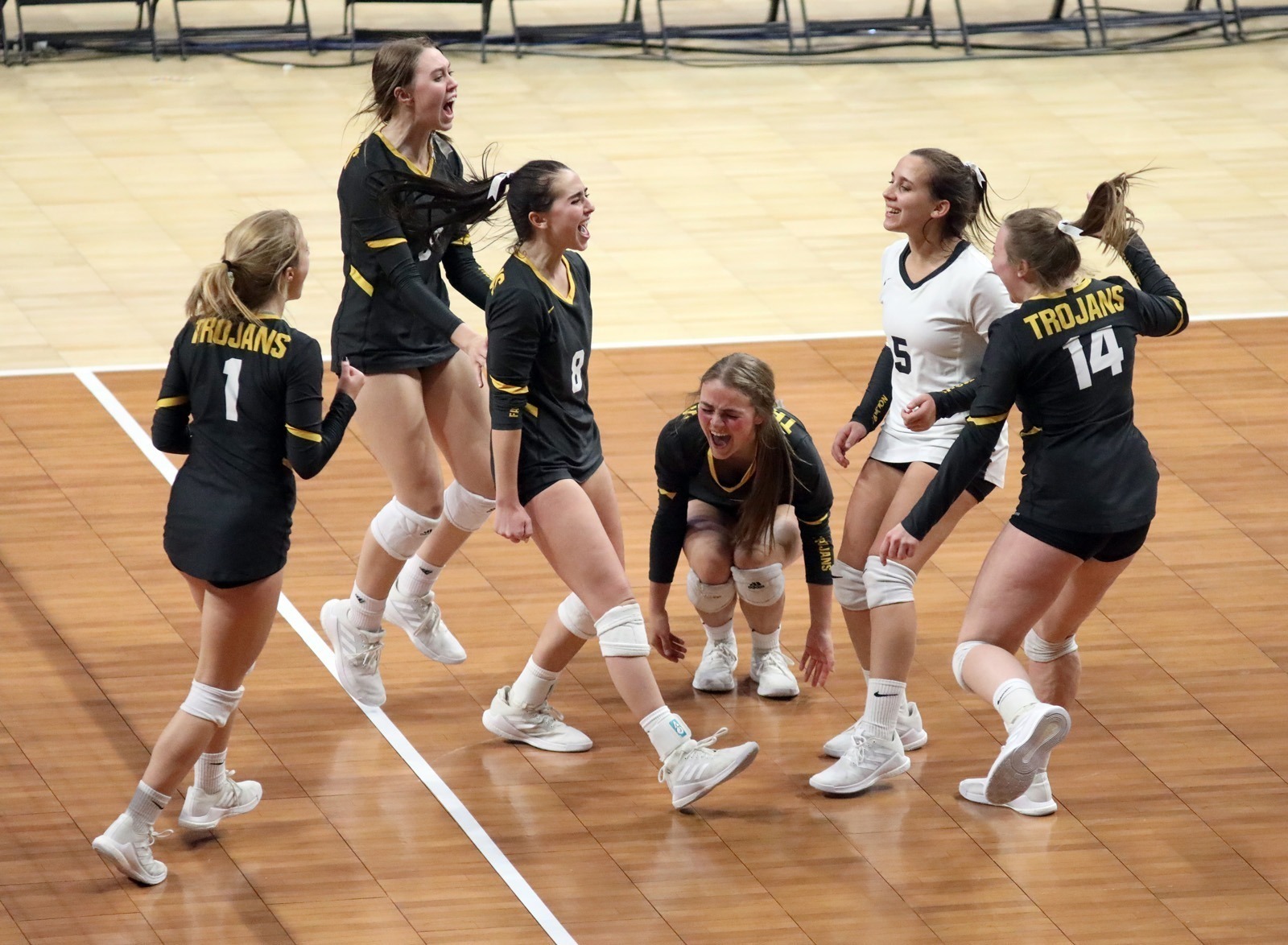 RAPID CITY – Faulkton found a way to finish off sets and eventually finished off Arlington Thursday night.
The Trojans consistently pulled away late to grab a 25-22, 28-26, 22-25, 25-17 win during the opening round of the Class B State Volleyball Tournament at The Monument.
"I was proud of each and every one of them," said Faulkton coach Mallory Schlechter of her players. "I thought they all did their role and really settled in nicely. That gave us a good chance to compete with them."
Faulkton led 23-21 in the opening set when Addison Melius went down with an injury and never returned to the match.

That meant the squad had a rally around their fallen member.
"She's just a great player and we need her on the team, but we're a great team even without her and we're very capable of winning without her," said senior Shayna Heitmann, who helped to pick up the pace once Melius left the court. "When Addi went down, I definitely thought that I had to step it up, but before that I knew our team could do it and I knew it would be a team effort."
Heitmann did her part with 19 kills on the night.
"I thought she played awesome," Schlechter said. "She had a lot of big swings in big moments and just lots of great plays."
The Trojans went on to win that first set, then overcame a 24-22 deficit in the second set before prevailing in extra points.
Faulkton nearly pulled off a sweep, but was unable to secure the third set after being tied 22-22. However, the Trojans broke free from a 16-14 edge in the fourth and final set to ice the win.
"I think it was just that confidence that we actually can do it and they went out strong, and kept swinging and kept taking it to them," Schlechter said. "They never really shied away and I was really proud about that because we talk about that all the time."
Isabel Aesoph led the victory with 23 kills. Gabby Kast added three ace serves.
The Trojans were able to gain a measure of revenge for a loss to Arlington during the regular season.
"This time I think there was a lot more heart in this game," Heitmann said. "When they beat us, that was during the Arlington Tournament and that was a bad day for us, but we moved past that day and we've improved a lot since that tournament."
Arlington's Hadley Carlson finished with a match-high 26 kills and would have had many more if not for the stout Faulkton defense.
The Trojans finished with 72 digs and also a dozen blocks.
"That was kind of one of our strong suites this entire season and how we've been able to play," Schlechter said. "I didn't expect anything less from them, but I do think we laid it all out there because it's kind of our last moment."
Faulkton (27-6) now faces fellow Lake Region Conference member Warner in the semifinals at 7:45 tonight.
Schlechter knows it will be a stiff challenge, but also believes in her team.
"That one's going to be a tough one. We're definitely going to have to be ready to play, but I think we can compete with them," Schlechter said. "We just have to once again have strong net play and shut them down, and not let them just whail away at us."
Serving: Faulkton 6 aces (Gabby Kast 3, Sydney Campbell 1, Isabel Aesoph 1, Shayna Heitmann 1); Arlington 7 aces (Hadley Carlson 4, Natalie Burns 2).
Hitting: Faulkton 48 kills (Aesoph 23, Heitmann 19, Kelli Stoecker 5); Arlington 43 kills (Carlson 26, Erin Haufschild 7, Morgan Larsen 5).
Setting: Faulkton 46 assists (Camryn Deiter 23, Kast 23); Arlington 41 assists (Grace Parry 40).
Digs: Faulkton 72 (Carley Cotton 22, Aesoph 14, Campbell 13, Deiter 9); Arlington 83 (Carlson 31, Burns 16, Parry 12, Harley Johnson 9).
Blocks: Faulkton 6 solos 6 assists (Kast 2 solos 2 assists, Stoecker 2 solos, Heitmann 1 solo 3 assists, Deiter 1 solo 1 assist); Arlington 1 solo 2 assists (Carlson 1 solo 1 assist, Burns 1 assist).
Records: Faulkton 27-6; Arlington 30-6.