VERMILLION – Potter County took Dell Rapids St. Mary out of its comfort zone, but with the game on the line couldn't keep the Cardinals out of the end zone.
DRSM, known for its running game, found success through the air to rally past the Battlers 44-42 in double overtime in the Class 9B football state championship game Thursday afternoon at the DakotaDome.
Trailing by eight late in regulation the Cardinals scored on a pass play, tied the game on a crucial two-point conversion on a pass, and then used passes to score on a pair of two-point conversions in the overtimes, including the final play of the game to produce the winning points.
"They respected the run so much," said St. Mary coach Ross Flemmer. "They kept coming up, coming up and we said we can get them now and we did. We threw when we had to."

The two squads exchanged leads throughout the contest and the Battlers surged ahead when senior quarterback Grant Luikens scored on an 8-yard run midway through the fourth quarter.
Potter County then got the stop it wanted only to fumble on the next play to set up the Cardinals' game-tying drive. The Battlers had one last chance in regulation, but a drive ended just outside the goal line when time ran out.
The teams then traded points in the first overtime before Potter County was stopped on its two-point conversion in the second extra session and the Cardinals got theirs.
"I'm very proud of how we executed, how we did stuff. We were just one step short," said Potter County coach Vern Smith.
While DRSM still racked up 247 yards rushing, it was the 98 yards passing that helped put the Cardinals over the top.
"Because of how tight that offense was we had to adjust," Smith said. "We had to key on that and it came back to haunt us, because they were able to do some passing which hurt us."
Nic Gaspar hauled in three passes for 65 yards and the huge touchdown in the closing minutes. He said the Cardinals work on passing, but just didn't use it much this season.
"We run routes every practice," Gaspar said. "I think tonight we finally showed that we can pass, too."
There's no doubt the Battlers can pass the ball. Luikens, who was named the game's MVP, had a huge day with 297 yards passing and four touchdowns, two each to Drake Bassett and Ryder Falkenhagen.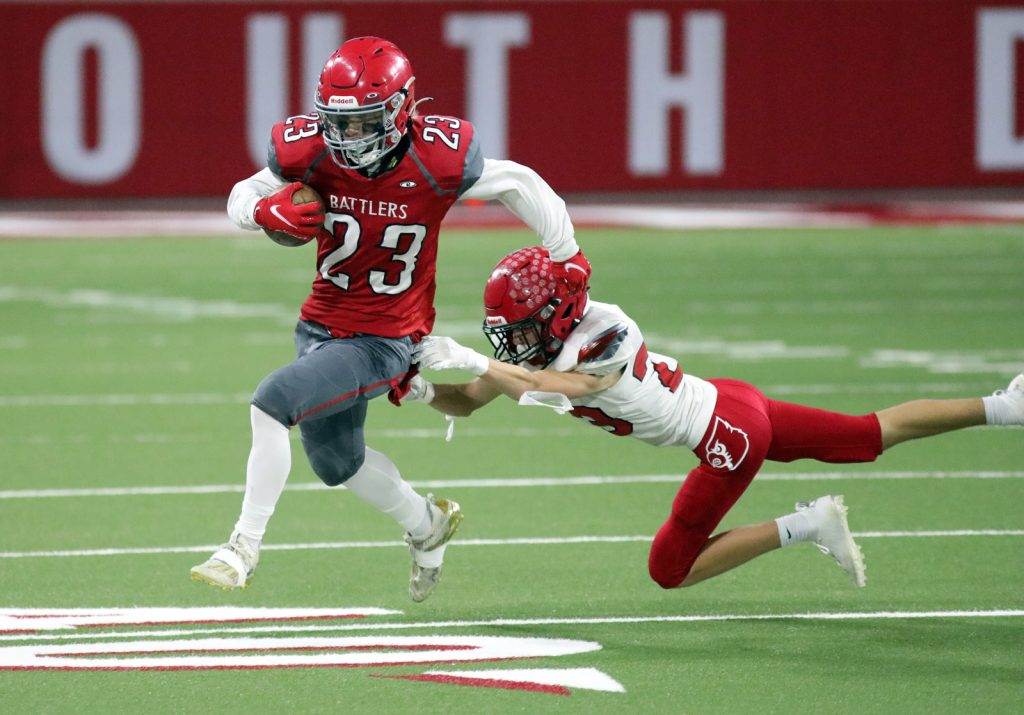 "We have a lot of playmakers on the field and they do a good job," Luikens said. "They find the open spots later in the game giving me the opportunity to throw them ball. I was just putting it in spots and letting them have an opportunity to make a play."
Luikens, who finished with two rushing touchdowns and 11 tackles, gave credit to the Cardinals for making they plays when they needed to.
"It really came down to who wanted it more and they fought for it," Luikens said. "They deserve it."
Bassett ended up with 173 yards receiving, while Falkenhagen had 77 yards in receptions.
Senior Cooper Logan had a game-high and career best 21 tackles for the Battlers. He tried to put the back and forth battle into context following the heartbreaking finish.
"It was definitely a lot of emotions throughout and it sucks to come out with a loss," Logan said.
The setback was especially tough in the way the game unfolded with the Battlers coming up just short on offense and unable to get that one critical stop on defense.
"Three yards was all it was," Logan said. "Didn't get it; couldn't get a stop."
The Battlers finished the year at 10-3 and were just a play or two away from a much different outcome.
"Everybody is tired. Everybody is worn out," Smith said following the contest. "That was one whale of a game, back and forth."
Dell Rapids St. Mary (8-3) 0 8 12 8 8 8 – 44
Potter County (10-3) 0 14 0 14 8 6 – 40
Second Quarter
DRSM – John Pica 32 pass interception return (Ty Brown run), 10:33.
PC – Drake Bassett 45 pass from Grant Luikens (Luikens run), 9:47.
PC – Luikens 3 run (pass failed), 2:28.
Third Quarter
DRSM – Brown 1 run (run failed), 7:08.
DRSM – Tate Bunkers 27 pass from CJ Smith (ruan failed), 2:33.
Fourth Quarter
PC – Ryder Falkenhagen 30 pass from Luikens (pass failed), 11:53.
PC – Luikens 8 run (Carter Luikens pass from G. Luikens), 7:08.
DRSM – Nic Gaspar 28 pass from Smith (Gabriel Lindeman pass from Smith), 1:49.
First Overtime
DRSM – Gaspar 8 run (Gaspar pass from Smith).
PC – Bassett 10 pass from G. Luikens (G. Luikens run).
Second Overtime
PC – Falkenhagen 10 pass from G. Luikens (run failed).
DRSM – Gaspar 1 run (Lindeman pass from Smith).
OFFENSE: Dell Rapids St. Mary rushing 61-247 (Gaspar 21-103, Brown 19-72, Noah Olund 13-58, Lucas Flemmer 6-12), passing 5-13-1 for 98 (Smith 5-12-1 for 98), receiving (Gaspar 3-65, Bunkers 1-27), first downs 18; Potter County rushing 22-22 (G. Luikens 12-15, Colt Wieseler 3-7), passing 16-26-2 for 297 (G. Luikens 16-25-2 for 297), receiving (Bassett 9-173, Falkenhagen 4-77, Cooper Logan 2-32, Seth Sharp 1-15), first downs 13.
DEFENSE: Dell Rapids St. Mary, Pica 10 tackles, Olund 7 tackles, Brown 6 tackles; Potter County, Logan 21 tackles, G. Luikens 11 tackles, Sharp 9 tackles, Bassett 8 tackles.